Wilson Staff DX2 Soft unveiled
The new Wilson Staff DX2 Soft is arguably the world's softest diastance ball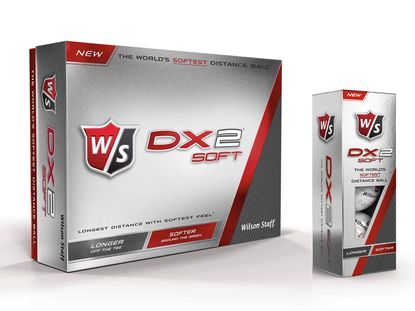 The Wilson Staff DX2 Soft has a compression of just 29, giving it claim to be the world's softest distance ball
We all want soft feel in a golf ball, and Wilson Staff has responded to that with the release of the Wilson Staff DX2 Soft, a 29 compression ball it's calling the world's softest distance ball.
"Research over the years has been consistent in finding that the majority of golfers prefer a softer feeling golf ball," Doug Thiel, global director of marketing for Wilson Golf, told GM.
"So our R&D team have been working on a lower compression solution since we first released the original DX2 Soft in 2007,"
The result is the incredibly low compression DX2 Soft, which is 25% softer than its predecessor to give you more short game feel and control around the greens and on approach shots.
Somewhat surprisingly for a soft feel ball, Wilson Staff testing with amateurs also found that most golfers gained yardage with the DX2 off the tee because less spin was being generated with their drivers due to the improved compression at impact.
Wilson Staff DX2 Soft specifications
Available in both white and yellow, the Wilson Staff DX2 Soft will retail at £19.99 per dozen.
Jake O'Reilly specilaises in equipment coverage, and joined the Golf Monthly team in 2013. Before this he graduated from the University of Huddersfield with a Sports Journalism and Media degree, and worked at a number of British golf magazines. Follow Jake on Twitter
@jake0reilly