Puma TitanTour Ignite Disc Golf Shoes Revealed
The new Puma TitanTour Ignite Disc golf shoes have been revealed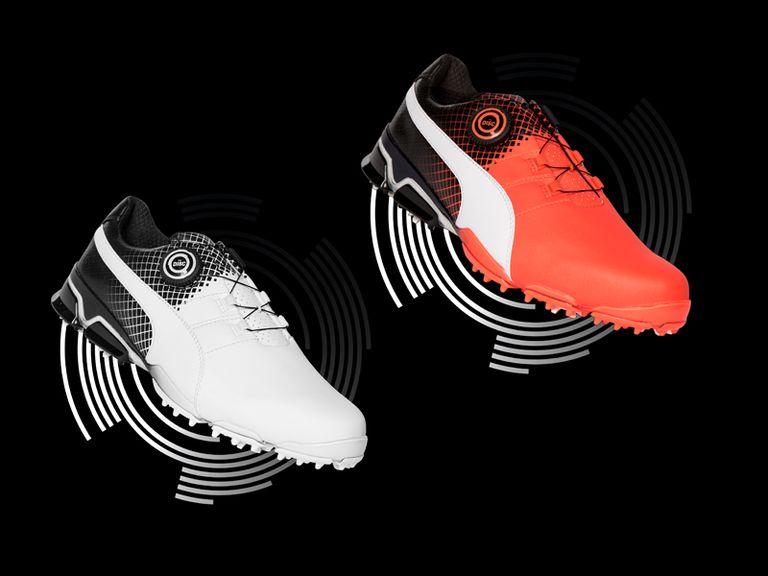 The new Puma TitanTour Ignite Disc golf shoes have been revealed, with Puma's new proprietary Disc Technology removing the need for shoe laces
The new Puma TitanTour Ignite Disc golf shoes have been revealed, with Puma's new proprietary Disc Technology removing the need for shoe laces.
The limited-edition version of the Puma TitanTour Ignitie golf shoes is equipped with 'Disc technology', a laceless closure system for a comfier and fully customisable fit.
With just a turn of the Disc dial on the side of the shoe, the internal wire system tightens the upper, while a simple turn in the opposite direction allows you to easily loosen the shoe.
"The new Puma TitanTour Ignite Disc golf shoes ensure a quick and secure fit; with a few simple turns the shoe is secure, comfortable and ready to go," said Grant Knudson, head of footwear and accessories at Puma Golf.
"We took the original Puma Disc design and customised it for golfers. The result is a sleek, simple and strong closure system that tightens using smooth, steel wires that conform to the foot."
The limited-edition Puma TitanTour Ignite Disc golf shoes come in two colorways with a sleek chevron graphic: Red Blast/White/Black and White/Black.
Both color options will be available in-store on July 12 2016, with an RRP of £150.
As with the original TitanTour Ignite, its design features Ignite Foam that is integrated between the gel moulded insole and outsole.
Ignite Foam is a springy cushioning material that provides a better energy return between your feet and the ground as you walk, so you lose less energy lifting your feet and consequently feel fresher towards the end of your game.
The new foam design is joined on the outside by a full-grain leather upper that is waterproof and durable, while there's also an integrated heel support that improves stability, and an ultra thin TPU frame that encases the midsole for lightweight durability and increased flexibility.
The Puma TitanTour Ignite's sole includes nine low-profile cleats
On the sole, you'll find multi-direction, strategically placed walls of secondary traction that surround and work in harmony with nine low-profile cleats for better grip.There's also anatomically positioned flex grooves between the cleats that allow your feet to move naturally, with a rigid yet flexible composition helping all the elements remain debris free as you play.
The soft and springy feel also means your joints should take less of a strain, hopefully reducing the chance of injuries.
Jake O'Reilly specilaises in equipment coverage, and joined the Golf Monthly team in 2013. Before this he graduated from the University of Huddersfield with a Sports Journalism and Media degree, and worked at a number of British golf magazines. Follow Jake on Twitter @jake0reilly