Oscar Jacobson – Functionality with Style
Fergus Bisset travelled to Spain to the launch of Oscar Jacobson's new collection and was impressed by what he saw.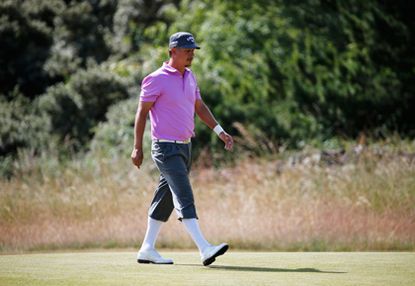 I remember aspiring to own a pair of Oscar Jacobson trousers as a youngster in the early 1990s. I'd seen a number of the better players at my club sporting the Swedish tailor's beautifully fitted, stylishly checked strides. These demagogues of the game (in my eyes at least) generally completed their lower-half look with a pair of FootJoy Classics, and this represented the pinnacle of golfing cool. If only I could grow a little and save a bit of money I thought, I could replicate this sartorial splendour and would surely be playing off scratch within a month.
Looking good on the course is a crucial element of the psychological tapestry that must be carefully woven together to achieve golfing success. If you don't feel confident and comfortable in your clothes, how can you feel confident and comfortable in your approach to the game?
I've always thought of Oscar Jacobson as purveyors of classy golf attire for the more discerning player. I think it would be fair to say the consensus would be similar in most clubhouses across the UK. But I wonder, beyond those trousers that OJ are famous for, how many know more about the company? I must confess that until attending the launch of OJ's 2014 autumn/winter collection in Spain this month, I was ignorant of their rich history stretching back over 100 years, or the extent of their non-golf menswear business. In Scandinavia Oscar Jacobson is a designer brand akin to say, Paul Smith - OK, not quite that big perhaps but you get the idea. There are seven Oscar Jacobson stores across Norway, Sweden and Denmark selling clothing of exceptional quality and style.
This is a key reason why OJ's golf range is so beautifully made and precisely fitted. They come from a background of top-level tailoring and apply those skills and knowledge to create golf-wear that combines style with functionality.
I was highly impressed by the quality and variety of what was on show at the autumn/winter launch. I also greatly enjoyed seeing the passion the guys from OJ have when it comes to their brand, and their drive to create clothing that encapsulates their design philosophy.
So what did I learn? Firstly that OJ is not just about trousers. Yes, they still produce trousers of superb quality in a range of fits to suit golfers of all shapes and sizes, and in a number of stylish finishes, from plain black to those subtle checks (which still look the business.) But OJ produces apparel across the board, and quality runs throughout. Their sweaters are made of the finest Merino wool, spun in northern Italy. Their polo shirts are beautifully finished and their waterproofs are cut, not only to allow for the maximum freedom of movement, but also to create a sophisticated look. There's that functionality with style again.
Although the company has great heritage, they're also forward-looking, as you'd expect from a fashion house. They're keen to attract a new generation of golfers to the brand and, although there are still OJ classics in the new ranges, there are slimmer fitting choices in both trousers and uppers that will appeal to younger players. There are more vibrant colours and the use of high performance fabrics.
OJ's styling, feeding through from the menswear side of the business, has a classic, traditional edge to it and is reminiscent of some of the great British, heritage fashion names. You only have to look at the success traditional golfing brands like Pringle or Lyle and Scott have enjoyed by re-inventing themselves to appeal to a younger market, to see the opportunity that's there for OJ.
In the professional game, OJ appeared on the scene in the late 1970s when players began wearing their trousers on the European Tour circuit. They then supplied Ryder Cup teams of the 1980s and produced their first golf collection in 1983. Over the last 30 years, there's been a steady stream of top players into their UK base at Lancaster Gate to be measured up and fitted for their trousers.
Currently both Freddie Jacobson and Peter Hanson wear OJ apparel and so the company has a presence on both European and PGA Tours. The OJ team are on the lookout for a talented young British player to add to their stable.
As a company, OJ is very conscious of sustainability and finding more environmentally friendly ways of producing their clothing is high on the agenda. One method is through the use of Spin Yarn Dye. This uses considerably less water and energy than traditional methods of dyeing. Basically, the pigment is added to the polymer before it's made into yarn rather than after. This has additional benefits in that, as the colour is inherent to the yarn, it's less prone to fade. They've also now removed all Fluorocarbons from their clothing. A chemical that gives clothing useful properties like water repellence, it tends to degrade slowly and can be carcinogenic. The majority of performance clothing manufacturers have used Fluorocarbons but likely legislations mean their use could soon be illegal in a number of countries. OJ has pre-empted that move.
So I learned quite a lot about OJ in the brief time I spent with them, and it was all rather positive. Their products are made to the highest possible quality and, having had a chance to try a few items on, I can confirm that the cut and styling is spot on for today's market. They're looking to the future to attract a new generation of players with modern styling and a sound environmental policy. I think in the next few years we could see Oscar Jacobson make a significant move in the golf apparel market. JL, Ralph Lauren and Hugo Boss might need to watch their backs.
Fergus is a golf obsessive and 1-handicapper. Growing up in the North East of Scotland, golf runs through his veins and his passion for the sport was bolstered during his time at St Andrews university studying history. He went on to earn a post graduate diploma from the London School of Journalism. Fergus has worked for Golf Monthly since 2004 and has written two books on the game; "Great Golf Debates" together with Jezz Ellwood of Golf Monthly and "The Ultimate Golf Book" together with Neil Tappin (also of Golf Monthly)... Fergus once shanked a ball from just over Granny Clark's Wynd on the 18th of the Old Course that struck the St Andrews Golf Club and rebounded into the Valley of Sin, from where he saved par. Who says there's no golfing god?