One in four golfers now use Motocaddy Lithium Batteries
Motocaddy, a leader in lithium technology, has recorded an increase in golfers using lithium battery powered trolleys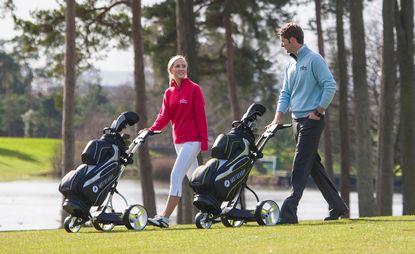 Motocaddy, a leader in lithium technology, has recorded an increase in golfers using lithium battery powered trolleys
Lithium batteries to power Motocaddy trolleys were introduced to the market six years ago.
However more than one in four golfers are now using the lightweight batteries as a means of making the game not only less expensive but also less physically exerting.
In 2012, the market-leading electric trolley brand introduced a five-year warranty on its lithium batteries.
Since then it has added 18-hole versions that have proved an attractive alternative to the popular 36-hole lithium battery.
Motocaddy's Managing Director Tony Webb said: "Golfers are experiencing much better reliability on the course thanks to lithium technology and are enjoying the added benefit of reduced wear and tear on their powered trolley.
"This, coupled with the convenience of keeping the battery in its tray when folded down and quicker charging, has made lithium models the increasingly popular choice."
The 18-hole Motocaddy Lithium battery, which launched last year, weighs just 2.5kg – a third of the lead-acid equivalent .
The 36-hole Lithium, at 3.2kg, not only offers an increased weight reduction from the lead-acid version, but is considerably smaller at less than half the size.
An integrated Battery Management System protects all lithium units and helps to provide a five-times-longer lifespan.
The lithium batteries can also be charged from empty in less than five hours.
Motocaddy 18 and 36-hole Lithium batteries stand at a retail price of £199.99 and £249.99 respectively.
Thanks to specialised battery units for S-Series and M-Series trolleys, there are lithium options available for all five electric models in the 2014 line-up.
Tiyah Hernandez-Pierrepont is a full-time student at the University of Edinburgh where she studies English Literature. Tiyah grew up with golf, with her stepdad having it on the TV or even sometimes hiring Tiyah as a caddie! Tiyah is also an avid photographer and runner.