Mizuno S18 Wedge Unveiled
Read about the new Mizuno S18 wedge, a refined version of the Mizuno S5 wedge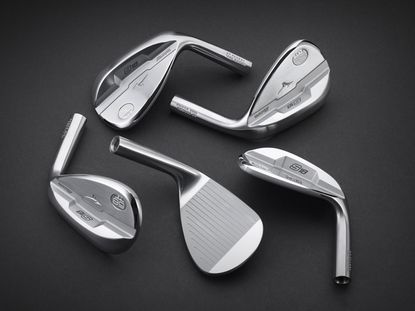 Launching alongside new MP-18 irons and a new CLK hybrid, the new Mizuno S18 wedge is a refined version of the Mizuno S5 wedge
Mizuno has announced the exciting launch of three new golf clubs, including its new Mizuno S18 wedge.
Launching alongside new Mizuno MP-18 irons and a new Mizuno CLK hybrid, the new wedge is a refined version of the Mizuno S5 wedge.
The Mizuno S18 wedge shares its rounded shape, which allows it to be opened up easily for bunker and flop shots without impacting alignment, a feature better players will love.
Each individual wedge also benefits from a 'Loft Specific Design', with unique profiles, sole grinds and groove depths each engineered to be effective for its intended use.
Check out Mizuno's new irons and hybrids:
Expand Mizuno MP-18 Irons Revealed
The wait for these stunning-looking irons is finally…
Expand Mizuno CLK Hybrids Unveiled
Mizuno has launched an exciting new hybrid, here…
For example, the stronger lofts used for full shots incorporate narrower and deeper Quad Cut Grooves that are more beneficial for controlling your trajectory. Wider and shallower grooves are then utilised in the higher lofts to maximise spin on short greenside shots.
Loft specific centre of gravity positions also feature, with weight shifted progressively higher up the face in the more lofted wedges via a visibly thicker beveled topline. This creates more consistent spin rates on strikes from higher up the face, which are more common in the higher lofts.
"One of the keys to a good short game is controlling your spin rates," Mizuno Senior Engineer Chris Voshall explained to GM. "There's no sense in making one pitch stop dead if the next one rolls out. On the shorter shots, we're more likely to miss the sweetspot high on the face, which is a cause of inconsistent spin. So we've made the Mizuno S18 wedge thicker higher into the blade, which evens out the spin rates on those common mishits."
As with the S5 wedges, Grain Flow Forging from a single billet of 1025 steel delivers soft feel and feedback, while Boron-infused into the steel enhances groove durability so the spin rates don't drop off as quickly as most wedges.
Mizuno S18 Wedge - Specifications
The new Mizuno S18 wedge will retail at £140 from September 2017.
It will be available in lofts from 46-62˚ and will also come in Black IP and Chrome finishes. The Black IP finish is designed to wear away gently over time to reveal the durable chrome beneath.
Each wedge can also be custom stamped with up to six characters in one of 12 colours to add a personal touch to your golf equipment.
Jake O'Reilly specilaises in equipment coverage, and joined the Golf Monthly team in 2013. Before this he graduated from the University of Huddersfield with a Sports Journalism and Media degree, and worked at a number of British golf magazines. Follow Jake on Twitter
@jake0reilly