Launch Monitors: What do the numbers mean?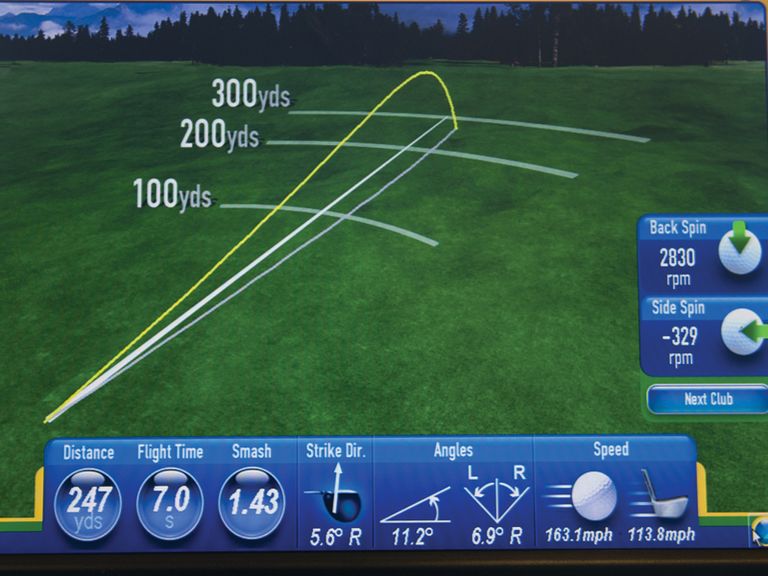 By Neil Tappin
In this article - Launch Monitors: What do the numbers mean? - Neil Tappin unpicks the data to give you an idea about what to look out for during your next fitting
Launch Monitors: What do the numbers mean?
Backspin
We have placed this at the top of our list because backspin is one of the most important numbers in modern-day club fitting. A good way to look at it is that the first number of the backspin rate should match the number on the bottom of the club you are using. So if you are using a 7-iron, your backspin should be around 7000 rpm. If it is well below this (at around 5000 rpm), you will struggle to get the flight you need to stop the ball on the green. As equipment manufacturers strengthen the loft of their irons, this is a very important number to keep an eye on. Lower spin might offer a little more yardage (if the launch angle is high enough), but you need to ensure you are also getting the correct overall flight. With the driver in hand, fitters are often wanting to get players to produce high launch, low spin drives. However, before you get wedded to a certain 'ideal' backspin number remember that slower swingers need spin to get the ball up into the air. A lack of spin will actually hurt your distance and possibly your accuracy too.
Clubhead speed
WARNING… We are now going to make you feel very inadequate about your golf game. Dustin Johnson creates a clubhead speed with his driver of around 123mph. He then goes onto deliver a whopping 186mph of ball speed. As his driver has been perfectly dialled in by the technicians at TaylorMade he is able to carry the ball 333 yards with a total distance of a touch over 350 yards. Yikes. A typical (good) club golfer, with driver in hand, would create a clubhead speed of around 90mph. A lighter and more flexible shaft and the latest clubhead technology can certainly help you help find a few extra yards but if you want to make serious strides, you'll need to invest in a combination of lessons and gym sessions!
Best Drivers of 2017
Smash Factor
Some launch monitors provide a reading for smash factor. This is a way of telling you how efficiently you are striking the ball – effectively, how well are you transferring energy from the club into the ball. You get the smash factor number by dividing the ball speed by the clubhead speed. So a typical calculation would be: 120 mph ball speed divided by 90mph clubhead speed. That gives a smash factor reading of 1.3. The higher the number is, the better you are transferring energy. If you manage to achieve 1.5, take a photo and upload it to social media… that's just about as good as it gets!
How to get More Distance... Power Tips For Golf
Launch Angle
When it comes to launch angle, every player is slightly different. That's why it is impossible to advise a player, before a fitting, on exactly what loft to have on his or her driver. Two players with 10.5˚ drivers will deliver the club to the ball in very different ways! A rough guide for faster swingers would be to aim for a launch angle of around 12˚ and for slower swing would be a fraction more – around 14˚. If you can couple these numbers with the right spin rates, you will maximise your distance.
Launch Monitors: What do the numbers mean? Carry/Total Distance
By far the most important number to look out for here is your carry distance. The overall distance depends on the course and atmospheric conditions – that's why players who think 'I hit my 7-iron 155 yards' often end up pitching in the bunker short of the green. With irons and wedges in hand you should aim for around a 10-yard difference in carry between each club. As the loft goes down, those numbers might start to tighten up. If they do, swap out your long irons for hybrids and let the fitter set the correct lofts for you.
When it comes to your driver and fairway woods, the carry distance gaps are likely to be more than 10 yards. That's fine but make sure you know what they are so that when you are devising a strategy out on the course, you can confidently select the right club that takes certain key dangers out of play.