Who Is Martin Kaymer's Girlfriend?
Find out if Martin Kaymer has a girlfriend in this piece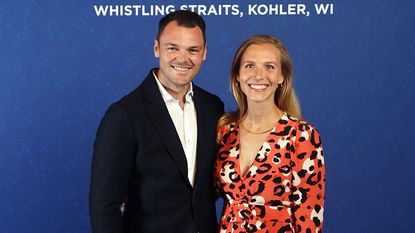 (Image credit: Getty Images)
Find out if Martin Kaymer has a girlfriend in this piece
Who Is Martin Kaymer's Girlfriend?
Martin Kaymer is an extremely successful golfer, and will feature in the Ryder Cup at Whistling Straits as one of Padraig Harrington's vice-captains.
The two-time Major champion sunk the putt that ensured Europe would at least retain the Ryder Cup in 2012 at Medinah, and the German also seems to have an active lifestyle off of the course as well as on it.
But who is the former World No. 1's girlfriend, or does he even one? We take a look below.
Related: 16 Things You Didn't Know About Martin Kaymer
Who Is Martin Kaymer's Girlfriend?
At the moment we believe Martin Kaymer is currently dating Irene Scholz after they were pictured together at the Ryder Cup dinner in 2021.
One of Scholz's clear interests is health and fitness as she used to work for Peloton as an instructor. However in 2021 she left the role saying;
"I have some bittersweet news to share, I'm going to be leaving the Peloton community to strike out on new adventures. It's been an honor being a part of your days and I want to thank our incredible community of members for supporting me along the way. Until next time!"
Scholz, like Kaymer, is German and she grew up in Wiesbaden, a place in the South-West of Germany.
She has her own website where she says sport moulded her life and played a variety of sports as a child like volleyball, track and field, and ballet.
After her studies she moved to South Africa and started her own gym in Cape Town but she decided for a new chapter in her life, moving to Berlin where she worked as a fitness instructor and project manager for a sports brand.
She was eventually signed by Peloton.
As far as previous relationships go, Kaymer has dated some high-profile names in the past.
Allison Micheletti, Kirsty Gallacher, and Melanie Sykes are all people that Martin has been in a relationship with.
He first started dating Allison Micheletti in 2010, with their relationship lasting for two years before they split up in 2012.
The daughter of professional hockey player Joe Micheletti, Alisson dreamt of playing professional basketball, but an injury at 16-years-old meant she turned to golf.
After she turned professional in 2011, she played on the Cactus Tour and Women's Canadian Tour - though Kaymer did briefly caddie for her at the 2020 Ladies European Tour Pre-Qualifying School, despite her being married since 2013.
The German then started dating British TV presenter and model Kirsty Gallacher for a year around 2013, after her cousin and professional golfer Stephen Gallacher introduced the pair.
However, Kirsty had only just divorced her husband the year before, so the relationship didn't last too long.
Martin then started dating Melanie Sykes, an English television and radio presenter, and model, in 2015.
14 years his senior, Sykes had previously been married twice before meeting Kaymer, and has two children from a previous relationship.
The pair met in Dubai when Martin was playing in the Omega Dubai Desert Classic, and five months later, in June 2015, they made it clear they were in a relationship by posting photos together in Mallorca.
The pair dated for roughly three years, though it was on and off, and they ended things together in 2018, as per reports.
As of right now, we believe Scholz and Kaymer are dating.
Ryan has worked as a junior staff writer for Golf Monthly since 2021.