Which Open Course Would You Most Like To Play?
We ask the forum which of the Open Championship venues they would most like to play.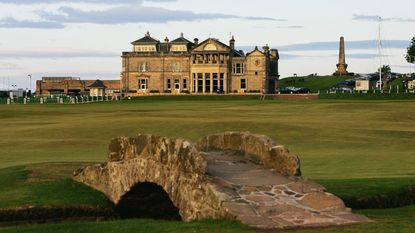 (Image credit: Getty Images)
We ask the forum which of the Open Championship venues they would most like to play.
Which Open Course Would You Most Like To Play?
With the Open Championship finally just around the corner we asked our forum members where they would most like to play, just for the experience of it and not thinking about value for money.
They're all bucket-list courses and some of the best in the world, in fact all of them currently sit in the top-20 on our most recent Top 100 Courses UK and Ireland rankings.
But would anywhere threaten the Old Course where the Open returns to every five years?
In order...
Format wise, we chose the venues that have held the Open this century.
Trump Turnberry Resort – Ailsa 6%
Muirfield 8%
Royal Birkdale 10%
St Andrews – Old 40%
Below are some of the response from the forum...
Portrush as I've had the fortune to play all the others at least once. If revisiting I hold a soft spot for Royal St George's and Muirfield.
fundy
I have played Old Course, Royal Troon, Muirfield and Carnoustie with Carnoustie my least favourite by a mile. A strange course with not many stand-out holes apart from the last 3 that are only famous for being hard.
I love Troon (6, 7 and 8 is an incredibly great run of holes) and really enjoyed Muirfield.
But for an experience, Old Course is the best.
KenL
I want to play Birkdale next. I've had the chance to play Old Course, Portrush and Hoylake. Without thinking about it the first two are the ones I'd have wanted to play having done none and really want to go back to the OC for another round.
Sports_Fanatic
For me it's the Old Course. I endeavour to play them all throughout my life though!
Bdill93
Already played the Old Course, Carnoustie and Muirfield and enjoyed them all. Portrush looked so amazing on TV when last hosting the Open so it has to be next on the wish list.
IanG
It has to be the Old Course, the most famous course in the world (probably)
chrisd
Troon...as it the only one on the list I have yet to play.
IanM
Old Course as not played yet and need to tick it off. Played four others on the list, loved the experience. Portrush my fav to date, stunning.
Swingalot
I've gone for Muirfield. I'm not a links fan so most of the others don't grab me. Muirfield is the one that pros seem to rate the best though so I'd like to see why.
Lord Tyrion
Old Course - isn't it the one every golfer should play before they die? Would love to play the others but the Finance Dept might have a word or two to say about that..
Imurg
Portrush was a fabulous course before the Open changes, with perhaps a relatively weak finish. Now that it has been beefed up with the new coastal holes and the great 18th, it looks fantastic. Pity about Big Nelly, though.
Ethan
Of the five I haven't played, it would have to be Portrush. Of the 5 I have played (RSG, Lytham, Birkdale, TOC & Carnoustie), the go-to replay would be Royal St George's. And Carnoustie five days after Paul Lawrie won The Open made me realise just how good these guys are; that course was absolutely brutal.
Blue in Munich
I am lucky enough to have played all the Scottish ones, some several times, but I would love to play Turnberry again especially after all the recent alterations.
CliveW
Played Royal Lytham last week, what an absolute treat. Did my best Adam Scott impression - all going superb until the 14th hole annnnd the wheels were off - great experience though. Also played Turnberry which is up there in my favourites. I'd really love to play Royal Portrush - stunning looking track!
Boomy
I'm a big fan of views while playing, so I'd go for Turnberry I think. Played it once, 30 years ago. Also a big Tom Watson fan - aside from that then Old Course and Birkdale.
badgergm
Portrush is the one I like the look of the most from the venues I haven't played yet.
Jimaroid
I've played Carnoustie & Portrush, would love to play any of the others but the Old Course would be my pick for the atmosphere. I've played most of the other St Andrews courses and have enjoyed them all, there's a special atmosphere there.
Backache
Played them all and thoroughly enjoyed each one. Wouldn't turn down an invite to any of them but would happily play the Old Course again and again. Will never get bored of St Andrews.
Lincoln Quaker
Birkdale for me, have played The Old Course, Carnoustie, Troon and Royal Liverpool. A chance of any them though would be a pleasure, nothing better than the feeling that you're walking in the footsteps of legends.
pauldj42
Royal St Georges and Royal Birkdale are at the top of my 'still to dos'. Shame they've both become so expensive!
Favourite of those played: Royal Portrush by far. Turnberry amazing too. Loved the 1st/17/18 at the Old - the experience wows more than the course for me. Similar at Muirfield; would love to go back to play in Summer (rather than Feb). Hoping Royal Liverpool have some more of those Opens in August and might be able to sneak that in.
Zig
The Old Course however I'd happily play any listed even though I've played six of them.
Val
Just something about St George's appeals... especially after walking through the estate after playing Prince's
Petema99
Hand over eyes and stick a pin on any for me PLEASE. Not played any of 'em so owt would be great.
Voyager EMH
Went for The Old Course. Just because it's the course in my view. However, I might be playing Portrush in November. Brother in law is getting married 40 miles down the road and the Mrs has given me the go-ahead to get a game in somewhere. Just not sure as a 23hcp I'd get round well enough to enjoy it? Answers on a postcard!
hairball_89
The only ones I haven't played are Hoylake, Sandwich and Portrush. From those I'd be most excited about Portrush. Of the others, I think Muirfield is the best course but I've been fortunate enough to play it a few times and I've played Carnoustie loads. I'd head back to the Old Course as I've only played it once, with my dad, when I was about 14, very rubbish at golf and the only thing I can remember is getting a row over the tannoy from the starter on the 1st tee..
Kaz
Mark has worked in golf for over 20 years having started off his journalistic life at the Press Association and BBC Sport before moving to Sky Sports where he became their golf editor on skysports.com. He then worked at National Club Golfer and Lady Golfer where he was the deputy editor and he has interviewed many of the leading names in the game, both male and female, ghosted columns for the likes of Robert Rock, Charley Hull and Dame Laura Davies, as well as playing the vast majority of our Top 100 GB&I courses. He loves links golf with a particular love of Royal Dornoch and Kingsbarns. He is now a freelance, also working for the PGA and Robert Rock. Loves tour golf, both men and women and he remains the long-standing owner of an horrific short game. He plays at Moortown with a handicap of 6.