Wentworth's West course set for major redevelopment after BMW PGA Championship
The project is part of a major £20 million renovation of the club's three golf courses, tennis and health club and clubhouse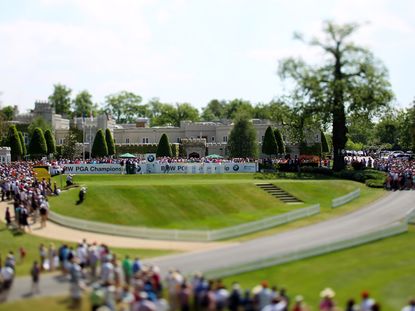 (Image credit: Getty Images)
The project is part of a £20 million renovation of Wentworth's three golf courses, tennis and health club and clubhouse
A major redevelopment of Wentworth's famous West course is set to begin the week after this year's BMW PGA Championship.
The renovations will include a full redesign of the 8th, 11th, 14th 15, and 16th greens, the reduction in the number of bunkers from 88 to 65, and a softening of the remaining bunkers to make them more playable for club golfers.
The work is part of a £20 million project with the aim, according to chief executive Stephen Gibson, of making Wentworth the world's premier private golf and country club.
The club will again work alongside Ernie Els Design and the project is due for completion in time for the 2017 PGA Championship.
Kenny Mackay, director of golf courses and grounds, told Golf Monthly he thinks the project will deliver way beyond tournament player's expectations.
"We've done an awful lot of research on the grass species for the greens and a lot of trial work. It's still ongoing but we feel that by doing all this we will make the right decision for Wentworth.
"We've done a survey of the members and a survey of the tour players. There's been extensive research behind the whole project."
The rebuilding of the greens will see the first use of a sub-air system in England and Kenny believes this will make a huge difference to the quality of the surfaces.
"We'll be able to drain the moisture down and that should be a massive benefit to growing bent grass in the UK," Kenny explains. "The one thing bent grass doesn't like is lying water.
"What you can do with sub-air is draw the moisture out and then pump oxygen back in to refresh the profile. You can run that on a daily basis. If you know two inches of rain is coming you can stick the sub-air on and you know it will drain.
"It's not a miracle cure but it's a big tool. It's massive in America and we're the first club in England to put it in as a full extensive system."
The project needs to be completed well in advance of the 2017 BMW PGA Championship, meaning Kenny and his team will start work as soon as this year's tournament finishes.
"There's a massive pressure on this project," Kenny explains. "We have a six to eight week window and the greens have to be finished and seeded so we can grow them back in ahead of the PGA next year.
"We're closing from June 6th and we plan to reopen in spring '17. We haven't set a specific date because we want to make sure we reopen properly. In early 2017 we'll have more of an idea about a specific date."
David joined Golf Monthly in 2015 as a content editor for the magazine and regularly contributes to the website. He has worked in magazine publishing and editing since 2003. He is a keen golfer and up until recently was a member of Blackmoor Golf Club in Hampshire. He has covered various big events and tournaments for GM, the highlight of which was witnessing Tiger Woods win his 15th Major at Augusta in 2019. Email: david.taylor@futurenet.com