The New World of the PGA Assistant Professional
Jake O'Reilly looks at the life of a PGA assistant professional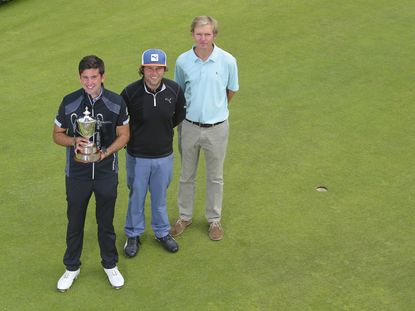 Golf Monthly Newsletter
Golf tips and expert instruction, golf club reviews and the latest golf equipment.
Thank you for signing up to . You will receive a verification email shortly.
There was a problem. Please refresh the page and try again.
From covering lessons to changing spikes, the life of the assistant professional used to be a fairly straightforward existence. But nowadays, things are a whole lot different…
Admit it: most of you, at one time or another, have entertained the romantic idea of being a golf professional. Not the Rory McIlroy or Tiger Woods kind, mind – even your daydreams aren't that deluded – just your run-of-the- mill, happy-go-lucky club pro.
Better still, why not the life of an assistant pro, who shares all the perks of the head pro, but without the responsibilities and with more free time to get out for a game.
That's exactly what we thought, too. Well, until we spoke to some current trainee professionals at the 2015 Galvin Green PGA Assistants' Championship, where they were busy juggling the chance to win £5,000 in their showpiece tournament with shop hours, lessons, practice schedules and compulsory degree assignments. Nowadays, the role of the assistant pro is vastly different to what it was in years gone by.
Becoming an assistant pro is no longer an easy option for the talented school drop out – far from it. It's now a largely academic three-year Foundation Degree that involves modules in golf retailing, golf coaching, custom fitting, sport science and business finance, to name just a few.
It makes sense, then, that the PGA Assistants' Championship, which dates back to 1930 and is only open to those studying the degree, has also taken a step up, with renowned outerwear brand Galvin Green coming on board as title sponsor until 2017. Its lucrative winner's package now includes a cheque for £5,000, a Galvin Green wardrobe and a four-day trip to its headquarters in Sweden, plus qualification to the end-of- season PGA Play-Offs in Turkey and the Australian PGA Futures Championship.
"We see many synergies between our brand and the PGA Assistants' Championship," said Greg Pearse, managing director of Galvin Green, UK and Ireland. "We're both very passionate about the game, very ambitious and committed to delivering great performances on the course.
"It's a great partnership and we're determined to invest in the event and the progression of these assistants to make it a real highlight of the season."
Everyone who undertakes the course has a desire to improve their skill set – whether playing, marketing or retail – but that's not to say they all have the same end goal.
It's perhaps unsurprising, given mass changes across the board, that the range of applicants the PGA course attracts is no longer a small pool of scratch-handicap teenagers, but now a much wider selection that includes the likes of current and successful ex-European Tour pros who are looking for stability alongside their travels, or to settle down closer to their families.
To find out a little more, we sat down with a few of them to discover why they decided to study to be an assistant professional, how they are finding it and what the future holds for them once they are fully qualified…
Neil O'Briain Club: Old Conna
While a lot of young assistants are busy trying to find time for a social life, practice and assignments, final-year assistant Neil O'Briain had to prepare for both his exams and an outing in the 2015 Irish Open alongside the likes of Rory McIlroy and Rickie Fowler, after he qualified through the PGA in Ireland Order of Merit. He'd like to get back to that level, but the American college graduate is tackling his future sensibly by getting his qualifications sorted out first. "I'd been having moderate success after graduating, but with mini-tour costs you would look at the pot at the end of the year after Q-School and there would be nothing there," the Irishman told GM.
"So I started working at Old Conna while playing mini-tour golf to see how I'd get on, and it's been great. I'm getting to do a bit of everything, from the shop stuff and coaching to admin bits in the office, which really helps me to understand the ins and outs of running a golf club from a financial point of view," he says.
"My club wanted me to keep my playing drive, and that relationship helped me qualify for the Irish Open through the PGA Order of Merit, where I played with Magnus Carlsson and Seve Benson, who gave me some kind words and guidance."
So how has he found the day-to-day life? "People might think becoming a pro is a doddle, but it's far from it. You need to work hard." For O'Briain, this includes getting up at 4:30am in the summer to play nine holes before the shop opens, where he'll then work until 7-8pm before heading back home to tackle homework.
After coming tied second at the PGA Assistants' Championship, it seems his mix of graft and study are paying off nicely.
Nicky Lumb
PGA Captain
Since becoming a full PGA member in 1981, Nicky Lumb has ascended to its top position as Captain, where he now represents 7,500 of his fellow PGA members. Lumb thinks getting more people into golf should be a big focus for those following in his footsteps.
"If the only way you are going to survive running a business is by getting people in, then our pros can drive recruitment and member retention and should have the expertise to grow the game," he says. Lumb became chairman of the PGA training committee in 1989, and admits a lot has changed for the better in the time since, from degree classifications to the more basic elements. Lumb is also proud of the doors a degree can now open: "The world has changed and golf business professionals are much more common. That's why we give assistants the skills they need to try their hand at a lot of different things," he adds.
Colton Alleyne-Davis
Club: Sedlescombe For many young golfers, the financial strain of regular tournament golf means becoming a PGA pro is the only viable option to keep playing without resorting to a job outside of the sport they love. After becoming one of the best golfers in his area and making his county team, Colton Alleyne-Davis found himself with a decision to make.
"The mini-tours are so expensive only a few players make a living. The PGA degree helps us work at the same time as we play," he says.
The playing part isn't completely straightforward, as any tournaments or Pro-Ams have to be taken as holidays, or by swapping shifts in the pro shop. But the opportunity to keep sharp and earn money is hard to match.
For those with a one-track mind, what the Foundation Degree does well is introduce them to new areas within the golf industry, as Alleyne-Davis explains: "There are so many different modules. Applied science is about the biomechanics of the golf swing and nutrition, while golf coaching is broken down into swing mechanics and teaching. There's also custom fitting and club repairs, plus customer service and business, which can open doors into managing a club and a whole different career path."
David Griffiths
Club: West Herts
If I asked you to picture a stereotypical assistant professional, David Griffiths probably isn't who you'd imagine. The 35-year-old captained the England Boys side and went on to play on the European Tour, where he notched two top-three finishes. But after a string of average seasons on the Challenge Tour, and missing out on his 2013 card by a shot at Q-School, he decided it was time for a change.
"Financially each year was getting harder to justify, and as I've now got a child on the way I needed to start thinking about the future. It was either get out of golf and start again, which I couldn't really see as I love it, or try my hand at coaching. That was a year ago, and it's been great so far," he says.
With tour golf only getting more competitive, Griffiths' way into the PGA will become more and more common. The challenge for Griffiths, and those who follow him, will be juggling their obvious playing ability with the theoretical elements needed to be a modern-day PGA professional.
It's the extra hours at home and the rewarding elements of coaching that will make the change of pace worthwhile, though. Ironically, taking the pressure off his game has helped Griffiths' performances on the course, including a tie for second at the PGA Assistants' Championship.
"It's quite nice not having to put in so many practice hours. You just get on with what you've got, and all in all I have to say I'm really enjoying balancing that with teaching, playing in Pro-Ams and the like."
Cameron Marr
Club: Musselburgh
The PGA assistants class of 2015 still includes a fair few traditional entries, as you might expect. Cameron Marr, one such student, has had to park his dreams of tour golf in order to make the money he needs to compete.
"I'd love to play in more EuroPro events and work toward a Challenge Tour card, but you need good sponsorship to play them regularly, so for now I can earn while I learn and still play a few regional events in Scotland, which works out much better money wise," he says. For these types of players, the security of becoming an official PGA pro can't be overestimated.
"The degree is pretty good as if you don't make it as a player there's a lot of different avenues you can go down. Once I've finished my last exam I'll play for a season, and then if the right job comes up I'll grab it with both hands. But doing this means I can keep my options as open as possible," Marr says.
Jack Harrison
Club: Wildwood
"In my first year on the EuroPro Tour I missed seven cuts in a row, and part of me thought 'this isn't for me'," says Jack. "I carried on plugging away, then my dad (former European Tour pro and MD at Wildwood, Phil Harrison) said: 'Why not do your PGA degree and get it out the way, so you'll be 25 and fully qualified'. I've been lucky as he's really flexible – I know a lot of the lads struggle to make time to play and study."
"Because my degree is hopefully a back up to my playing, I'll do one or two ten-hour shifts and some junior coaching each week, rather than five shop days, so it doesn't take all my time," he says.
Harrison's rather unusual arrangement is obviously paying dividends, with the 25-year-old describing his PGA Assistants' win at Coventry Golf Club as the biggest day of his career. By fending off 120 other assistants, he won £5,000. What's more, he can now look forward to trips to Sweden, Turkey and Australia.
With that line-up to come, and after five starts on the Challenge Tour this year, it's safe to say Harrison isn't your typical pro-shop assistant. "I'm just going to keep going and keep on playing for as long as it takes. Next up is 2015 European Tour Q-School, and who knows after that," he concludes.
David joined Golf Monthly in 2015 as a content editor for the magazine and regularly contributes to the website. He has worked in magazine publishing and editing since 2003. He is a keen golfer and up until recently was a member of Blackmoor Golf Club in Hampshire. He has covered various big events and tournaments for GM, the highlight of which was witnessing Tiger Woods win his 15th Major at Augusta in 2019. Email: david.taylor@futurenet.com