Should shorts be allowed on tour?
Fergus Bisset looks at the European Tour's decision to allow shorts on practice days and in Pro-Ams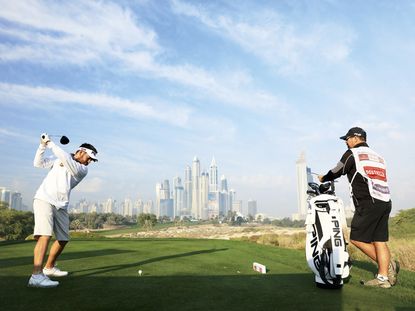 (Image credit: Getty Images)
Get the Golf Monthly Newsletter
Thank you for signing up to Golf Monthly. You will receive a verification email shortly.
There was a problem. Please refresh the page and try again.
The European Tour has decided to allow shorts on practice days and in Pro-Ams. Fergus Bisset asks what's the objective, is it a good move and might we see them in tournament play?
Before this year's event in Abu Dhabi, the European Tour's tournament committee voted unanimously in favour of allowing players to wear shorts in practice rounds and Pro-Ams – not just for greater comfort in hotter conditions, but also with an eye towards modernisation and attracting youngsters to the sport.
"Shorts are a natural evolution to help modernise the game," said the tour's chief executive, Keith Pelley. "It puts our players first and our fans first too. The fashion of golf is something that the youth adopts. We will have strong rules, but there will be some fashion statements. It's a great start.
Next step, shorts being allowed in European Tour events too, perhaps? Ian Poulter tweeted that he would have no problem with that and other players seemed to embrace the new regulations, too. "I think it's a good idea," said Rory McIlroy. "Especially in practice and especially if it gets hot." Jordan Spieth, playing in Abu Dhabi, was also in favour, expressing a desire for the PGA Tour to consider a similar move. "I think it's awesome," he said. "Most of the guys talking highly of it are the older guys, oddly enough."
Interesting! Pelley says the idea is to appeal to the younger generation, but 22-year-old Spieth says it's mainly old guys talking enthusiastically.
Now, what's more appealing to the youth – Rickie Fowler in a pair of neatly fitting slacks, or an ageing veteran of the circuit in a pair of billowing shorts looking like a middle-aged tourist at Disneyland?
When it comes to fashion statements from the players, don't long trousers give greater scope for sartorial spectacle? Stop and think of some iconic images of men looking 'cool' over the years – how many are wearing shorts? Shorts are designed primarily for comfort, not style. Allowing shorts might keep players cool, but it won't make them look cool!
The mere sight of Ernie Els in a pair of shorts is unlikely to make a kid want to take up golf. But what might sway him is that Ernie had the option to wear those shorts. Golf needs to knock some of its outdated rules on the head, and giving players an option to wear shorts is a step in the right direction, even if not many take it up.
So would allowing shorts in tournament play take something from the professionalism of top-level golf? Would we like to see an Open Champion sporting shorts on one of our most hallowed links? Why not? Shorts are permitted in elite amateur golf, but when the youngsters step up to the paid ranks, greater sartorial discipline is required. The office intern might get away with trousers and a shirt but the new man on a full contract is expected to wear a suit.
But golf is a sport, not an office job, so surely participants should be free to dress in a manner they feel will most greatly enhance their performance. If a player truly believes he would score better wearing shorts, shouldn't this be allowed?
Something Keith Pelley said in Abu Dhabi is worth considering again: "We will have strong rules." So the rules on shorts will be relaxed to make the game more appealing to the youth, but there will be strong rules on those relaxed rules. Presumably those strong rules will be regarding the type of shorts allowed?
Most, possibly all, golf clubs in the UK allow men to wear shorts on the course, but most have guidelines as to what those shorts must look like.
The more archaic establishments may have a stipulation that 'tailored shorts may be worn with knee-high socks', making the wearer look like someone from It Ain't Half Hot Mum. Not hugely appealing to the younger generation. Plus, the ultra-long hosiery rules out any sort of cooling benefit.
Other clubs might stipulate that 'tailored shorts may be worn'. Does this mean only shorts handmade on Savile Row are acceptable? Whether shorts look like cut-off chinos or something 50 Cent might wear on stage, they have probably been mass-produced rather than tailored. And what if you commissioned your man on Savile Row to tailor you a pair of Lycra cycling shorts? What most clubs view as acceptable is a pair of short trousers – what they expect from full-length strides shortened to just above the knee.
It's all about freedom of choice, which is why the European Tour should allow players to wear shorts and golf clubs should do the same, without any restrictive conditions! Saying, "of course you can wear shorts if you want" conveys that golf is not all about stuffy rules and regulations, which will encourage more young people to feel they could enjoy being involved in the sport. Think back, it's not that long ago… Young people don't like being told what to do!
Golf needs to trust its participants to make their own decisions without pompous stipulations and conditions. Some tour players may choose to wear shorts in the very hottest conditions, others will prefer not to. Most will recognise that trousers are more practical and stylish in the vast majority of playing conditions.
Club golfers and visitors will generally show respect and common sense when it comes to their choice of attire. If they opt for shorts, it won't be a pair of George Michael-style hot pants as they'd look, and feel, ridiculous out on a golf course.
Get the Golf Monthly Newsletter
Tips on how to play better, latest equipment reviews, interviews with the biggest names and more.
David joined Golf Monthly in 2015 as a content editor for the magazine and regularly contributes to the website. He has worked in magazine publishing and editing since 2003. He is a keen golfer and up until recently was a member of Blackmoor Golf Club in Hampshire. He has covered various big events and tournaments for GM, the highlight of which was witnessing Tiger Woods win his 15th Major at Augusta in 2019. Email: david.taylor@futurenet.com