Mark O'Meara's Life-Changing Year
Fergus Bisset explains how in the space of three months in 1998, Mark O'Meara transformed his career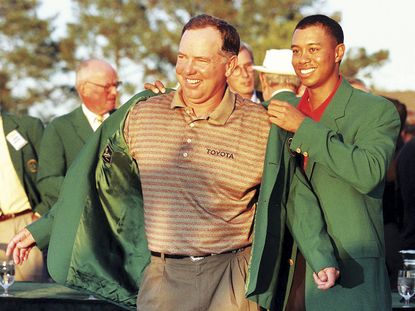 Fergus Bisset explains how in the space of three months in 1998, 41-year-old Mark O'Meara transformed his career from one of a solid touring professional to that of a future Hall of Famer
Having just turned 40, 1997 was a good year for Mark O'Meara. He won the Pebble Beach Pro-Am and the Buick Invitational in consecutive weeks on the PGA Tour, recorded four further top-ten finishes, won the European Tour's Trophée Lancome and made the US Ryder Cup team for a fourth time. He finished the season ranked number ten in the world.
O'Meara was an experienced campaigner, an extremely consistent performer, but it would be fair to say he wasn't regarded as a superstar of the game as 1997 became 1998.
On the eve of the 1998 Masters, few experts were touting O'Meara as a possible winner. Defending champion Tiger Woods was the most obvious candidate. He'd won by 12 shots the previous year and had shown promising form in the first part of 1998, with two seconds and a third. Phil Mickelson, David Duval and Ernie Els had all won tournaments in the first three months of the year and talented young Englishman Lee Westwood triumphed in Louisiana the week before Augusta.
O'Meara, by contrast, had been struggling for form. He'd managed nothing better than a tie for 22nd since withdrawing at Pebble Beach in February. He was flying well under the radar, but that was a position he was comfortable with. When he went up against John Cook in the final of the 1979 US Amateur Championship, O'Meara was happy to play the underdog to the defending champion before wiping the floor with him 8&7. At Augusta in 1998, his skill for flying under the radar would come to the fore.
The first round was played in strong, gusting winds and the tough conditions hampered scoring. The 1992 champion, Fred Couples, took to the front with an excellent 69. A favourite of the crowds, Couples was full of confidence and had clearly come to win.
"I'm playing like there's no tomorrow," he commented.
Another former champion, Jose Maria Olazabal, was one back after a 70 while Woods, Colin Montgomerie, Duval and Paul Azinger all fired 71s.
O'Meara finished with a 74. It didn't look great on paper but, only five off the lead, it was certainly no disaster.
Other first rounds worth noting included that of 1967 Masters winner Gay Brewer; the 66-year-old fired a level-par 72, as did 19-year-old amateur Matt Kuchar, who went on to finish tied for 21st.
Duval fired a second-round 68 to take a share of the lead with Couples on five-under-par with Scott Hoch, who famously missed a two-foot putt to win the 1989 Masters, two back on three under. Tiger, Phil, Olly, Zinger and Jay Haas were the only other men under par. Going along quietly and just sneaking onto the first page of the leaderboard, O'Meara improved with a 70 and finished 36 holes on level par.
Fred and Tiger were the big stories, though, and it was their names dominating newspaper columns at halfway.
O'Meara continued his steady and stress-free progress up the standings in round three. On 'moving day' he climbed into a share of second place with an excellent round of 68. With the wind easing, scoring was better on Saturday and a number of players posted good scores. Jim Furyk put himself in the mix with a 67 and Mickelson and Azinger both broke 70 as they joined O'Meara in a tie for second. Couples maintained his place at the top of the board with a workmanlike round of 71, but Duval stumbled with a disappointing 74. Double D was still in the hunt, though, only three shots off the pace. In fact, there were 12 players within five shots of the lead, including Woods, Monty and 58-year-old Jack Nicklaus, who carded an excellent third round of 70 to the delight of the Augusta National patrons.
The final round promised to be a cracker but, still, O'Meara's name was largely absent from tournament reports. The focus was on the super cool and confident Couples (who had been heaping the pressure on himself by talking of victory), Azinger (who had recovered from cancer just a few years earlier), Woods (who made it clear after round three that he could still win) and Nicklaus – could he pull off the unthinkable and win his 19th Major at the age of 58?
Early on Sunday it seemed he might just have a chance. The Golden Bear had the galleries at fever pitch early in his round. With a birdie at the 7th, he reached four-under-par and was just two behind Couples and O'Meara, who had drawn level with his playing partner. Nicklaus went on to card an excellent 68 and finish the tournament in a tie for sixth. It was his 73rd, and final, top-ten finish in a Major.
Next it was Duval's turn to send cheers echoing through the Augusta pines. He made birdies at the 7th, 9th, 10th, 11th and 13th holes to reach eight-under-par. O'Meara had dropped a shot at the 10th and, when Couples made a double-bogey seven at the 13th, Duval was two shots clear on eight under. He would finish on that score.
But neither Couples nor O'Meara were done. Freddie struck back with an eagle at the 15th to reach eight under once again and O'Meara birdied the same hole to sit one back with three to play. Even then, at that incredibly late stage and so close to the top of the board, the veteran was being partially overlooked. It was between Duval and Fred, wasn't it? O'Meara clearly felt otherwise. Walking up the 17th fairway he quietly said to his caddie Jerry Higginbotham, "two birdies and this tournament could be mine."
By holing an eight-foot putt on the 17th green, part one of the mission was complete. With one to play, Couples and O'Meara were tied with Duval on eight under with one last chance to win outright. O'Meara put himself in the perfect position from the tee and fired a solid approach to within 20 feet of the pin. Freddie took a less textbook approach; his drive found sand and so did his second. He blasted out his third, leaving five feet for par.
O'Meara then stood over a putt to win The Masters and Couples could only watch. "I knew he was going to hit a good putt," Couples said. "You always expect him to make it."
O'Meara matched Fred's expectations – he rolled the birdie putt home for a closing 67 and a one-stroke victory. It was the first time he had been alone at the top of the leaderboard all week.
O'Meara's first Major victory was a demonstration of how to win a golf tournament, minimising pressure. He steadily made his way into contention, then waited to the death to strike the final blows. O'Meara birdied the 15th, 17th and 18th holes to sneak it by one and to become a Major Champion for the first time at the age of 41. It wouldn't be long before he had another to his name.
Between The Masters and The Open Championship, O'Meara had a couple of third-place finishes, one in the US and one in Europe. But despite his good form and recently acquired Green Jacket, the American wasn't one of the more heavily backed runners at Royal Birkdale. In the five previous Opens, his best finish had been a tie for 33rd at Royal Lytham in 1996, although the savviest punters would have noted his tied third-place finish at Birkdale back in 1991. Most, though, felt O'Meara had enjoyed his day in the sun, his last hurrah. Once again, it was O'Meara's close friend Tiger who was expected to triumph.
Round one at Birkdale went according to the script. Woods fired a superb 65 to head the field, together with John Huston. There were solid rounds from Couples and Nick Price, who both shot 66. A total of 27 players broke par and O'Meara looked a non-contender after his two-over-par 72, seven shots back.
But, just like Augusta three months earlier, O'Meara was quite happy playing the underdog. He crept onto the leaderboard after 36 holes following a fine second-round 68. Tiger and the pack dropped back, as little-known American Brian Watts took to the front. The round of the day was by 17-year-old amateur Justin Rose, who carded a brilliant 66. He would go on to finish in a tie for fourth, miraculously holing a pitch to the 72nd green.
Related: Justin Rose's swing sequence
Watts, who plied his trade mainly on the Japan Golf Tour, continued to lead through 54 holes. But again, as at Augusta, O'Meara had stealthily climbed into a tie for second place, just two shots behind.
The wind calmed for the final day and there was some excellent scoring. Woods made a charge with birdies at the 15th, 17th and 18th to post a clubhouse total of one-over-par. He would come up one stroke shy and be left to rue the mistakes of Friday and particularly Saturday, when he'd slumped to a 77.
O'Meara and Watts tied on level par through 72 holes meaning The Open would be decided by a four-hole play-off.
On the first extra hole, O'Meara made a birdie four and Watts missed a short putt to match him. The younger man was unable to get back on terms and O'Meara coolly closed out the tournament. It was his second Major victory of the year and it secured his place in golfing history. He became the oldest player ever to win two Majors in one season, surpassing Nicklaus and Ben Hogan, who both achieved the feat at the age of 40.
"If I could put my finger on it, I would have done it earlier," he said.
O'Meara went on to challenge for the USPGA Championship in August '98, finishing tied for fourth, and he capped his annus mirabilis with victory in the Cisco World Match Play at Wentworth in the autumn. There, he beat Tiger 1up in the final, by which point the young phenomenon must have had quite enough of his old pal's heroics. O'Meara played in one more Ryder Cup – the US victory at Brookline in 1999 – but he never won again on the PGA Tour following his Open triumph at Birkdale, and the top tens steadily dwindled over the following seasons. In 2015, O'Meara was inducted into the World Golf Hall of Fame; his inclusion in the pantheon of greats in no small part down to what he achieved between April and July of 1998. The quiet, mild-mannered veteran dug deep to realise his true potential and produce a pair of career-defining performances 18 years into his professional journey. He may have been a late bloomer, but it was worth the wait.
David joined Golf Monthly in 2015 as a content editor for the magazine and regularly contributes to the website. He has worked in magazine publishing and editing since 2003. He is a keen golfer and up until recently was a member of Blackmoor Golf Club in Hampshire. He has covered various big events and tournaments for GM, the highlight of which was witnessing Tiger Woods win his 15th Major at Augusta in 2019. Email: david.taylor@futurenet.com