20 Of The Best Golf Quotes Ever
Great golf quotes from Hagen, Hogan, Snead, Trevino, Langer, Wordsworth, AA Milne, PG Wodehouse et al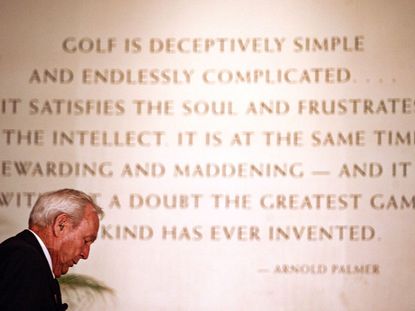 (Image credit: Getty Images)
Get the Golf Monthly Newsletter
Thank you for signing up to Golf Monthly. You will receive a verification email shortly.
There was a problem. Please refresh the page and try again.
Words of wisdom, whimsy and whatchamacallit
20 Of The Best Golf Quotes Ever
I expect to make at least seven mistakes a round. Therefore, when I make a bad shot, I don't worry about it. It ís just one of those seven. Walter Hagen
Golf is deceptively simple and endlessly complicated; it satisfies the soul and frustrates the intellect. It is at the same time rewarding and maddening – and it is without a doubt the greatest game mankind has ever invented. Arnold Palmer
Golf is so popular simply because it is the best game in the world at which to be bad. AA Milne
They call it golf because all of the other four-letter words were taken. Raymond Floyd
Isn't it fun to go out on the course and lie in the sun? Bob Hope
The most important shot in golf is the next one. Ben Hogan
To find a man's true character, play golf with him. PG Wodehouse
My swing is so bad, I look like a caveman killing his lunch. Lee Trevino
Talking to a golf ball won't do you any good, unless you do it while your opponent is teeing off. Bruce Lansky
Be decisive. A wrong decision is usually less disastrous than indecision. Bernhard Langer
Continues below
Expand 30 Of The Best Golf Memes
All golfers know these feelings...
Expand How Can I Play Augusta National?
How Can I Play Augusta National?
This is one of the most exclusive golf…
Expand Best Golf Apps For iPhone
Want to improve your game? Why not check…
Golf is a day spent in a round of strenuous idleness. William Wordsworth
If profanity had an influence on the flight of the ball, the game of golf would be played far better than it is. Horace G Hutchinson
The least thing upset him on the links. He missed short putts because of the uproar of the butterflies in the adjoining meadows. PG Wodehouse
If you really want to get better at golf, go back and take it up at a much earlier age. Thomas Mulligan
Golf is a game whose aim is to hit a very small ball into an ever smaller hole, with weapons singularly ill-designed for the purpose. Winston Churchill
Golf is a game in which you yell "fore"... shoot six... and write down five. Paul Harvey
Golf is 20 percent talent and 80 percent management. Ben Hogan
These greens are so fast I have to hold my putter over the ball and hit it with the shadow. Sam Snead
If you're caught on a golf course during a storm and are afraid of lightning, hold up a 1-iron. Not even God can hit a 1-iron. Lee Trevino
I don't fear death, but I sure don't like those three-footers for par. Chi Chi Rodriguez
Don't forget to follow Golf Monthly on Facebook, Twitter and Instagram
Get the Golf Monthly Newsletter
Tips on how to play better, latest equipment reviews, interviews with the biggest names and more.
Contributing Writer Golf courses and travel are Roderick's particular interests and he was contributing editor for the first few years of the Golf Monthly Travel Supplement. He writes travel articles and general features for the magazine, travel supplement and website. He also compiles the magazine's crossword. He is a member of Trevose Golf & Country Club and has played golf in around two dozen countries. Cricket is his other main sporting love. He is the author of five books, four of which are still in print: The Novel Life of PG Wodehouse; The Don: Beyond Boundaries; Wally Hammond: Gentleman & Player and England's Greatest Post-War All Rounder.