How can adjustable golf clubs help my game?
If you know how to use them, adjustable golf clubs will help your game...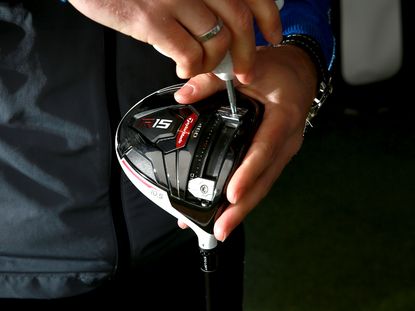 (Image credit: Kevin Murray)
Golf Monthly Newsletter
Golf tips and expert instruction, golf club reviews and the latest golf equipment.
Thank you for signing up to . You will receive a verification email shortly.
There was a problem. Please refresh the page and try again.
From changeable sole weights to adjustable hosels, if you know how to use them, adjustable golf clubs will help you hit it further and straighter...
Adjustable golf clubs became popular in the mass market in 2004, when the TaylorMade R7 Quad introduced Moveable Weight Technology.
Its design let you rearrange four differently weighted screws in the driver's head using a wrench in order to alter your ball flight to suit your preference. You could place the heavier weights on one side and the lighter ones on the other to encourage a shot shape, or split them to keep the club more neutral.
Changeable heel and toe weighting is a simple theory that helps you straighten up wayward ball flights, and it has since been adapted by many brands, including Mizuno in the JPX EZ driver you can see in the above video, and Callaway, whose Great Big Bertha driver has Adjustable Perimeter Weighting, where a 10g weight can slide along a track at the rear of the club.
In each instance the physics remains the same.
Placing more weight in the toe area of the club (the side of the face furthest from your grip) slows the speed at which the club rotates to square, which leaves the face more open at impact. A more open face will encourage fade spin, and so straighten out a draw or hook for better accuracy.
Likewise, placing more weight in the heel encourages the face to close quicker, helping golfers who fade and slice the ball hit it straighter, or helping you to hit a distance adding draw if you already have a neutral swing path.
Adjustable Centre of Gravity
Heel and toe weighting isn't the only way you can alter adjustable golf clubs.
As of 2014, Callaway introduced adjustable centre of gravity (CG) positions. This is possible thanks to its Gravity Core, which returned in the new Callaway 816 Alpha Double Black Diamond driver.
This sees hollow chambers in the sole house weights that are more weighted on one end than the other. Placing the heavier end nearer the sole lowers the CG to make it more forgiving and easier to launch, while placing the heavier end inside the head nearer the crown pushes the CG higher to reduce spin and make it more workable.
Hosel adjustability - loft, face and lie angle
The third and final type of adjustability is hosel adjustability, which now features in most modern drivers, and lots of fairway woods and hybrids too.
Adjustable hosels can be designed to let you alter your loft, lie angle and face angle, with some doing all three and others just one or two.
Altering your loft effectively helps you hit it higher or lower without having to change your swing, which is great if you're about to tackle a windy links course on an away day.
Adjustable lofts also give your professional or fitter more to work with during a club fitting or lesson, as they will be able to highlight how your swing could benefit from a loft change. On most clubs when you add loft, this closes the clubface by a similar amount. Conversely, reducing loft will open the clubface. Some drivers, like the Titleist 915, offers loft adjustability via the SureFit Tour hosel system.
Related: How do I get a golf club custom fitting?
While less common, lie angle adjustability can be helpful, especially if you are shorter or taller than average. Getting your lie angle right for your set up will help the club sit flat to the ground and come through impact square more consistently. A more upright lie angle on a driver will encourage the ball to turn over from right-to-left for a right-handed golfer, effectively increasing the club's draw bias.
Adjustable hosels can also help you change your face angle. Closing your face will help reduce fades and slices, while opening it will help straighten out draws and hooks. This makes it a great addition to weight adjustability for those of you who struggle to hit lots of fairways.
A final benefit with adjustable golf clubs is that you can re-adjust them yourself as your swing improves over time, and thanks to this, you shouldn't grow out of them so quickly, so will get better value for money in the long run.
All in all there are plenty of ways that adjustable golf clubs can improve both your distance and accuracy, so you'd be silly to write off trying adjustable golf clubs before giving one a go.
Jake O'Reilly specilaises in equipment coverage, and joined the Golf Monthly team in 2013. Before this he graduated from the University of Huddersfield with a Sports Journalism and Media degree, and worked at a number of British golf magazines. Follow Jake on Twitter
@jake0reilly