Golf Rules Explained: Provisional Ball
In this exclusive rules feature we look at the procedure for playing a provisional ball. Just what should and shouldn't you be doing?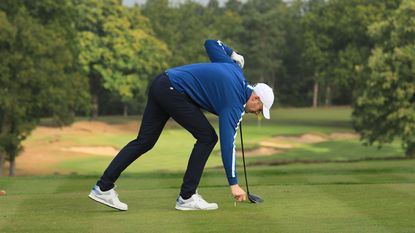 (Image credit: Kevin Murray)
Golf Rules Explained: Provisional Ball (Rule 18.3)
The provisional ball Rule is one of the most useful Rules in the book. If, after playing a shot, you think your ball may be lost outside of a penalty area or out of bounds, you should play a provisional ball. The purpose of the Rule is to save time, hence the player must inform his opponent, marker or fellow-competitor that he intends to play a provisional ball, and he must play it before he goes forward to search for the original ball.
If the player fails to make it clear that he intends to play a provisional ball and plays another ball, that ball is not a provisional ball; instead it becomes the ball in play under penalty of stroke and distance (Rule 18.3b).
There does seem to be a little confusion around what phrases you may use to clearly indicate that you are playing a provisional ball.
Related: 10 Golf Rules Myths
Rule 18.3 states; "You must use the word 'provisional'...", but then goes on to say, "or otherwise clearly indicate that you are playing a ball provisionally under 18.3". This second statement seems to introduce an element of greyness into something that could be black and white.
In the Interpretations on the Rules, you'll see that phrases implying doubt are good enough (e.g. "I'm going to play another just in case"). But whatever you say, it must be obvious that your intent is to hit a provisional ball.
As confusing as this is, we would just advise using the word provisional so that you can remove all doubt.
If it transpires that the original ball is lost outside of a penalty area or out of bounds, you must continue with the provisional ball, under penalty of stroke and distance. If the original ball is found in bounds, you must continue with that ball and stop playing the provisional ball.
Remember, you can continue to play your provisional ball until you reach the place where the original is likely to be. If you make a stroke at your provisional ball at or beyond that point, the provisional becomes the ball in play and the original is considered lost.
Related: Rules of Golf - Plugged Lie
---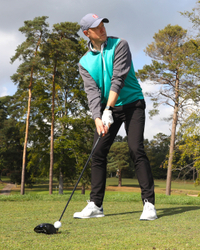 (opens in new tab)
E-Learning Tutorial - Shoot Lower Scores!
Are you interested in making lasting improvements to your golf game? Shoot Lower Scores (opens in new tab) is an online course from Golf Monthly designed to help you find power in your swing and hole more putts as well as how to avoid falling foul of the more challenging rules of golf. Whether you want to brush up your knowledge or learn something new; this tutorial (opens in new tab) is perfect.
Lost Ball
When you hit your ball deep into the woods and then crush your provisional ball down the middle of the fairway, it is worth remembering that you cannot declare your original ball to be lost. In fact, saying, "I'll just declare that original ball lost," is meaningless under the Rules! It's not what you say that matters, it's what you do.
Under the definitions section of the 2019 Rule book, the definition of the term 'lost' has been streamlined significantly, and now simply states: "The status of a ball that is not found in three minutes after you or your caddie (or your partner or partner's caddie) begin to search for it."
You are not, however, obliged to look for your original ball if you don't want to, but you can't actually stop your opponent or anyone else from looking, even if most golfers would consider it good etiquette to not go looking for a ball if someone has clearly stated their desire to abandon it.
But if that does happen and the ball is found, you will have to proceed using that ball even if you had declared it to be lost, as the Rules do not allow you to declare a ball lost!
Related: Golf Rules - Lost Ball (opens in new tab)
For more Rules content, check out the Golf Monthly website.
In his current role, Neil is responsible for testing drivers and golf balls. Having been a part of the Golf Monthly team for over 15 years and playing off a handicap of 3, he has the experience to compare performance between models, brands and generations. For 2022 he thinks the main trend in drivers is: "In a word, consistency. Whilst all the brands are talking about ball speed (and the new drivers are certainly long), my biggest finding has been how much more consistent the ball flights are. Mishits don't seem to be causing the same level of drop-off or increase in the spin numbers. This means that more shots seem to be flying the way you want them to!" As far as golf balls are concerned the biggest development is in the, "three piece, non-Tour, urethane-covered section. For regular golfers, these models offer superb performance at both ends of the bag without denting your wallet quite as much as the premium Tour-played options."
Originally working with the best coaches in the UK to produce instruction content, he is now the brand's Digital Editor and covers everything from Tour player interviews to gear reviews. In his time at Golf Monthly, he has covered equipment launches that date back well over a decade. He clearly remembers the launch of the Callaway and Nike square drivers as well as the white TaylorMade driver families, such as the RocketBallz! If you take a look at the Golf Monthly YouTube channel, you'll see his equipment videos dating back over a decade! He has also conducted 'What's In The Bag' interviews with many of the game's best players like Rory McIlroy, Dustin Johnson and Jon Rahm. Over the years, Neil has tested a vast array of products in each category and at drastically different price-points.

Neil is currently playing: Driver: TaylorMade Stealth Plus Fairway Wood: Titleist TSi2 Hybrid: Titleist TS3 Irons (4-9): Mizuno JPX 919 Forged Wedges: Titleist Vokey SM7 46˚, 50˚, 54˚, 60˚ Putter: Odyssey Triple Track Ten Ball: Titleist Pro V1X