How Can Clubs Bridge The Golf Gender Gap?
What can be done to help golf appeal to a broader range of prospective members?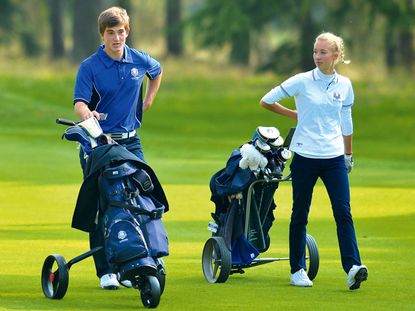 Unisex tees, more mixed competitions and an end to 'Ladies Day' – what can golf clubs do to bridge the gender gap and appeal to a broader range of prospective members?
How Can Clubs Bridge The Golf Gender Gap?
A number of golf's governing bodies have reorganised themselves in recent years to manage men's and women's golf from a more unified position. For example, the English, Welsh and, more recently, Scottish men's and women's Golf Unions have merged.
Also, The R&A has been in talks with the LGU about the possibility of working together in the future. Steps in this direction are logical and practical: a consolidation of resources and a more modern, integrated approach to grow the sport. Golf needs to be more inclusive and separating the sexes is clearly not the best way of achieving this.
If the organisations running the sport are now thinking, and working, in a far less gender-specific manner, surely golf clubs should be following suit and many are, indeed, considering ways to take a more unified approach to golf.
For a start, there's the possibility of doing away with gender-specific tees on the golf course: to designate the teeing options simply by colour rather than men's and ladies'. A number of clubs have already adopted this policy. Sheringham Golf Club in Norfolk, for instance, has three sets of tees – blue providing the shortest overall yardage at 5,058 yards, then yellow at 5,838 yards and white at 6,251 yards. All three sets of tees have been rated for men and women and are open for use by all players.
The idea is that elderly male golfers can play the shortened course, as the forward tees are not restricted to 'ladies only'. On the flip side, female golfers capable of playing a longer course are also able to do so. The club has a further set of black tees at 6,546 yards.
The Royal Liverpool Golf Club council recently decided to allow social golf for both sexes on both the red and yellow tees, and cards for both courses for men and women have been drawn up. The courses are now referred to by colour rather than as courses for ladies and gentlemen.
Other than increased inclusivity and greater choice for players, another of the benefits of having multiple teeing options open to both genders is that it's an effective way of reducing concentrated wear to the course. If all men play off the yellow boxes (as at many clubs) those teeing areas can take a pummelling through the season. If there are a variety of tee choices, forward and back, then the traffic will be divided.
Continues below
Expand Should Juniors Play In Adult Club Competitions?
Should Juniors Play In Adult Club Competitions?
Encouraging juniors should be on the agenda of…
Expand Are Golf Club Joining Fees Good For The Game?
Are Golf Club Joining Fees Good For The Game?
Are joining fees at golf clubs good or…
Expand Should We Worry About Golf Clubs Closing?
Should We Worry About Golf Clubs Closing?
Many golfers may have heard of a local…
If the tees are no longer gender-specific then competitions could be run to include both men and women on a more level playing field. If the competition is played to a Stableford format, men and women could play against their own cards off the same tees and the test should be comparable for all.
There would be more of an issue in Medal play, where women's net scores wouldn't be as low as the men's as they play to a higher par and higher SSS. So could everybody play to the same par, the same SSS, or a middle ground? This would mean women's handicaps going up and men's down, but does that matter?
Related: Family the key to growing golf according to study
Yes, that does matter. Too many would turn away from competitive golf if they saw the course ratings as inappropriate for them and handicaps would not be representative of true ability. And finding a set of tees that would suit men and women for regular competition would be difficult – many women would feel the course to be too long, many men would find it too short. No, generally speaking men and women will get the most out of their regular competitive golfing if the ratings remain separate.
But that's not to say there shouldn't be more mixed events played off one set of tees. More unisex comps could be a great way for clubs to attract families. If mum, dad and junior can all play together in the same competitions off the same tees, either against each other or as part of a team, club membership might seem a more appealing prospect. After a round, the family might then enjoy a meal together in the clubhouse, further bolstering club revenues. While at the club they might find out about a quiz night and they might invite some friends along. This is the sort of forward thinking that could keep golf clubs afloat.
Related: How far do average golfers hit it?
Playing from one set of tees is a great idea for junior golfers. If girls played from the same pegs as the boys it would see them develop their games on the same level. This would surely improve the standard of young female golfers in this country. It would also help a new generation of golfers to play more mixed golf – that would certainly be healthy for the game.
Another thing that would be healthy for the game would be to do away with such old-fashioned concepts as Ladies' Day at golf clubs. Why on earth would the ladies have their own day? Every club member should be able to play on any day, unless the course is booked up for an event, of course.
Many clubs now have a day designated through the week where walk-on competitions are held for all members. At Aboyne Golf Club in Aberdeenshire, for example, Wednesday is designated as a competition day and there are weekly competitions for men and women throughout the season. It's an open and inclusive approach.
Golf clubs can look at many ways to be less gender-specific and, as a result, appeal to a wider range of prospective members. From a competitive point of view, there will always be separate tournaments for men and women, simply because of the necessity to rate courses differently. But there could easily be more mixed events through the course of a season and mixed social golf would be considerably more 'sociable' if played from the same tees. To maximise inclusivity and choice, taking the 'sex' out of the teeing options seems an obvious step.
Don't forget to follow Golf Monthly on Facebook, Twitter and Instagram
Nick Bonfield joined Golf Monthly in 2012 after graduating from Exeter University and earning an NCTJ-accredited journalism diploma from News Associates in Wimbledon. He is responsible for managing production of the magazine, sub-editing, commissioning and feature writing. Most of his online work is opinion-based and typically centres around the Majors and significant events in the global golfing calendar. Nick has been an avid golf fan since the age of ten and became obsessed with the professional game after watching Mike Weir and Shaun Micheel win The Masters and PGA Championship respectively in 2003. In his time with Golf Monthly, he's interviewed the likes of Rory McIlroy, Justin Rose, Jose Maria Olazabal, Henrik Stenson, Padraig Harrington, Lee Westwood and Billy Horschel and has ghost-written columns for Westwood, Wayne Riley, Matthew Southgate, Chris Wood and Eddie Pepperell. Nick is a 12-handicap golfer and his favourite courses include Old Head, Sunningdale New, Penha Longha, Valderrama and Bearwood Lakes. If you have a feature pitch for Nick, please email nick.bonfield@futurenet.com with 'Pitch' in the subject line. Nick is currently playing: Driver: TaylorMade M1 Fairway wood: TaylorMade RBZ Stage 2 Hybrid: Ping Crossover Irons (4-9): Nike Vapor Speed Wedges: Cleveland CBX Full Face, 56˚, Titleist Vokey SM4, 60˚ Putter: testing in progress! Ball: TaylorMade TP5x