The Big Interview: Rich Beem
American Rich Beem looks back on an eventful playing career and discusses his current role with Sky Sports…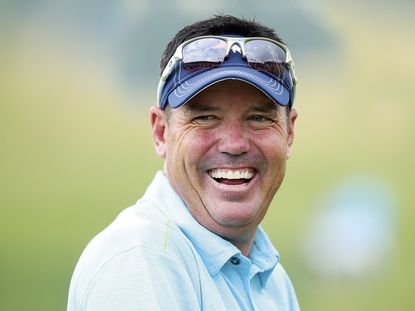 (Image credit: Getty Images)
American Rich Beem tells Elliott Heath about an eventful playing career and discusses his current role with Sky Sports…
How would you summarise your playing career?
When I was a kid, the only thing I dreamed about was playing in one PGA Tour event. I never dreamed of winning anything and never dreamed of winning a Major. I never thought that far in advance – I wasn't one of those kids who came out to the golf course and dreamed of winning US Opens. It was just a phenomenal career and I loved every minute of it for the most part. I'm very fortunate to have had all the successes that I did.
What was your lifestyle like as a professional golfer?
Living large man, big sexy baby! Kind of like Beef these days. I just had fun – that was all we were out there doing. It was a great lifestyle and still is a great lifestyle. It's just travel from the one city to the next, though. Everybody has these illusions or delusions about how awesome and glamorous the lifestyle is. Let me tell you, it's a hotel room. I don't care how nice it is or how big it is, it's a hotel room. Every week. It's great in a lot of regards but I kinda like my own bed.
Looking back, can you quite believe you managed to hold off Tiger Woods in his prime?
Looking back now it's kind of hard to believe, yeah. Seeing some of the video tapes of how he was playing in 2002, you just kind of go, 'wow'. He was remarkable, but obviously I was playing well and I had nothing to lose. I had no cares or thoughts in the world about what I was doing. It was fun – I was enjoying golf and enjoying my life with my wife. It was a good time. I never once thought about beating Tiger Woods that week, it was never my intention! My intention was going out, having fun and playing some good golf.
Related: Tiger Woods' swing sequence
When and why did you call time on your playing career?
I was fairly miserable on the golf course, I wasn't having any fun. I was putting a lot of hard work and effort into it and I just wasn't getting any results. I was miserable, it was making my life outside of golf miserable and I didn't want to be miserable. I wanted to enjoy my life and thankfully the broadcasting thing worked out. It's been great for me and it's been great for my family. I'm a lot busier these days – I used to expect to take half the weekends that I was playing off because I missed a lot of cuts! I travel more now doing the commentary but I love it. It's provided some great opportunities. When you're playing bad it's not paying bills and you've got to pay the bills somehow.
So how exactly did the broadcasting work come about?
I just made a phone call to a friend of mine, Kelly Tilghman at the Golf Channel, saying that I had nothing going on and could they use anybody? She made a call to her boss, we got hooked up and I started working for the Golf Channel in 2013 and continued with them on a full-time basis in 2014. Midway through 2014 I got a call from Jason Wesley at Sky Sports Golf and came over here in 2015. I basically got into it by making a phone call to a friend in the business and it worked out.
What do you enjoy most about your role with Sky?
I love the people. I love the guys who I work with. It's just a great big family. Everybody just gets along – it's a great atmosphere to work in. Probably the best thing now is that I don't have to sweat over a five-footer on a Friday afternoon to make a pay cheque!
David joined Golf Monthly in 2015 as a content editor for the magazine and regularly contributes to the website. He has worked in magazine publishing and editing since 2003. He is a keen golfer and up until recently was a member of Blackmoor Golf Club in Hampshire. He has covered various big events and tournaments for GM, the highlight of which was witnessing Tiger Woods win his 15th Major at Augusta in 2019. Email: david.taylor@futurenet.com