How Andrew 'Beef' Johnston Won Hearts At The Open
The rapid rise of Englishman Andrew 'Beef' Johnston reached record highs at Troon last year, where his golf backed-up his personality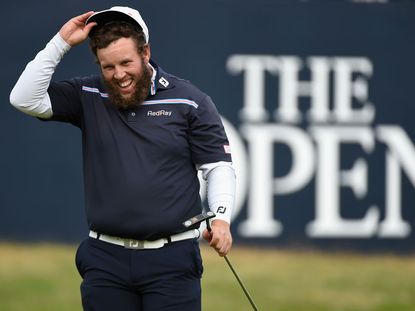 The rapid rise of Englishman Andrew 'Beef' Johnston reached record highs at Troon last year, where his golf backed-up his personality
How Andrew 'Beef' Johnston Won Hearts At The Open
Wherever Andrew Johnston walked at The Open 2016, he left behind a stream of beaming smiles. It's partly because he never stops smiling himself and it's infectious.
He looked like 'one of us' and behaved a bit like he couldn't believe he was playing in The Open, but then he teed it up, smashed the ball over 300 yards down the middle and reminded us that he's the real thing, and that he shouldn't be with us on the other side of the rope at all.
Beef showed us that he's the best torch bearer for Britain's young golfers since Rory McIlroy won The Open three years ago.
We saw something fresh and authentic about Beef last year and it's something that can't be manufactured by marketers.
Broad smiles aside, Johnston gave the final round of The Open everything he could in trying to close the gap between the field and high-flying Henrik Stenson and Phil Mickelson.
Johnston birdied three of the first four holes at Royal Troon on day four, playing in the penultimate pairing with American Bill Haas, to energise the Troon galleries.
Continues below
Expand Building The Perfect Links Golfer
Building The Perfect Links Golfer
Links courses provide the ultimate golfing test. We…
Expand Justin Rose And The Open: Unfinished Business
Justin Rose And The Open: Unfinished Business
Having narrowly missed out on this year's Masters,…
Expand Open Championship Golf Betting Tips 2019 – Final Round
Open Championship Golf Betting Tips 2019 – Final Round
Who is going to make you some money…
He would never have caught an inspired Stenson anyway, playing the round of his life behind Beef, but the Englishman's result of eighth on three under par helped further established him in golf's majors set.
"I started off pretty good but my short game was not good enough today," said north Londoner Johnston, 27, after his round.
"There was a better score to be had but I gave it my best so no regrets.
"I've had a fantastic week. The crowds have been incredible, man. They left me speechless. I was shocked at the first when I holed the [birdie] putt, and they went absolutely crazy down there. And then coming down 18, I'll remember it forever."
Story courtesy of Mercedes-Benz, Official Car and Official Patron of The Open
Robin has worked for Golf Monthly for over a decade.