6 Ways To Avoid Golf Fan Injuries
How to keep fans safer at golf tournaments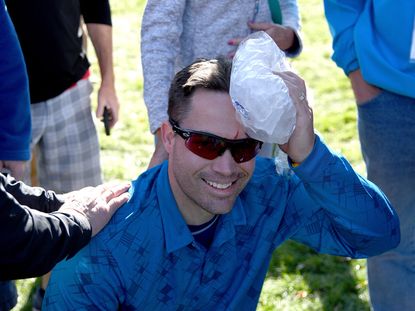 (Image credit: Getty Images)
With the severe injury that happen to a spectator in the Ryder Cup, we look at ways that fans can be better looked after at live golf tournaments
6 Ways To Avoid Golf Fan Injuries
The danger that golf fans can put themselves in when watching a live golf tournament has been in the headlines this week.
A fan reportedly lost the sight in her right eye when an errant tee shot from Brooks Koepka hit her at the Ryder Cup.
Each week on the PGA and European Tours TV audiences see golfers hit wayward drives, and sometimes shout fore and sometimes not.
For many the severe injury at the Ryder Cup has been on the cards for a while, but how can professional golf look after its fans and make sure that what should be an enjoyable day at the golf doesn't turn into tragedy?
Below are 6 ways that fans could be better protected at golf tournaments.
1 Mobile phone use – With mobile phones now very much now allowed on golf courses, and fans always hoping to film a piece of history or to get a selfie with their favourite player, it does mean that people are not always concentrating on the golf as much as they should. By only allowing mobile phone use in certain areas it should mean that more fans concentrate on where the ball may actually be coming from.
2 Mark areas that are landing zones – With the distance that some of the world's best now hit a golf ball, and with fairways sometimes hidden from tee boxes, it is not always clear that you might be standing in a potential landing zone. Mark these out with posts or paint, so that fans know where the ball is coming from and that they are in the landing zone – fans can then choose whether to view from these positions or move to potentially less treacherous vantage spots.
3 Move fans / no go zones – Something that would be quite dramatic would be to move fans completely away from areas where they are likely to be in danger. Having no go zones where potential wayward drives could be hit may have a negative effect on atmosphere, but could improve safety.
Expand Woman Hospitalised After Wayward Koepka Drive At Ryder Cup
Woman Hospitalised After Wayward Koepka Drive At Ryder Cup
A woman received injuries after Koepka's drive hit…
Expand Why Do Golfers Shout Fore?
What is the etymology of this golfing word…
Expand WATCH: Tiger Hits Fans On Second At Carnoustie
WATCH: Tiger Hits Fans On Second At Carnoustie
Whilst hitting out of the rough on the…
4 Better warning/stewarding – We already see stewards pointing with boards and flags to try and show fans that the ball may be coming in their direction. However having stewards standing in the area and verbally letting people know that a ball is coming their way would help fans to take evasive action.
5 Give shot penalties for players not shouting fore – Players are sometimes abused for not shouting fore and pointing when their drives head towards the crowds. Some people do believe that players don't shout fore as it may bounce back off the crowd and back into a more favourable position… we are not sure that is true. What we can say is that if players were threatened by a shot penalty, then they would soon start shouting fore and letting crowds know when a missile is coming their way.
6 Safe Seating for Families/less mobile – Sometimes even if golfers shout fore, point and wave when a ball is heading towards the crowd there are some people who may not be able to move out of the way in time. Therefore having an area specifically for families or those who are less mobile should mean that these vulnerable people are not in danger's way.
I think it is impossible to keep everyone safe all the time at any sporting event, bad shots happen, accidents happen. But is golf doing everything it can at the moment to protect its most precious commodity… I am not sure.
To keep up to date with everything in the world of golf go to the Golf Monthly website and its social media channels.
Tom Clarke joined Golf Monthly as a sub editor in 2009 being promoted to content editor in 2012 and then senior content editor in 2014, before becoming Sports Digital Editor for the Sport Vertical within Future in 2022. Tom currently looks after all the digital products that Golf Monthly produce including Strategy and Content Planning for the website and social media - Tom also assists the Cycling, Football, Rugby and Marine titles at Future. Tom plays off 16 and lists Augusta National (name drop), Old Head and Le Touessrok as the favourite courses he has played. Tom is an avid viewer of all golf content with a particularly in depth knowledge of the pro tour.