10 Best Bunker Players Of All Time
Who is the best bunker player of all time?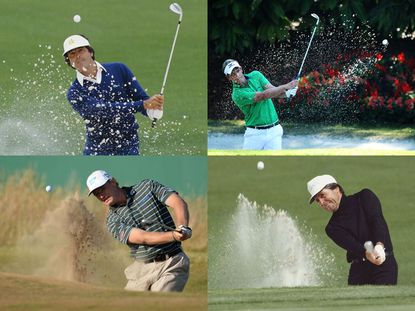 The ability to get the ball close from sand elevates top players to an almost legendary status. Here, we count down golf's top ten...
10 Best Bunker Players Of All Time
To the average amateur, the bunker can be a thing of golfing nightmare; a place where potential disaster lurks.
But, for the top professionals, the bunker provides an opportunity to showcase their skill and imagination.
Related: How to play bunker shots
Most elite players are undaunted by bunker shots and many would rather find their ball lying on sand instead of grass if they miss a green.
Some players over the years have risen above their peers to become legends of the sand.
Related: Rules of Golf: Unplayable ball in bunker
These are men who have achieved a sublime mastery of the trap shot, from long range or close proximity.
Here, we count down the ten very best exponents of bunker play from golf's modern era:
10. Lee Trevino
The American was a wizard around the greens and a supremely skilled bunker player. He utilised his own technique and, although he credits Gary Player with helping him to become better from the sand, his creativity and imagination from bunkers was instinctive and he relied on a variety of unorthodox methods. One he would later teach Tom Watson was to play an open-faced blast shot from a plugged lie, when conventional wisdom was to hood the club. 'Super Mex' did it his own way, but it was effective. Well into his playing career, he remained one of the best exponents from sand. He led the Champions Tour's Sand Saves stat in 1994.
9. David Frost
David Frost of South Africa has always been a natural when it comes to bunker play. In his book The Unstoppable Golfer, Dr Bob Rotella recalls asking Frost how he managed to be so consistently accurate from the sand. "I just kind of look where I want it to go, hit it and it goes there," he said matter-of-factly.
Between 1985 and 2004, Frost ranked in the top ten for Sand Saves nine times on the PGA Tour. In 1990, the South African holed an incredible bunker shot on the 72nd hole in the New Orleans Classic to beat Greg Norman by a shot.
8. Ernie Els
The big South African has a famously soft touch around the greens and this is perhaps best evidenced by his silky skills from the sand. Using a slow, rhythmical swing combined with control and strength, he is able to produce a sublime selection of shots that others just don't have at their disposal.
Ernie's statistics consistently place him near the top of the Sand Saves rankings, but it's his ability to produce great bunker shots when it really matters that secures his place on this list. His sand skills were showcased in the 2002 Open at Muirfield, where he eventually got up and down from sand to win a play-off. But earlier on the final day, he played a shot that would later be named European Tour Shot of the Year. After finding a hugely awkward position at the base of a pot bunker on the 13th, Els committed fully to an incredibly difficult blast shot, popped the ball up and watched it finish just a foot away.
7. Chi Chi Rodriguez
In the early days of the Champions Tour, Chi Chi Rodriguez was a regular fixture at the top of the Sand Saves stats. He led the list in 1990 and was in the top ten six further times between 1988 and 1994, but it was a skill 'Cheech' had always possessed. He was named Golf Magazine's All-America sand player for 1979 and many of his contemporaries would be quick to give his name when asked who was the best bunker player they'd seen.
Rodriguez had a reputation for being able to escape from seemingly impossible situations in the sand. He was never the greatest putter and it was often said in jest that he would aim for the bunkers as he could get it closer from the traps than from distance with his flat-stick.
6. Phil Mickelson
'Lefty' makes this list not for his stats – although they have been solid over the years – but for his sheer genius when he has a wedge in his hands. Sometimes Phil has so many options at his disposal that he finds it hard to select which shot to play. But when he chooses right and executes correctly, the result can be spectacular. Spinning shots, running shots, short or long bunker shots – no situation fazes Phil.
In the 2006 Memorial, Mickelson holed from a plugged lie for birdie on the 16th hole when most would have struggled to get the ball out. In the 2015 Presidents Cup, Phil holed a greenside bunker shot on day one and then holed a 138-yarder from sand on day two.
Continues below
Expand How much sand should I take for perfect bunker shots?
How much sand should I take for perfect bunker shots?
The key to being a good bunker player…
Expand Why Are The Augusta National Bunkers White?
Why Are The Augusta National Bunkers White?
Why are the bunkers at Augusta National white,…
Expand 7 Of Golf's Most Famous Bunkers
7 Of Golf's Most Famous Bunkers
Here we look at seven of the world's…
5. Gary Player
The South African worked incredibly hard to perfect every element of his game and he spent countless hours practising from bunkers.
Once, when he was practising in Texas, a local in a Stetson hat stopped to watch. The first bunker shot Player hit went into the hole. The Texan said, "You got $50 if you knock the next one in." He did. Then, "You got $100 if you hole the next one." In it went.
Player was supremely confident in his own abilities and happy to share his knowledge of the short game. Many pros today, particularly from his native South Africa, credit Player for helping them improve their bunker play.
4. Seve Ballesteros
Seve famously began playing golf with a 3-iron on the beach at Pedrena. From an early age he learned to manipulate the club and the ball with supreme skill and dexterity. Throughout his career he continued to enjoy demonstrating how he could escape from deep bunkers by opening up a straight-faced club and cutting under the ball.
Seve was a genius from sand, not just from short range but also further out. In his 1983 Ryder Cup singles match against Fuzzy Zoeller, the Spaniard played a 3-wood from a fairway bunker on the 18th when many would have chosen to blast back to the fairway with a wedge. From 245 yards, he picked the ball cleanly, ended up just off the putting surface and got up and down for the half.
3. Paul Azinger
'Zinger' was a superb greenside bunker player and consistently able to produce shots of incredible quality under the greatest pressure. The American's PGA Tour Sand Saves stats were impressive and he led the rankings in 1986, 1987 and 1990. But it was in the crunch moments when his sand skills really stood out.
In the 1993 Memorial, he holed out from a near-impossible spot on the 72nd hole to win the tournament by a shot. To get the ball close, he had to almost leave it in the sand, but he judged it to perfection and it rolled into the cup. In the 2002 Ryder Cup, he (and the US team) looked buried when he found sand on the 18th at the Belfry. But, with the weight of a nation on his shoulders, he holed out to keep American hopes alive and produced one of the event's best celebrations shortly afterwards.
2. Tony Johnstone
Ask European Tour players of a certain generation to name the best bunker player they've seen and a large percentage will quickly respond "Tony Johnstone". The Zimbabwean possessed an almost preternatural touch, but he also worked extremely hard to perfect his sand play. "I used to literally wear out two Ping sand irons a year," he told Golf Monthly.
Sand Saves stats only date back to 1998 on the European Tour, at which point Johnstone was nearing the end of his career, but he topped the rankings in 1998, 1999 and 2000 and was second in 2001 and 2002.
On the 71st hole of the 2001 Qatar Masters, Johnstone's tee shot caught a gust and ended up plugged in a right-hand greenside bunker. He faced a long and testing shot with the pressure on, popped it out and rolled the ball up to within a foot, saving par and setting up victory.
1. Luke Donald
No man has looked so in control from the sand as Luke Donald did for a spell at the start of this decade. In 2010, 2011 and 2012 he topped the Sand Saves stats on the European Tour. In 2009 and 2010 he also topped the stats on the PGA Tour. During that period, he won the Order of Merit on both sides of the Atlantic and became World No.1.
Donald has the skill to get the ball close almost every time from a good lie in the sand, but also the ability and imagination to make saves from more difficult spots. In the 2015 Open, the Englishman found himself up against the face of St Andrews' notorious Road Hole bunker. Undaunted, he escaped the predicament with a sublime splash shot and saved par. Displaying consummate technique and a wonderfully smooth rhythm, Donald has come as close as anybody to perfecting bunker play.
Keep in touch with Golf Monthly on Facebook, Twitter and Instagram
The leading website from the world's oldest golf magazine, we're the go-to destination for amateur and keen golfers alike who are keen to up their golfing game. As well as expert course reviews, news and tips to improve your handicap our golf-focused travel content will help you pair teeing off with your travels in some of the best destinations around the globe.