Is This Your New Bucket List Golf Course?
Fergus Bisset travelled to Saint Lucia to see the incredible new Coore and Crenshaw creation for Cabot at Point Hardy Golf Club.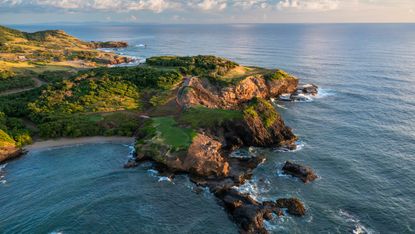 (Image credit: Jacob Sjöman)
Golf writers are inundated with invitations. Many, like one I received this morning inviting me to write something about the cushioning benefits of a special new sock, are not particularly appealing. But occasionally, an invitation drops in that lifts the spirits, reminding this cynical golfing hack of what a privilege and thrill it is to cover all things relating to this great sport.
That was exactly how I felt when I received an invitation from Cabot to travel to Saint Lucia… yes, Saint Lucia… to look at their new project at Point Hardy Golf Club: An exciting development with a course designed by renowned architectural pairing Ben Crenshaw and Bill Coore, set on the dramatic coastline where the Atlantic Ocean meets the Caribbean Sea. That email was fun to read!
I knew a little of Cabot following their recent acquisition of Castle Stuart, now called Cabot Highlands. I'd heard about the Canadian company's ambition and vision, and I'd also read a little about their entrepreneurial, young CEO Ben Cowan-Dewar.
I then did some research into the Cabot Saint Lucia development and after seeing pictures of the spectacular site – I was extremely excited to go take a proper look. The fact I learned I might also get to speak with Ben Crenshaw, Bill Coore and Cabot co-founder Ben Cowan Dewar, had me champing at the bit to be under Caribbean skies, away from the Scottish winter.
Getting There
Flying British Airways from Gatwick, Saint Lucia is only an eight-hour trip across the pond. The direct flight option is one of the reasons the island is a popular destination for Brits. Upon arrival, I could quickly see another reason is the stunning beauty of Saint Lucia. It's incredibly green with a tropical rainforest climate and consistent temperatures of around 30 degrees Centigrade. A volcanic island, it's mountainous with an interior covered by dense forests and a striking coastline with hills and cliffs framing gorgeous beaches.
The international airport is at the southern tip of the island, and we had the option to transfer to our lodgings – The BodyHoliday Hotel near the northernmost part of Saint Lucia – by road or by helicopter. I'm getting older and more nervous so thought the road was the sensible option… I hadn't seen Saint Lucian roads or driving at that point. There's a rather different take on highway etiquette over there – If there's space to overtake, then "go for it" is the typical approach. My knuckles were a touch white by the time our journey was over.
It was a quick turnaround to head to the brilliantly named Naked Fisherman restaurant to meet the rest of the party, grab a bite to eat, and maybe a rum punch or two. I could hardly believe my luck that the first person I bumped into when mingling at the bar was two-time Masters champion Ben Crenshaw. I spent a brilliant half hour chatting to him about all things golf and looked forward to hearing more when we headed to the course the following morning.
Cabot Saint Lucia - Point Hardy Golf Club
There's still a bit to do at Point Hardy before Cabot Saint Lucia is ready to open. But they're clearly working extremely hard and they're confident the ambitious target of opening the course by December can be achieved. We arrived on the as yet un-mettled entrance road, hopped out and wandered down through some scrub. It was difficult to see where we were headed until we emerged on a pristine tee (turns out it was the 2nd), looking out across a striking plateau to distant hills ahead, and downhill over the golf course towards the ocean on the left. Immediately, I got the sense that this is a rather special place.
Ben Cowan-Dewar welcomed the group – journalists from the US, Canada and the UK plus Cabot staff members and Messrs Crenshaw and Coore. After words from both designers, attention was drawn to a bag of golf clubs sitting to the side of the tee. "Who wants to hit a drive?" Asked Jason from Cabot Saint Lucia. After Tom Coyne had bravely gone first, I summoned the courage to put my hand up.
I've been in some intimidating golfing situations before – The first tee of the Old Course, playing with Henrik Stenson in the Scottish Open pro-am, driving in as captain at my golf club. But I think this was probably about as daunting as it gets for an amateur golfer – Hitting a drive on a difficult looking hole, in front of a Major champion (who has designed the course,) without having swung a club, without a golf glove, not wearing golf shoes, with sweaty palms… I closed my eyes and somehow sent the ball off somewhere roughly straight… a minor miracle.
And that was fitting, because the golf course I was then shown around is something of a minor miracle. It's one of the most spectacular settings for a course that I've ever seen. In fact, I have never seen anything quite like it. No fewer than nine of the greens are either perched on the side of, or back onto the ocean. Tee shots set on cliff edges, carries over the water and the crashing waves, significant elevation changes, mesmerising views, challenging and deceptive holes. The place really is a marvel.
"When Bill called me first having been out here, he said, 'I'm not sure where to start,'" says Ben Crenshaw. "And when I got here, I just went, 'wow!' It is, and will be, one of the premier golf courses we've ever had the opportunity to work on."
Touring The Course at Cabot Saint Lucia
We toured the front nine first, walking up to the amazing green complex on the 2nd, surrounded to the right side by a volcanic rock outcrop with a drop down to the left side. From there, the par-5 3rd takes you to the highest point on the course – the 4th tee. A downhill par-3 and then two strategically testing par-4s lead you to the coast. The culmination of the front nine is incredible, with the 7th reminiscent of the 7th at Pebble Beach, then two more holes hugging the rocky coast. It seems the course must surely have peaked too soon, but what's to come on the back nine is even more spectacular.
The second half offers a similar theme – A selection of strong inland holes build the anticipation until the big reveal midway down the 14th as you once again are taken towards the crashing waves. The 15th to the 18th holes then deliver one of golf course design's biggest ever finishes. Shots must be fired across the water on each of them (depending on the tees,) and the wow factor just keeps on building. The coastline is rugged and beautiful and strangely reminiscent of parts of Scotland.
"It's so dramatic," says Crenshaw. "These bold features that will have you struggling to keep your mind on the golf."
And that's something Cabot strives for; to offer something for golfers of all abilities. Whether you're looking to shoot five-under off the tips or simply to enjoy a walk in amazing surroundings with the hope of hitting the odd good shot – everyone should be able to enjoy the experience.
"I'm always thinking of the golfing perspective, how do people get round, what options can they take, what's safe, what's daring?" says Crenshaw. "You have to make sure there is a way round. Especially in the elements like here at Point Hardy."
It is a windy place and Ben Cowan-Dewar is also adamant that a golf course must be playable for all.
"The forward tees here are at 4,800 yards. So if you're a beginning golfer there's an option for you," he says. "I can never understand when a course has forward tees at, say, 5,600 yards making things just about impossible for those starting out in the game."
A natural setting
The course at Point Hardy provides a great example of a golf course design that makes the very most of an exceptional natural setting.
"The great course architects of old worked with the land they were presented with, they found the solution to make it work," says Ben Crenshaw. "That's what Bill and I try to emulate. Not to alter the landscape but to use it, to allow the course to sit upon the land rather than force it upon it."
I think that's exactly what's been achieved at Point Hardy, particularly on those coastal holes. Tees and greens have been placed rather than built up, the feeling is hugely natural, even though construction is still underway. Once the course has properly bedded in, it will be an absolute gem and, undoubtedly one to add to your bucket list of golf venues.
The complete package at Cabot Saint Lucia
As if the course wasn't enough, there are also excellent property opportunities to be had at Cabot St Lucia with a range of options, from customisable, vast Ocean Villas to 4-bedroom Fairway Villas on offer. Tennis courts, fitness centre and clubhouse are all planned. Cabot's vision is very much about providing a holistic experience at their properties.
"We are proud to have been able to work with great architects like Ben and Bill on incredible sites like this one in Saint Lucia," says Ben Cowan-Dewar. "It's incumbent on us to then deliver the whole experience around it. We want to provide the very best in residences, amenities, food, service. That's so important to us."
When it came to our experience on Saint Lucia, the Cabot team showed us the level of hospitality they can offer. Based at the excellent BodyHoliday Hotel with its opulent accommodation and gorgeous private beach, we enjoyed excursions including an incredible boat-trip for a simply outstanding lunch at Viceroy Sugar Beach set between Saint Lucia's iconic Piton mountains – think lobster, fresh fish and cocktails in the sea. We also visited the stylish and luxurious Cap Maison boutique hotel for another delicious meal where old-school chic was the order of the evening.
Saint Lucia is a wonderful place, full of beauty and charm and Cabot Saint Lucia captures that and will showcase it to the golfing market. It's a wonderful site and the course and development will deliver a high-class, hugely enjoyable experience to all those lucky enough to visit or own a piece of it. For more information on Cabot St Lucia, the course and the properties, visit the website. I suggest you take a look, it's pretty cool.
Fergus is a golf obsessive and 1-handicapper. Growing up in the North East of Scotland, golf runs through his veins and his passion for the sport was bolstered during his time at St Andrews university studying history. He went on to earn a post graduate diploma from the London School of Journalism. Fergus has worked for Golf Monthly since 2004 and has written two books on the game; "Great Golf Debates" together with Jezz Ellwood of Golf Monthly and "The Ultimate Golf Book" together with Neil Tappin (also of Golf Monthly)... Fergus once shanked a ball from just over Granny Clark's Wynd on the 18th of the Old Course that struck the St Andrews Golf Club and rebounded into the Valley of Sin, from where he saved par. Who says there's no golfing god?