'If It Wasn't For The Pandemic, We Wouldn't Be Where We Are' - The Story Of Cookie Jar Golf
We spend time with the Cookie Jar Golf team to hear about their story, and rise, to becoming one of the UK's most thoughtful golf content producers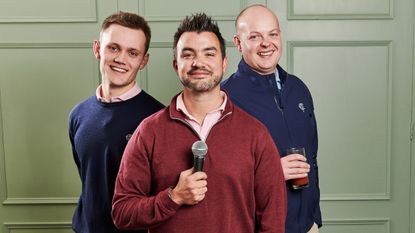 (Image credit: Future)
We are drinking Bloody Marys on the train as it rattles between frost-coated fields on the way to Rye Golf Club. It is the morning after the night before: Cookie Jar Golf (opens in new tab)'s annual Christmas Party at Urban Golf in London. Golfers had gathered from all across the UK, a community of the like-minded created by a trio of members at Blackwell Golf Club in Worcestershire. Beer was imbibed, new friendships were forged and laughter became the soundtrack for a one-club knockout tournament on Urban Golf's simulators that lasted well into the evening.
Sam Williams, one of the trio of friends behind Cookie Jar Golf, was in his element, talking to everyone, stoking the atmosphere and thoroughly enjoying being in his natural habitat. Bruce Fitzpatrick, a winner and finalist in the prestigious President's Putter in consecutive years, was his usual blend of charm, sly humour and steely competitor (on this occasion, bemoaning his inability to make it past the quarter-finals). Tom Mills was either filming, photographing or offering droll commentary on the action.
Now, as we gaze out of the train window at the frozen landscape, all three are gathered around a table to discuss their journey, one that began three years ago in lockdown and has seen the Cookie Jar Golf podcast establish itself as among the most reliably entertaining, frequently surprising and consistently excellent pods in a golf market that's suddenly awash with them.
The podcast is just one part of the Cookie Jar operation. Since launching the pod, they have added beautiful films, memorable events, a lively social media presence, marketing consultancy for prominent golf clubs, and occasional articles on the game's most pressing matters, such as the worrying decline of Kummel. They have even helped to save a golf club.
And yet Cookie Jar Golf succeeds in being greater than the sum of its parts. It has become a muster point for all manner of golfing pilgrims, purists and connoisseurs of the small but important quirks and details that make the golfing landscape we inhabit as rich as it is.
The post pinned to the top of their Twitter account perhaps sums it up best. Accompanying a black and white image of Ben Hogan sitting on a tee box while pulling on a cigarette is his famous quote: 'I don't like the glamour. I just like the game.' It's fitting that today's destination is Rye. What the low-slung clubhouse lacks in glamour, it more than makes up for in its history, customs and bonhomie. In other words, pure Cookie Jar.
''I don't like the glamour, I just like the game'', Ben Hogan pic.twitter.com/bs2VFndVEOApril 17, 2021
See more
All three founders of Cookie Jar Golf enthusiastically embrace the varied and storied institutions within the British game. They are advocates for playing quickly, matchplay foursomes and, in Sam and Bruce's case, long socks worn with shorts. But they also celebrate newer and more progressive aspects of the sport. They're opinionated – which is what you want from podcasters – on what they like and what they don't, but they skilfully avoid being elitist or narrow.
Like so many good ideas, theirs grew out of conversations in the spike bar. In the beginning, there were four of them. Friends who all loved the game, played together and consumed golf via every possible outlet. 'We listened to No Laying Up and all the other podcasts. We read Golfer's Journal,' says Sam. 'The bit that was missing was a British voice.'
Over post-round pints and side helpings of Blackwell's signature 'BBC' (Bacon, Brie and Cranberry) toasties, talk turned to putting that right. What they all shared was an unshakable conviction that the UK has the best golf in the world and the deepest, most interesting golf culture.
Sam, 36, is the natural spokesman of the group. He plays off three, jokes that he's a 'generational ball-striker' and happily describes himself as 'very interested in his own golf and golf courses''. Bruce, 10 years younger, is an accomplished scratch golfer, an Oxford Blue and a 'recovering swing obsessive'.
Tom, 37, is former semi-professional rugby player who only took up the game in his late twenties but now plays off 9. He is the man who makes things happen. Cal Wing, the 'equipment junkie' with an encyclopaedic knowledge of the professional game, decided to step back due to work commitments but remains a great friend and supporter.
They needed a name and found one during a typical matchplay joust around the ingenious Herbert Fowler and Tom Simpson layout they call home. 'I remember doing a really overblown club twirl celebration with the hand down at the end,' smiles Bruce. 'Sam asked what on earth I was doing. I said, "It's Tiger Woods at the President's Cup. His hand is in the cookie jar, he's walking after it."'
The name captured the essence of what they wanted to put out: a very British take on both the professional and amateur games, seasoned with a knowing but inclusive sense of humour. Tom invested in some recording equipment and in the first days of 2020 recorded a pilot podcast with Sam. More episodes followed and just like that, Cookie Jar Golf was up and running. 'The goal was to get to eight episodes,' says Bruce. 'So many podcasts fail at seven.'
Episode eight coincided with the start of the first lockdown and featured a discussion on what it might mean for golf. One happy by-product of the pandemic was the spike in golf participation; another was Cookie Jar Golf hitting its stride. The suspension of normal life gave them time, impetus and access to many of the people they wanted to talk to – people who, like them, were stuck at home doing very little. 'Arguably, if it wasn't for the pandemic, we wouldn't be where we are,' says Tom.
Author Tom Coyne, Sky Sports presenter Iona Stephen and photographer David Cannon were among their early guests. 'The first time we spoke to Mike Clayton, he was going on about Bandon Dunes and Mike Kaiser and I had no idea what he was talking about,' confesses Tom. 'It was like an education for us,' says Sam. They learned as they went, and their audience steadily grew.
'We wanted to focus on some of the stories in golf that fly under the radar,' explains Bruce, which doesn't adequately explain how they get so many great guests.
'We are so not controversial,' offers Sam.
'But Bruce does want to go to war with people who don't agree with him on the golf swing,' counters Tom.
'I'm simply in the pursuit of truth,' Bruce reasons.
With his successful wedding videography business in limbo thanks to the pandemic, Tom put his filmmaking skills to good use. The result was the first episode in Cookie Jar's 'Story of a Golf Club' series. The film on Silloth on Solway Golf Club created a template for subsequent insightful shorts on interesting clubs with notable courses. 'We want them to feel like playing with a member,' explains Sam, 'because they give you all the extra context and colour you want when you visit a new club.'
Not everything has worked and the process of figuring out what the audience wants has been 'like a war of attrition at times', admits Sam. They cite an early film on Walter Hagen's historic win at the 1922 Open at Royal St George's as a project which involved much time and effort for little return. 'Then, when we talked about the 4th hole at Woking,' says Sam, 'it seemed to strike a chord and we suddenly got lots of feedback on golf course architecture.'
Their instincts, however, were sound, evidenced by Sam and Tom's 11th-hour decision to make a detour on route to making a film about The Berkshire. They had heard that Cleeve Hill, the council-owned golf course with magnificent views across the Cotswolds – Tom Morris' rugged links in the sky, was set to close. Sam had played there as a kid and wanted to publicise the imminent threat to what had always been a community golf course.
Cookie Jar Golf's stunning film on Cleeve Hill (opens in new tab) immediately sparked interest in the club's plight. This accessible, fun and historic piece of land was, as Tom eloquently put it in his voiceover, 'the epitome of what makes golf in the United Kingdom special'.
Sam contacted Golf Monthly's editor, Michael Harris, who promptly wrote a piece and posted the link on the GM forum. The film went live on a Thursday evening. The next day, Sam was having lunch with his wife when his phone started vibrating and bleeping. 'It just blew up,' he says. 'There was so much activity on Twitter. It launched half a dozen new bidding parties.'
Within weeks, the council had done a u-turn and declared they were now open to bids. The following April, Sam, Tom and Bruce got the exclusive on Cleeve's Hill's new owners, revealing on the podcast that Mashie Golf had taken over the club. They then held a 'Not Closing Down Party' at Cleeve Hill where Sam and Tom are both now members. 'If I died tomorrow,' says Tom, 'I can be satisfied that the golfing landscape is slightly different because of something we did.'
Now, as they close in on 200 podcast episodes and with 50-plus short films under their belts, Cookie Jar Golf is preparing for the next stage in its development. They have enjoyed the pinch-me moments, such as interviewing former R&A secretary Peter Dawson in a hotel suite overlooking the Road Hole; taking their places alongside the frontline media for the 150th Open Championship at St Andrews; finding their signature Cookie Jar tees at courses all around Britain. Now though, it's about taking the next step
Their latest series of films and pods, which covers their recent Netherlands Tour (opens in new tab), marks a shift in gear for the team. The trip saw them drive to Holland to experience many of the hidden gems the country has to offer. Seven films, released every week from mid-January, numerous podcasts and subsidiary content came out of the tour, which again demonstrated their nose for the stories less told.
But the fact remains, all three still have busy day jobs, and in the case of Sam and Tom, young families. 'We're at an inflection point,' states Tom. They have recently taken on their first part-time employee to help with all the work – and there's plenty of it – required to keep Cookie Jar's output as fresh as ever. All three agree that the next stage is to grow without losing touch with what's got them this far. 'Authenticity is very important to us,' says Sam. 'There is a purity to Cookie Jar and we need to maintain that.'
This purity is encapsulated perfectly in their events. The Cookie Jar's first meet-up, 'The Mixer', took place at Blackwell on a sweltering summer's day in 2021. For Sam, Tom and Bruce there was clear pride in being able to share their wonderful club and its immaculately presented course with the people they had brought together. For those fortunate enough to be in attendance, it was a magical day that ended in eight-ball foursomes matches as the sun went down.
Cookie Jar Golf's 2022 Spring Meeting was another case in point: invitations sent out by post, interesting people travelling from far and wide, great venues – Princes and Royal St George's – and thoughtful touches throughout. The golf is always important, but so too is the social, something that's reflected in the content they produce. 'We want the events to feel like Willy Wonka tickets,' explains Sam. 'They're the most special aspect of what we do," agrees Bruce.
Tom insists they will become more commercially minded this year. "We can't be fiercely independent for the sake of being fiercely independent,' he argues. 'We can't be the elite amateur of the podcast world.' No Laying Up's DJ Piehowski, The Fried Egg's Andy Johnson and Erik Anders Lang of the Random Golf Club are all fans of the Cookie Jar and all previous guests on the pod. It's not lost on Sam, Tom and Bruce that all three are shining examples of how great golf content can become a great business.
Sam pauses and wonders aloud if they actually need to get any bigger. 'If the music stopped tomorrow, I'd still be very proud of what we've done to this point,' he says. 'Deep down, I just really bloody love golf. It's not like work. I have little windows of time and I shove as much Cookie Jar stuff through those windows as I can.'
Through the windows of Rye's clubhouse, the frost has magically evaporated and, as always, the Cookie Jar boys are ready to play.
Dan is an author and journalist who has been writing about golf since 1989. He is Head of Content & Community at golf data company Clippd and has designed his own tiny golf course, RNGC, in an orchard at the back of his house.