How Hybrids Can Transform Your Game
Single figure golfer Carly Frost provides a simple guide to hybrids and explains why these clubs are a real game-changer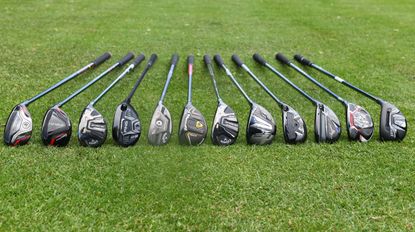 (Image credit: Golf Monthly)
The hybrid is most definitely a buzz word, well-known as a modern method of car engineering, a cost-saving, more environmentally-friendly petrol-electric combination of running an engine. In the golf world hybrid clubs (opens in new tab) do very much the same thing, combining the technologies of two different clubs, the iron and the wood, with the sole purpose of making the game easier.
The very first hybrid was engineered by Cobra Golf in 1998 and called the "Baffler". This clever club undoubtedly transformed the game of golf for women with slower swing speeds, as speed is essential to help get the ball airborne easily. It made certain golf shots, particularly those with a 5-iron, 4-iron or even longer, much easier to hit. I remember the era before hybrids and the anguish of having to hit long irons. I literally dreaded having the 5-iron distance (which was 150 yards for me.)
Although a 5-iron and 5 hybrid are stamped with the same number, that's pretty much the only thing they have in common - they really are very different clubs. They are made from different materials and produce very different ball flights and consequently carry distances.
A 5-iron produces a lower trajectory ball flight and shorter carry distance but with more roll. With hybrids you'll hit the ball higher, carry shots further and get a few extra yards. They have a hollow head design and are made in a similar way to a wood (typically from steel or titanium). Both the clubhead and clubface are larger in size than an iron. They are also lighter to swing, making it easier for most women golfers to generate more clubhead speed, ball speed, and better ball contact.
The wonderful thing about the hybrid design is you will hit the ball much higher, so shots coming into the green (particularly on long par 3s) stop quicker. The clubhead is shaped so that more weight is positioned low and deep, moving the centre of gravity down helps you hit the ball up.
What's more, because the head is smaller and sleeker than a wood it gives greater shot-making versatility from a variety of lies. They are particularly effective (arguably more so than a more lofted mid-iron) from the rough as the head cuts through the grass effortlessly, making them a recovery savior.
Hybrids are either numbered with their direct long-iron replacement equivalent ie 5 (for 5-iron), 4 (for 4-iron) and so on, or they are marked with their degree of loft. A typical 5-iron hybrid would be around 25 degrees for example. Most manufacturers make women's hybrids in a range of lofts all the way through from a 7-iron to 4-iron replacement, catering for all sorts of set choice make-ups.
So what hybrids should you carry? I would say that it is very much down to individual preference but it is important to get even distance gaps between your clubs. I have 10 yards between how far each club in my bag carries. I love hybrids so much that I have three in my set make-up - 2H, 3H and 4H. I first introduced the 2H when I was really struggling off the tee. In my spell of low driving confidence, I adopted this low-lofted hybrid as a reliable, fairway-finding driving club. I used my 2H with so much success that I actually broke the women's course record at my home club Parkstone only hitting it off the tee. Although I've since found a driver I can now use (and not hit wildly into trouble) I still use the 2H to layup to perfect approach yardage on many holes.
My longest iron is a 5-iron but I rarely use it for full shots. My main reason for carrying it is because I hit it a lot lower than a hybrid, so when I need to punch a recovery shot out low under the branches of a tree, or hit a full shot into the green on a windy day, it is a more useful club. Hybrids, by the very nature of their design, are built to help you get long shots airborne more easily, so playing 'knock-down' shots into the wind is much harder as they are naturally trying to help you get height. Bear this in mind if you play a lot of golf in the wind (perhaps on a links course or one on top of a hill.)
When deciding what hybrids you want to carry, start by asking yourself: What's the longest iron in your bag you are comfortable with easily hitting? Then decide whether you like your fairway woods and use them often from all sorts of lies? I used to carry a 7-wood and a 5-wood but replaced them both with hybrids and now carry just a 3-wood. I simply find hybrids a lot more versatile. But if you love your fairway woods, then you might choose to just replace your longest iron with a hybrid. There's no right or wrong choice.
Fairway woods (opens in new tab) have a much shallower head shape with a sole which is designed to help you sweep shots away from the short fairway by brushing the grass, not digging in like an iron action. But not all ladies find this shallow style of swing move easy and I'm one of them. My swing style is naturally steeper, making it easier for me to hit a hybrid than a wood as I can hit down on the ball like an iron. I use the same set-up and technique for my hybrids as my irons, the ball position graduating from towards the inside of the left heel with the longer hybrid to nearer the middle of my stance with a shorter club.
The shallow profile of the fairway wood requires a forward ball position and a shallow sweeping swing path. It's a great club to use from short grass and off the tee but isn't ideal if you plan on trying to use it to escape from rough. We have a lot of heather on my home course Parkstone GC and I can use my hybrids to play long recovery shots from most lies where a fairway wood has no chance.
It's for this reason, more than any other, that I love my hybrids. If you're still carrying long irons but struggle to hit them, I challenge you to make the change. I have no doubt that switching to hybrids will transform your enjoyment of the game and your scores will improve. For some more advice on them, why not take a look at our guides on the most forgiving hybrids (opens in new tab), or best hybrids for high handicappers. (opens in new tab)
0
Golf Monthly Contributor
Carly Frost is one of the golf industry's best-known female writers, having worked for golf magazines for over 20 years. As a consistent three-handicapper who plays competitive club golf at Parkstone and the Isle of Purbeck courses in Dorset every week, Carly is well-versed in what lady golfers love. Her passion for golf and skill at writing combine to give her an unbeatable insight into the ladies game.
Carly's role at Golf Monthly is to help deliver thorough and accurate ladies equipment reviews, buying advice and comparisons to help you find exactly what you are looking for. So whether it's the latest driver, set of irons, golf ball, pair of shoes or even an outfit, Carly will help you decide what to buy.
Over the years Carly has been fortunate to play some of the greatest courses in the world. Her view 'from the ladies tee' is invaluable. She ranks Sea Island, Georgia, USA, where she met her husband, world-renowned golf coach Dan Frost, among her favourite golf resorts. Their aptly-named eight-year-old son Hogan is already hitting the ball as far as Mum and will undoubtedly be a name to watch out for in the future.
Carly is a keen competitor and her list of golfing achievements are vast. She is a former winner of the South West of England Ladies Intermediate Championship, a three-time winner of the European Media Masters and she once beat an entire start-sheet of men to the title of Times Corporate World Golf Champion. She has played for both the Dorset and Surrey County Ladies first teams and is known for her excellent track record at matchplay.
Carly holds the ladies course record (68) at her home club Parkstone and her lowest competition round (seven-under-par 65) was carded in the pro-am of the Irish Ladies Open at Killeen Castle, playing alongside Solheim Cup superstar Anna Nordqvist. Although her current handicap index has crept up to 3.7 since Covid she has her sights firmly set on achieving that elusive scratch handicap and hopefully playing for her country when she's 50.
Carly's current What's In The Bag?
Driver: Callaway Epic Max, 10.5°
Fairway wood: TaylorMade SIM2, 15°
Hybrids: Titleist TS2, 19°, 21°, 24°
Irons: Mizuno JPX900, 5-PW
Wedges: Cleveland RTX, 52°, 56° and 58°
Putter: Scotty Cameron Futura X5
Ball: 2021 Callaway Ladies SuperSoft