'Every Player Gave Him A Hug And That Is Something That I Will Never Forget'
We speak to two of Barry Lane's peers Andrew Oldcorn and David Shacklady to pay tribute to the former Ryder Cup player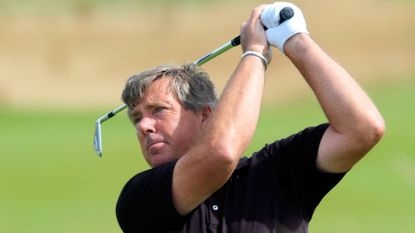 (Image credit: Getty Images)
"I started playing at 14 and a half and turned pro at 16 after playing in a few medals and getting my handicap down..."
If you wanted a snapshot of both Barry Lane's modesty and god-given talent then this is it.
Lane would represent Europe at the 1993 Ryder Cup, play in 23 Majors and win 20 times around the world. One of those wins would come at Crans, the year that Seve Ballesteros played that wonder shot from behind the wall at the 18th before then chipping in but it was Lane who finished on top that week.
Throughout his phenomenal career, he was universally loved and respected by his peers. A few weeks ago he was in Mauritius to present the renamed Barry Lane Rookie of the Year trophy to Brazil's Adilson Da Silva and also say a final and highly emotional farewell.
On New Year's Day Lane died at the age of just 62 after a short illness.
Lane first played on the European Tour in 1982, six years after turning pro. There would be failed attempts at Q School and a handful of tour starts before he finally secured his privileges for the 1986 season, a card he would keep for the next 26 seasons. He would play in 693 tournaments, the fourth most of all time behind Sam Torrance, David Howell and Miguel Angel Jimenez, and there would be five victories.
Scotland's Andrew Oldcorn was born a few months before Lane and their careers would follow similar paths.
"We turned pro virtually at the same time, he was a club pro and spent a little bit of time at The Downshire GC in Berkshire and we joined the European Tour at almost exactly the same time and we then joined the Legends Tour a few months apart in 2010.
"He was an incredibly talented player with this wonderful swing. All the way through his career he had this beautifully controlled fade, he was a hell of a player and very underrated but not by his peers. We knew how good he was. He was one of those players, like Howard Clark, whose ball striking was totally different to the rest of us. When the ball struck the clubhead it made a different noise to the rest of us and that's something that you just can't teach.
"He had no airs or graces and he was so down to earth and such a nice guy. He would help the new guys all the time and was very friendly to players with no tour background, like Dave Shacklady and Paul Streeter, and they found that enormously helpful."
Shacklady also turned pro in the 80s but came from a very different background to Lane, playing in regional PGA events and mini tours, before getting his card on the Senior Tour. He has now won three times on the over-50 circuit, a period where he developed a firm friendship with Lane.
"I first met Barry at my first senior event in Dubai and I remember ringing my missus up afterwards and saying 'you'll never believe who I've been talking to'. Barry never thought of himself as being famous. A couple of events later I played with Peter Baker and we were in a practice bunker in Switzerland and Barry came over and showed me how he played some shots. I went on Twitter and said how surreal it was to have two Ryder Cup players giving me a bunker lesson and Barry came over the next morning and said that if there was anything that I ever needed then to just go and see him. And from then on we just hit it off.
"At the US Senior Open he showed me shots around the green that Bill Ferguson had taught him and I made the cut that week and that was down to Barry as I had no idea what I was doing in that type of grass around the green.
"We spent a lot of time together, practised together, ate meals together and I could listen to him for hours talking about his career but it would have to come up in a conversation, he wouldn't just talk about himself, there was no self-importance about Barry at all. You didn't want to speak, you just wanted to listen to him. I could introduce him to a friend from home and say 'this is Barry' and Barry might never mention golf and afterwards they would ask 'what does he do?'"
News of Lane's illness emerged in Italy in October but, typical Lane, he didn't want anyone knowing during the tournament as he didn't want to affect anyone's week.
"He rang me to tell me what was happening which was a very hard phone conversation but it was so lovely of him to do that. He talked about coming out to Mauritius and he wanted to even try and play but he didn't want to play and take someone's place and shoot 90, I told him that I would happily play with him and also shoot 90."
Lane's situation deteriorated at a pace that nobody could have predicted but he still somehow made it out there with his wife Camilla.
"We were all warned that he wasn't well but what an evening it was. I videoed Barry and Camilla watching his highlights package on a screen and to look round the room and realise that this was the end for him was very emotional. They did a photograph of us all and every single player gave him a hug and had a few words and that is something that I will never forget. We were in adjacent rooms in the hotel and the night before the tournament he's still sending me messages of encouragement. I've screen-shotted all those messages so I'll always have them."
I first watched Lane play in the PGA Assistants' Championship at Coombe Hill in 1983 and, even to my untrained 12-year-old eye, he looked like a world beater with the effortless power and very natural grace. He would win that event which would earn him a place in the World Assistants' Championship in the States where he would also triumph by six shots.
He would be as uncomplicated as his swing appeared in arranging any chat where he was always engaging and thoughtful. In one chat about his single Ryder Cup appearance, a match that would unjustly finish with three losses from three outings, he explained his experience at The Belfry with typical candour.
"I played with Bernhard Langer on the first afternoon and I played absolutely beautifully but we lost 4&2. Bernhard said to Bernard Gallacher that I should play the next day as I was playing so well which was very nice of him. I played with Peter Baker in the foursomes the following morning and we lost to Payne Stewart and Raymond Floyd – I had never played foursomes in my life as I had no amateur career. Then I lost at the last to Chip Beck in the singles. Points wise it wasn't very good (laughs) but I actually played really well and that's the beauty of matchplay.
"It was the most nerve-wracking thing that I've ever done golf wise. You win tournaments and you get nervous but, to walk down to that 1st tee from the putting green and through all those people and feeling like you're going to throw up, is not a nice feeling. Then you see Corey Pavin and he can't get the ball on the tee and his knees are going and he's feeling the same thing. There's no money involved, it's incredible."
For Oldcorn, a regular practice-round partner and peer of 40 years, Lane's passing is a sobering reminder of how fragile life can be.
"In recent years we've lost the two Gordon Brands, Eduardo Romero and now Barry and it knocks the stuffing out of you. Barry was always a fantastic playing partner, if you saw your name drawn with him you were instantly pleased. I always loved to play with guys who mirrored my own rhythm and Barry's, as well as his demeanour, was infectious. All the guys loved playing with him."
Mark has worked in golf for over 20 years having started off his journalistic life at the Press Association and BBC Sport before moving to Sky Sports where he became their golf editor on skysports.com. He then worked at National Club Golfer and Lady Golfer where he was the deputy editor and he has interviewed many of the leading names in the game, both male and female, ghosted columns for the likes of Robert Rock, Charley Hull and Dame Laura Davies, as well as playing the vast majority of our Top 100 GB&I courses. He loves links golf with a particular love of Royal Dornoch and Kingsbarns. He is now a freelance, also working for the PGA and Robert Rock. Loves tour golf, both men and women and he remains the long-standing owner of an horrific short game. He plays at Moortown with a handicap of 6.