Do Things Go Over The Top At The Phoenix Open?
The scenes at TPC Scottsdale last year were taken to a new level but is that good for the game? Err, yes....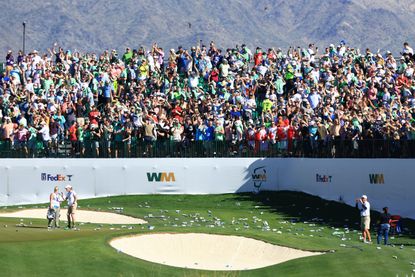 (Image credit: Getty Images)
"On 16 last year when Justin Thomas chipped in, I didn't want to see the water bottle coming straight for my head from the third storey, but I did see it, so hopefully those are things they rein back on and keep it strictly about the game. Those are things people don't want to deal with on a regular basis. It's one week a year, so I think a lot of us welcome it for one week…"
It's safe to say that the 16th at TPC Scottsdale is like nothing else in the game. Jon Rahm was Thomas' playing partner last year and, being a Scottsdale resident and Arizona State alum, the Spaniard loves the week. This year, with the WM Phoenix Open now becoming the PGA Tour's first full field 'designated event', it means his fellow superstars will have to at least tolerate it.
"I don't think it's everybody's favourite. I think either you love it or hate it. There's no in between. With my case, I love it. I want to come every year. It ranks highly in my list but I know a few people that put it far down their list."
Part of that might be the nature of the desert golf, part of it might be that it's Riviera next week and a large chunk of it will be that there will be up to 20,000 punters inside 'The Coliseum' 16th hole. Without even beginning to exaggerate the case there really is nothing like the par 3 where players will be roundly booed for hitting their shots to 15 feet, play shots in their favourite football or college shirts, chuck out goodies to the swathes of fans and take whatever the fans throw at them – which, in the case of last year, were showers of aluminium beer cans. Or, as Rahm points out, the odd water.
Last year Harry Higgs rolled in a 10-foot par putt – the ordinary nature of the regulation par making what then followed even more amusing – as playing partner Joel Dahmen then went topless. Over the week Carlos Ortiz and Sam Ryder made holes-in-one which sparked further bedlam. Brian Harman had to wait 10 minutes to hit his tee shot after Ryder's ace, others saw their putts bobble due to the outpouring of emotion and Bud Light onto the putting surface.
At the end of the week, Scottie Scheffler outlasted Patrick Cantlay in a three-hole play-off which didn't go anywhere near the 16th.
This year, with 18 of the world's best 20 players in the field, we'll see alcoholic beverages served in free, commemorative plastic cups. There will be a larger police presence and warnings that anyone throwing things onto the green will not be tolerated. All of which sounds like sound common sense until you throw in (no pun intended) a Super Bowl weekend and tens of thousands of punters who have been on the sauce for the previous eight hours.
Golf's grimmest catch-all phrase 'growing the game' won't be very far away when discussing tournaments of this size and nature but this is the very essence of it.
Many of us are staunch golf fans who will think very little of tuning into the Safeway Open but we're very much in the minority. TV golf remains a very hard sell for a multitude of reasons, one of which is the lack of any atmosphere. The numbers at TPC Scottsdale are absolutely ridiculous – at last year's Open at St Andrews 290,000 spectators attended over the whole week in Fife, here it is estimated that in excess of 700,000 will attend 'the People's Open' across the four days this year.
"If we were to have an event like this every single week or even five or 10 events like this on the schedule, I think it might be a little bit too much but I think to have a tournament where most of the fans here aren't here to watch the golf, right; it's a different environment, and that's totally fine. If we're talking about growing the game, that's a way to do it," explained Rory McIlroy this week.
Golf doesn't do 'different' very well. For all the talk of how special links golf is most players are making comments along similar lines of 'this is great but you wouldn't want to do it every week' after getting buffeted about the place. The same with team golf and pretty much anything away from the norm.
A Monday finish? That's enough to throw most of us. Three rounds? Too LIV. Mixed golf? The schedules won't allow it. Different scoring format? Not sure the sponsors will go for it.
What we need is a lot more Scottsdale, which is like Himmerland on steroids, and to find more things like the Waste Management that truly work.
Have tournaments where there is genuine engagement with the fans. Throw them some goodies, try harder, give them something back – chucking a ball into the crowd and signing a few autographs isn't something to be celebrated in terms of interaction.
A lot of the game's untraditional nuances do get a bit forced but this week is something of a lighthouse in the February gloom when many of us are dreaming of the clocks going forward and our greens rolling properly. Here we are loving golf for being cool, colourful and fun and there's no talk of driving distances and huge bonuses for multi-millionaires.
Bring on the holes-in-one and 10-foot par putts.
Mark has worked in golf for over 20 years having started off his journalistic life at the Press Association and BBC Sport before moving to Sky Sports where he became their golf editor on skysports.com. He then worked at National Club Golfer and Lady Golfer where he was the deputy editor and he has interviewed many of the leading names in the game, both male and female, ghosted columns for the likes of Robert Rock, Charley Hull and Dame Laura Davies, as well as playing the vast majority of our Top 100 GB&I courses. He loves links golf with a particular love of Royal Dornoch and Kingsbarns. He is now a freelance, also working for the PGA and Robert Rock. Loves tour golf, both men and women and he remains the long-standing owner of an horrific short game. He plays at Moortown with a handicap of 6.