Senior Open 2013 golf blog
Robin Barwick's preview of Bernhard Langer for the Senior Open at Royal Birkdale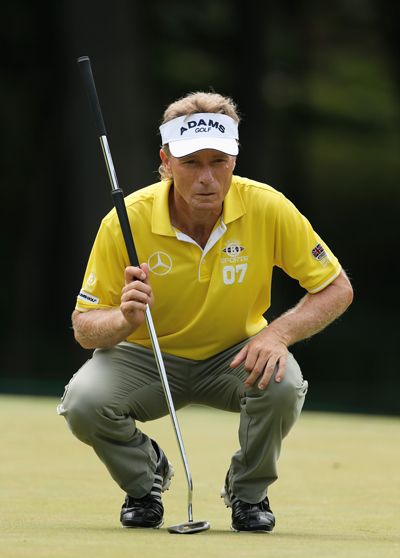 By his own stellar standards, Bernhard Langer's golf has been slightly off line in recent weeks, but as the double Masters champion prepares for the 2013 Senior Open at Royal Birkdale, he is confident a session with coach Willie Hoffman last week will set him back onto the straight and narrow.
Langer, 55, shot the lights out of the Champions Tour in the United Sates at the beginning of the season, winning two of his first six events - the ACE Group Classic and Greater Gwinnett Championship - and in the other four he finished third, tied second, tied 20th and second.
It was a remarkable start to the season for Langer, who is now five years older than the youngest golfers on the senior circuit, but then since the end of April his form has tailed off marginally, with some top-10 finishes mixed in with some lower finishes.
"The last couple of months have been a little frustrating," Langer tells Golf Monthly in an exclusive interview. "I have played plenty of good rounds, but the odd bad round has held me back. I like to keep my scores in the 60s all the time."
"I had a brilliant start to the year - for the first five or six weeks of the season on the Champions Tour – and I have been playing solid since, but just the odd bad round has crept in."
"It has seemed that every week I have one round that is around par or above, and to win you need to keep your scores below par every time."
The US Senior Open at Omaha Country Club two weeks ago - Langer's last tour experience - is a prime example."
"A first round of 68 put the former European Ryder Cup captain into contention, before a second round of 74 left him off the pace. Weekend scores of 68 and 69 were low, but not low enough, and Langer finished tied for 14th, 12 shots behind winner Kenny Perry."
"This is golf," adds Langer. "Sometimes something in your swing is not quite there and your rhythm is thrown out, or your short game is not quite working, but to be competing and winning you need all departments of your game to be really good - close to perfect."
Now at Royal Birkdale on England's north-west coast for the 2013 Senior Open, Langer has found renewed confidence after a visit to his long-time coach Hoffman last week.
"I saw Willie Hoffman for a lesson, and we talked about my year so far," says Langer. "We found something in my swing that might help, so it will be exciting to see what I can do this week.
"What we found out is that my shoulder turn in the backswing is just a little bit steep, which then causes me to come over the top of my swing plane and to pull a couple shots, and block a couple shots too, and these are damaging shots."
"A slightly flatter shoulder turn enables me to come at the ball from the inside, and swing the club on a line that will produce straighter shots and greater consistency."
"The fault is one of those seven or eight little things that can sneak into my game from time to time. We all have tendencies in our swing, and this has been one of mine for the past 10 years or so. It is nothing new. I have been working on it for the past week or so, and now I should be ready to go on Thursday."
"The worst thing with your golf swing is when you don't know what the problem is and so you don't know what you need to work on. Hopefully this will help me to regain some confidence and to strike the ball cleanly."
Langer tees off at 9:30 tomorrow in the first round, in the company of fellow major champions Sandy Lyle and Corey Pavin.
Bernhard Langer is a Mercedes-Benz ambassador, and Mercedes-Benz is the Official car of the Senior Open. Mercedes-Benz - dedicated to the perfect drive
Robin has worked for Golf Monthly for over a decade.