Rory McIlroy needs Jordan Spieth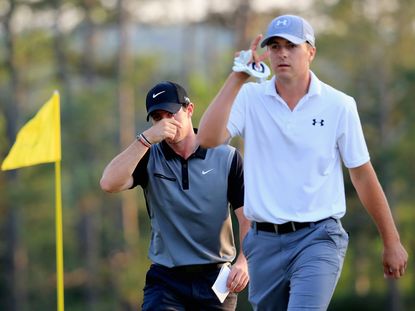 As golf looks for somebody to carry the torch, two of the games youngest stars seem ready to take it for years to come.
Rory McIlroy needs Jordan Spieth
In golf, things come better in pairs.
One birdie is better than two, one good shot is always better when followed by another, and one great golfer needs a rival.
Jack Nicklaus needed Arnold Palmer. Nick Faldo needed Greg Norman. Tiger Woods needed Phil Mickleson.
Now, Rory McIlroy needs Jodan Spieth.
For the first time in the history of the game, the world number one and two are under the age of 25, and have the potential to have a great rivalry for years to come.
For now though, Jordan is downplaying the potential duels.
"He's (Rory) got four majors. That's something I can still only dream about; and just numerous wins. I'll never hit it as far as he does and I have to make up for that somewhere else. He's an unbelievably nice guy. Carries that World No. 1 with class," Spieth said after donning the green jacket.
"I don't know, as far as a rivalry right now. Look forward to getting in the heat of the moment with him a couple times in the near future and see if we can battle it out and test our games."
We've seen great battles play out before our eyes before.
Who can forget the 2009 Masters, when Woods and Mickleson were paired togegther on Sunday, setting the front nine on fire with Phil making six birdies and woods hitting the long eagle on eight to stay in striking distance?
Golfers need these moments to better each other. Golf needs these moments to stay in the public eye and capitivate an audience.
It's something the young and casual fan can grab onto and watch all weekend.
Now, perhaps for the first time in five years, we have a true rivalry budding again.
Rory McIlroy sits as the world number one, a place he's held for over 70 weeks. Jordan Spieth sits right on his heels at number two, looking to take the throne, just as he took Rory's jacket during the Masters.
"It's great for him." Rory said of Jordan after Sunday's final round. "He's been playing great for a 21 year old, he's way more mature than I was at 21 and a hell of a golfer and a great person as well. So I'm really happy for him."
The best part is, it's all just beginning.
The combined age of the pair is combined to be 46, just two years older than Phil's actual age.
But what does this ultimately mean for the game of golf?
It means we have two young, hungry golfers who already have tasted the sweetness of a major win and will want more.
We have two golfers who will be looking to break records, smash courses and leave their names among the golfing greats.
It means countless Ryder Cups where we get to see these two compete.
What it means most of all, is the fan wins, no matter where McIlroy or Spieth find themselves on Sunday
A US native, Taylor enjoys hacking from the rough and scrambling to save bogey on a par 3. Follow Taylor on Twitter @taylorumland