Why Mothers of Millennials Are The Key To Getting Youngsters Into Golf
The reality for golf is that the Mothers of Millennials may be easier to engage than their off-springs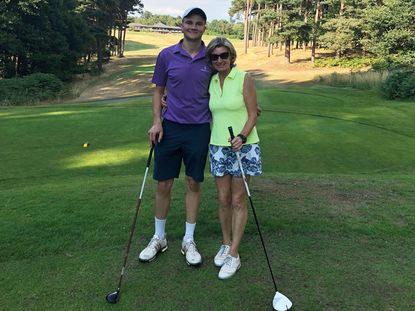 The reality for golf is that the Mothers of Millennials may be easier to engage than their off-springs
Why Mothers of Millennials Are The Key To Getting Youngsters Into Golf
By GolfPeach - follow her @GolfPeach on Instagram and @golf_peach on Twitter
It's time we had a conversation about women and golf. And there is no better time for that conversation than the week when the very best women in world golf are here playing on a British course and on British television (live coverage on Sky, highlights on BBC). All of the talent, prowess and style that the fairer sex bring to the grand old game will be showcased on both Sky and BBC during their coverage of the Ricoh Women's British Open at Royal Lytham this week. But will there be a connection with potential female recruits to golf?
The dream scenario is for a new wave of impressionable millennials to see a bit of themselves in Charley Hull or Georgia Hall and to nag their parents into taking them down to the local pay-and-play in the hope that they too can drive the ball 250 yards by the end of the summer holidays. It is probably no more than a dream. Role models for millennials tend to have a best-selling album or a new movie out. The reality for golf is that the Mothers of Millennials may be easier to engage than their off-springs. And that is precisely the conversation that I want to have.
Much as I may now wish that I had found golf earlier in life, the truth is that I probably wasn't 'ready' for golf until my children were sixth formers, until my business became established and until my yen for working up a sweat in the gym had started to fade. Only then did I have the combination of more hours in 'my' day and more money in 'my' account to set alongside a continuing appetite for healthy exercise and social interaction. That is the formula that unlocked the door to golf for me. That is why golfing life can still begin at 40.
This 'conversation' began on the 3rd tee of my local course with our club's Managing Director just the other day. "If you were given a pot of money to target new women members, would you reach out to millennials?" I asked Carl Rutherford of Bearwood Lakes GC. "No, the mothers of millennials would be a more productive target audience for us. Not only are they likely to have more time and disposable income, but they are also the key to introducing their children to the sport of golf." Carl was looking to double his investment… new moneyed members now with youthful converts in the future. As always, the chicken comes before the egg.
In my case, neither of my parents were golfers, so there was no old equipment lying around the house, no Sunday lunches down at the club, no British Open on the telly, nothing in my DNA to point me in the direction of the range. Much as I would love to see the R and A's 'Women in Golf' charter trigger a natural upsurge of interest among the younger generation, I think the entry points into our sport are few and far between. Golf requires more time and space than most schools can allocate on the sports curriculum, the nearest course is usually a car ride away, you do need some clubs. Family ties and parental support are the most common catalysts.
Expand 'Another Tiger Woods Win Will Knock Every Other Sport Out Of The Headlines'
'Another Tiger Woods Win Will Knock Every Other Sport Out Of The Headlines'
Read GolfPeach's latest blog
Expand Gimmes In Golf: "A Golfer's Policy On Concessions Is A Window Into Their Soul"
Gimmes In Golf: "A Golfer's Policy On Concessions Is A Window Into Their Soul"
Have a read of @GolfPeach's latest GM blog
Expand Why Top 100 Golf Course Rankings Will Never Please All…
Why Top 100 Golf Course Rankings Will Never Please All…
@GolfPeach has her say on the controversial Top…
The R and A's 2018 report 'Women, Girls and Family Participation in Golf' refers to a survey of 1,000 female golfers that found '9 of every 10 golfers surveyed have another member of their household participating'. It also quotes industry expert Rachael as saying, "the role of the parent is more crucial in golf than a number of other sports because golf clubs don't tend to be in the city centre or urban outskirts, so you are reliant on your parents taking you there … also it's about capturing the family not just for 20 minutes or mum or dad dropping them off in the car park, it's capturing them and keeping them there." Maybe the mothers of millennials are the most direct route to the sporting hearts of the millennials themselves.
I am just trying to be realistic. This is the blog of a privileged person and I really don't want golf to be a privileged preserve. It is not just my maternal instincts that make me glow when I see a teenage girl bashing balls on our range under the supervision of a proud parent. There is nothing I enjoy more than teeing it up alongside my own 20-something year-old sons, but they are the first to admit that it is only my love for golf that has removed their barriers to the sport.
Most of the golf that my husband and I play is still with our own peer group. The health benefits of the game are far more relevant to a generation whose knees and lungs are tiring of the treadmill or even the tennis court. While the calorie burn may ease, the competition doesn't. I was fortunate/crazy enough to climb some of Europe's most famous mountains 'before golf' and little can compare to the sense of achievement from hauling yourself up to the summit of the Eiger. Yet, I've let out more shrieks of delight on sloping greens than I ever did on the slopes of the Alps. Golf brings out the Celtic competitor in me as readily as mountaineering ever did. Ask husband!
We can afford to be competitive. We can afford the family's annual subscriptions, we can afford golfing holidays, we can even treat ourselves to the £200 green fee at Carnoustie next week in the same way that we might spoil ourselves to a special anniversary meal at a Michelin-starred restaurant. Golf needs to be more affordable and more accessible if it is to spread its net beyond the circle with whom we share its social trappings and like-minded fellowship. I know and accept that. This blog is not pretending to be the answer, but it may point towards a small part of it.
Our twenty five year old daughter is the one member of our family that doesn't golf. She is a health and fitness blogger who runs marathons and is a qualified personal trainer. Hannah does not have the gaps in her diary, the working capital in her account or the vaguest motive to swap her lycra for a golf skort. I get that completely… not least because neither did I at her age. I'm not saying that she will follow in our footsteps one day but she has a better chance than I did because at least golf is part of her parents' conversation with her. She has already given me exercises to improve my core strength… for golf.
If Hannah happened to go to Lytham next week she would soon connect with other young sportswomen striving to be the fittest and strongest they can possibly be in order to be the best they can possibly be. Golf has parallels with many other areas of human endeavour but it needs a bit of a makeover in order to reach out beyond its traditional catchment. The game's future must be different from its past. The presence of young, confident, engaging television presenters like Sarah Stirk, Anna Whiteley, Eilidh Barbour, Di Dougherty and Henni Goya on network golf coverage is already evidence of wheels in motion.
Just don't forget the present. Don't get aspirational at the expense of what is achievable right now. I was not a golfer four years ago. In that time, I have contributed handsomely to the economy of the game(!) and I'd like to think that the passion and enthusiasm that created my GolfPeach persona on Instagram has helped rub off on others. I've certainly been welcomed into the sport's growing social media community. Several of my non-golfing friends are suddenly tempted when they see Facebook albums of me striding along sun-baked seaside fairways. We all have a story to tell, a story that takes another twist and turn each time you walk to the 1st tee. I'm not shy at spreading the word, at trying to awaken the sleeping golfer inside so many mid-life people looking for the same challenge and pleasure I have found in equal measure.
If golf really does want to bring more young women through its hallowed portals in the future, it may pay to first woo their mothers who have the will and the wherewithal to try it in the present. The Mothers of Millennials are golf ready.
The leading website from the world's oldest golf magazine, we're the go-to destination for amateur and keen golfers alike who are keen to up their golfing game. As well as expert course reviews, news and tips to improve your handicap our golf-focused travel content will help you pair teeing off with your travels in some of the best destinations around the globe.