Gimmes In Golf: "A Golfer's Policy On Concessions Is A Window Into Their Soul"
Have a read of @GolfPeach's latest GM blog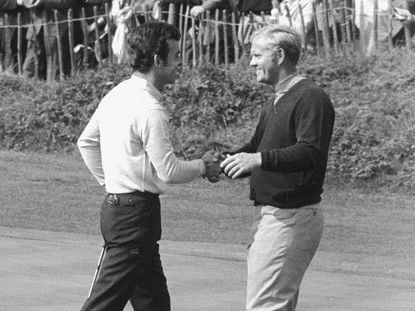 (Image credit: Getty Images)
Golf Monthly Newsletter
Golf tips and expert instruction, golf club reviews and the latest golf equipment.
Thank you for signing up to . You will receive a verification email shortly.
There was a problem. Please refresh the page and try again.
@GolfPeach's latest blog looks at gimmes in golf... Are you a Big-hearted Jack? Or a pitiless Pettersen?
Gimmes In Golf: "A Golfer's Policy On Concessions Is A Window Into Their Soul"
So, imagine this… it's England 0 Belgium 0 going into the final minute of the World Cup football match in Russia this June… Harry Kane wins a penalty, places the ball calmly on the spot and takes a few deep breaths to calm his nerves. But before the referee can blow his whistle, Harry's Spurs team-mate Jan Vertonghen picks the ball up, says to him 'you can have that' and shakes the England captain's hand in congratulations. It's not going to happen, is it?!
Only in golf.
No Welshman is ever likely to 'give' a kick in front of the posts to Owen Farrell just to speed up play, nobody at Wimbledon is about to concede a service game to Roger Federer so as to be polite. It's never over 'til it's over, you play to the final whistle, you run to the line, refuse to lose, second is the first loser. All those sayings and slogans that define modern sports (and sell modern sportswear) are about giving nothing at all to your opponent… not even an 18-inch putt.
@GolfPeach: Golf is more dangerous than boxing or rugby?? Really??
The 'gimme' is a bit of a golfing oddity. On the one hand, it is a glorious example of the old-fashioned sporting values to which our sport clings delightfully… on the other, it can be a joker card to be played strategically in the poker game of a matchplay duel. Of all the many mental challenges that golf sets us, the sinister silence that falls over a putt you were expecting to be given is right up there.
Concessions aren't just good manners. The very exacting rules of golf allow us to randomly concede a match, a hole or our opponent's next stroke at just about any time as long as it's matchplay. You cannot rescind a 'gimme'. When you say 'that's good', you can't suddenly change your mind and pretend you were referring to the view. And neither can you decline one… in case you were feeling particularly bullish. Best of all, the rules say you cannot request a concession. Imagine a cricket scenario where a player shaves the hole with a putt and raises an arm to an opponent shouting 'Owzat?' as the ball rolls inches past. 'Er, out, since you ask… see if you can putt it in with your next shot.'
@GolfPeach: Why top 100 golf course rankings will never please all...
The best players rarely get the opportunity to invite an opponent to 'pick it up' because the pros spend most of their careers battling against the card in medal play. Concessions are a more regular feature of club and social golf. They help to keep the speed of play ticking over and lend an excuse for some good-natured banter as partners debate 'the circle of friendship' that surrounds a hole at approximately the length of a putter grip. Approximately.
The degree of concessions can define the level of competition we are choosing to engage in. If you are attempting to woo a potential business customer, then asking to 'see' a slippery downhill three-footer simply makes no commercial sense to the balance sheet. If you are trying to win the club knockout final, you don't give an inch. She's got 3 'for it' from 10 feet… you let her tickle the first putt down to the hole side before striding off to the next tee with a muttered 'ok' under your breath. The most grudging concessions are both the best to give and receive.
We all know someone who concedes everything within half a mile of the cup. I'm never sure whether they are demonstrating what altruistic individuals they are or if they're inviting you to join their league of cheats. 'Give, give?' they inquire as you move within a hundred yards of the green. A 'gimme' is not a gift to bestow as an act of benevolence or bribery, it is a recognition that on the balance of probability the putt under review is a formality. It's a mark of respect. It's personal.
@GolfPeach: Why golf isn't the most boring sport
Conceding in matchplay is on your account, but if a score is counting against the rest of a field no offence can be taken at being asked to make the ball disappear.
Tactical concessions can be made in a pairs match where one opponent may show their partner the line if you allow her to putt first. But, as with most things in golf, the smarter you think you are getting, the further the fall from grace when you mess up. There is nothing quite as uplifting as holing a putt your opponents have debated like Statler and Waldorf for five minutes, and there's nothing quite as comical as one of them chastising the other for conceding a borderline putt to you.
The most famous concession in golfing history was made by its most famous golfer. In 1969 at Royal Birkdale, Jack Nicklaus spared Tony Jacklin a 30-inch putt on the final green in the final match of a tied Ryder Cup. Nicklaus, who had just canned a 5-footer himself, is reputed to have handed Jacklin his marker saying, "I don't think you would have missed that putt but, in these circumstances, I would never give you the opportunity." Awwww, bless!
'These circumstances' were the Americans still heading back across the Pond with the prize as holders of the trophy but Nicklaus's captain, Sam Snead, was furious about the magnanimous gesture. He hadn't flown four thousand miles for an honourable draw.
Slammin' Sam was from the Suzann Pettersen school of matchplay golf. 36 years on from that concession at Birkdale, Pettersen claimed a hole when her American opponent in a Solheim Cup match routinely picked up her ball having missed a birdie putt by a whisker. It was 16 inches from the hole but the icy Norwegian had not said the magic words, 'that's good'.
A golfer's policy on concessions is a window into their soul. Are you a Big-hearted Jack? Or a pitiless Pettersen? Or, like me, do you suffer mood swings on this subject? A year after Birkdale in 1970, Nicklaus watched as Doug Sanders missed a tiny putt to beat him to the Open Championship at St Andrews.
Do you think Jack would have conceded it if he could? No, me neither.
What are your thoughts on gimmes in golf? Let us know your thoughts on the Golf Monthly social channels
The leading website from the world's oldest golf magazine, we're the go-to destination for amateur and keen golfers alike who are keen to up their golfing game. As well as expert course reviews, news and tips to improve your handicap our golf-focused travel content will help you pair teeing off with your travels in some of the best destinations around the globe.