Golf Needs To Be More Accessible To The Younger Generation
Adam Stephens wants golf to be more accessible to undergraduates and postgraduates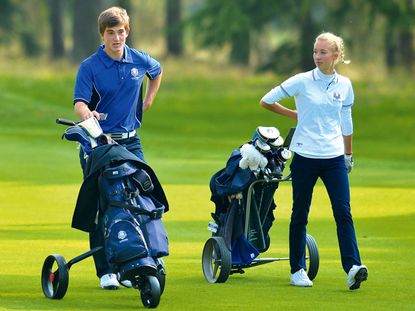 Postgraduate student Adam Stephens would like golf to be more accessible, and affordable, to people of his age who are forking out on tuition fees and living costs with future plans to get on the property ladder
Golf Needs To Be More Accessible To The Younger Generation
"Golf is a good walk spoiled."
This is what well-known American writer Samuel Langhorne Clemens, otherwise known as Mark Twain, described the sport as during the 19th Century.
Around 200 years or so later, golf faces a battle amongst the young people to prove that this is indeed not the case and prevent the steady decline that seems to be affecting the sport, which can trace it's origins all the way back to Scotland in 1457.
So why is golf facing an uphill battle to attract the younger generation to the game I hear you ask?
Well, for a start the cost of equipment is high compared to other sports like football, cycling, tennis etc.
This is not even taking into consideration membership costs to belong to an actual golf club, or green fees, as well as other potentially crucial accessories such as golf balls and the correct attire.
All these expenses may be the reason therefore that students or postgraduates are put off by this pastime as they look to save for other essentials such as paying off University tuition fees, looking for affordable places to live and there are also other living costs to consider too.
The British Universities and College Sport (BUCS) are trying to do their bit for game having introduced a tour of nine qualifying events held across the UK. The players have an added incentive of competing for places at the end of season event known as the BUCS Golf Tour Finals.
In addition, help is being provided by BUCS to Universities such as Kingston, Coventry and Sunderland to help start up and build a University team.
BUCS have been able to develop partnerships with those Universities' respective counties, Surrey, Warwickshire and Durham, to help provide low cost opportunities within the game.
Other issues to consider are the fact that the golf clubs could do more to help young people who are interested get involved within the game. Perhaps put on student discounts on specific club sets or even create affordable golf club membership deals.
Maybe holding more taster sessions or promotional events specifically targeted at the younger generation could help.
Whilst many clubs do this already, through junior coaching sessions, more of these sessions certainly wouldn't go amiss, especially those targeted at the 16-25 age range.
Then of course there is an issue of the pace that the game is played at.
Pro golfers such as Rory Mcllroy have called for a faster version of golf in a bid to attract younger players to the sport, particularly at grass roots level.
"Everything's so instant now and everyone doesn't have as much time as they used to," the four-time major winner told BBC Radio 4.
"So you maybe try some way of speeding the game up. The viewership in golf is up but the participation is down. People enjoy watching the game but gone are the days that you could spend five or six hours on a golf course."
McIlroy has a point.
Continues below
Expand What Makes The Perfect Golf Club For Juniors?
What Makes The Perfect Golf Club For Juniors?
Recent research reveals what young people expect from…
Expand Are Golf Clubs Becoming Too Expensive?
Are Golf Clubs Becoming Too Expensive?
We debate if prices are rising too high,…
Expand Debate: Should Clubs Offer Free Membership To Juniors?
Debate: Should Clubs Offer Free Membership To Juniors?
Two Golf Monthly regulars argue their differing views...
Indeed there are various rules and traditional etiquettes of the game that slow the game down further.
For example, the endless amount of practice swings that players can take in preparation for every shot as well as weighing up their putts from every possible angle comes to mind.
I suggest putting a time limit on each shot, in other words a shot clock, similar perhaps to the game of tennis when players look to serve the ball.
The European Tour featured a shot clock hole at the GolfSixes last year and have the Shot Clock Masters lined up later this year in Austria.
If this was brought in at grassroots level, it could make golf more engaging for younger players who can't necessarily afford to be spending five or six hours on the course like McIlroy said.
So is the game of golf really on the decline?
Well, recent golf data from Statista suggests that over the past eight years or so, people playing golf in England on a monthly basis has declined by about 27%.
Plus viewing figures of golf are down, following a large amount of the BBC's golf coverage to Sky. The Open was the most recent tournament to go over to Sky Sports in 2016.
And whilst Sky's coverage is fantastic, it doesn't reach the numbers that the BBC's does.
There is, however, room for optimism with the impending events such as the Ryder Cup in France on the horizon later in the year which could yet inspire more young people to get involved in the sport.
This will be aired on Sky, although the BBC should be showing highlights.
Organisations such as BUCS are also doing their bit to promote the game to the younger generation by trying tackle one of the main issues which is the cost of the equipment and golf course access.
Golf clubs around the UK, however, do need to act faster than they are currently doing by making themselves more affordable to the younger generation and more up to date with times or risk further decline to this ancient pastime than what it has already endured.
What do you think golf can do to become more accessible to the younger generation?
Let us know your thoughts on our social channels
The leading website from the world's oldest golf magazine, we're the go-to destination for amateur and keen golfers alike who are keen to up their golfing game. As well as expert course reviews, news and tips to improve your handicap our golf-focused travel content will help you pair teeing off with your travels in some of the best destinations around the globe.