Ashridge Golf Club Course Review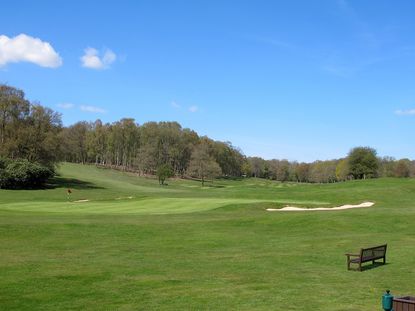 In a most tranquil setting not far from the centre of London, the gently rolling parkland course at Ashridge is a complete delight - Rob Smith pays a visit
Ashridge Golf Club Course Review
I've been lucky enough to play at Ashridge Golf Club (opens in new tab) several times over the years, and have even visited as a spectator when I covered the club's hosting of a Volkswagen Masters event in 2008 (opens in new tab). It was therefore a thrill to accept an invitation from the club after a gap of too many years to go and play the course with their new General Manager Stephen Proudfoot, Head Professional Peter Cherry (opens in new tab), and with Course Manager James Camfield. With their combined handicaps adding up to half of mine and the recommendation that we played from the back tees, I was not in the least intimidated!
Weather Conditions
A beautiful, warm early Summer morning - dry underfoot
FootJoy Outfit (opens in new tab)
Shoes: DNA, Shirt: Stretch pique, Trousers: Performance, Glove: Sci-Flex Tour (opens in new tab)
The course beckons to you from the modern, airy clubhouse, and I headed out knowing that I was in for a real treat. The first two holes run gently down a wide valley and will ease you into the round as wayward shots tend to gather back down the slope.
The second offers genuine chances of a birdie, especially from the forward tees, though there is a patch of dead ground in front of the green that will tend to stop the ball from rolling all the way.
The first short hole is very pretty but also slightly uphill and guarded by bunkers at the front meaning that it is advisable to take one club more.
The next pair, the longest par 4 and 5 on the course, are as tough as they are attractive, and the 6th is a cracking one-shot hole with a dip before the green and a fall-off over the back. There is another short hole at the 8th, this one hiding behind gorse bushes.
The front nine concludes with a picture-perfect, relatively short par 4 with a green that is as tricky to find as it is to putt on. Distinctly birdie-able, I would imagine it has ruined plenty of medal cards in its time.
The back nine opens with a straightaway par 4 and yet another lovely short hole, this one beautifully framed by bunkers.
The next four holes go 4-5-4-5 - two very strong two-shotters counterbalanced by long holes that raise the hope of a birdie to atone for the previous bogey!
The 16th is in my view the prettiest of the five short holes, made all the more so by an attractive pond short and right.
The best courses tend to have a strong closing hole and there is no exception here at the 433-yard downhill 18th. As with the 9th, it is perfectly located under the watchful eye of the clubhouse balcony.
The course is a rare and genuine delight from start to finish, kept in immaculate order, and to play in such great company - even managing a couple of birdies - made this a very memorable experience. It is often hard to summarise a course and indeed a club in one sentence, but I will attempt to do so by saying simply this - that if I lived in the area, this is the club I would aspire to join.
Rob Smith has been playing golf for more than 40 years and been a contributing editor for Golf Monthly for over ten years, specialising in course reviews and travel. He has now played more than 1,170 different courses in almost 50 countries. Despite lockdowns and travel restrictions in 2021, he still managed to play 80 different courses during the year, 43 of them for the first time. This included 21 in 13 days on a trip to East Lothian in October. One of Rob's primary roles is helping to prepare the Top 100 and Next 100 Courses of the UK&I, of which he has played all but nine. During the 2021-22 review period, Rob has played 34 of the Golf Monthly Top 200. He is a member of Tandridge Golf Club in Surrey where his handicap hovers around 16. You can contact him at r.smith896@btinternet.com.