How Golf Monthly assesses the Top 100 Golf Courses
Golf Monthly editor Michael Harris gives an insight into the criteria used to assess the courses for inclusion in the UK & Ireland Top 100 Course Rankings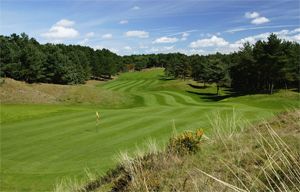 Golf Monthly Newsletter
Golf tips and expert instruction, golf club reviews and the latest golf equipment.
Thank you for signing up to . You will receive a verification email shortly.
There was a problem. Please refresh the page and try again.
Top 100 Golf Courses Assessing Procedure When we set out to assess golf courses for possible inclusion in the Golf Monthly Top 100 Course Rankings we look at four key criteria against which to judge the course.
1. Quality of test and design 2. Presentation 3. Visual appeal and enjoyment 4. Ambience
Golf Monthly staff and reader panellists give each course a mark out of 20 for the two criteria we deem to be most important – "quality of test and design" and "presentation". Two marks out of ten are then awarded for "visual appeal and enjoyment" and "ambience". These are totalled together to give an overall mark out of 60, which is incorporated into a detailed assessment form completed after each visit
Panellists are briefed rigorously on what elements to pay particular note to when assessing each criterion. For example, when judging the "quality of test and design", they are urged to consider the variety of holes, the fairness of test and the strategic positioning of hazards. The "presentation" category looks at the condition of the course, paying particular attention to the quality and consistency of the greens, definition of fairway and rough, and the condition of course "furniture". The mark for "visual appeal and enjoyment" relates to the aesthetics of the course and takes into account the views and scenery on offer. "Ambience" evaluates the overall feel and atmosphere of the course and club, and in a nutshell sums up the all-important "visitor experience" we come away with.
In more general terms, when it comes to separating clubs whose marks are very close, Golf Monthly leans towards traditional members' golf clubs and, among that type of club, those which can offer what we believe to be the ultimate experience for any visiting golfer – to be welcomed and made to feel like a member of the club for the day. Such clubs will trump all others when it comes to our final judgment.
After a visit to a contender golf course all pannelists fill out a detailed form assesses the following criteria.
Assessment criteria: Quality of test and design
Where next? - Golf Monthly's Top 100 Golf Courses - An introduction to Golf Monthly's Top 100 Golf Courses by editor, Mike Harris - Who makes up The Top 100 Golf Courses panel?
Sign up to the Golf Monthly newsletter - instruction tips, gear reviews and the latest golf news direct to your inbox The perfect Christmas gift without the high street hassle - Save up to 35% on a Golf Monthly subscription
Mike has been a journalist all his working life, starting out as a football writer with Goal magazine in the 1990s before moving into men's and women's lifestyle magazines including Men's Health, In 2003 he joined Golf Monthly and in 2006 he became only the eighth editor in Golf Monthly's 100-plus year history. His two main passions in golf are courses, having played over 400 courses worldwide, and shoes; he owns over 40 pairs.
Mike's handicap index hovers at around 10 and he is a member of four clubs: Hartley Wintney, Royal Liverpool, Royal North Devon and the Royal & Ancient Golf Club of St Andrews.