Golf In The Costa Brava
Owain Jones toured the Costa Brava, highlighted by playing at the famed TPC Catalunya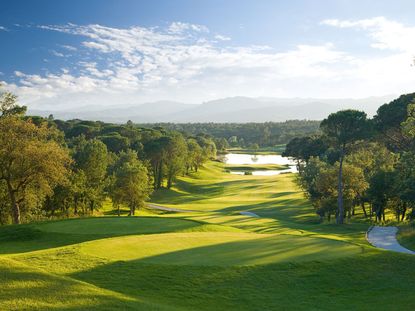 Owain Jones toured the Costa Brava, highlighted by playing at the famed TPC Catalunya
Golf In The Costa Brava
Just forty winks and a cover-to-cover in-flight mag from the UK is the Costa Brava, a 120-mile coastline of secluded coves, medieval villages and gastronomic delights. More pertinently, perhaps, there is a rich seam of forest, parkland and links golf courses worth further investigation…
Golf de Pals
A paid-up member of Costa Brava's golfing aristocracy, Pals was designed by Royal Birkdale architect, Fred Hawtree and opened to the public in 1966, before hosting Spain's first PGA tour event in 1972.
The ranch-style clubhouse has retained its charm, with guests feasting on cured meats and olives on a glorious sun terrace, sheltered by pines.
The first few holes are short and tight, where a meaty drive and a lofted-iron will find you hitting the green with grunt to spare.
Despite being a few hundred metres from the Mediterranean, virtually all the holes are surrounded by a natural canopy of umbrella pines.
When we played, in early May, it was toupe-wearer's nightmare, with strong winds - so beloved by windsurfers in the area - whipping off the coast.
Adding to the mix are a half-a-dozen doglegs on the course, which don't overly help the golfing minority; us left-handers.
The sweeping 4th is a looker, mind you, with the pin a speck in the distance, inviting you to bisect the steep wall of pines, so a nudge with a high-iron is all that is required to get pin-high.
The 6th is also easy on the eye, a 151m par 3 with a 30m drop to an oval-shaped green protected by three strategically-placed bunkers. Undercook your iron and you could be sand-bound for some time.
The back nine isn't as confined and there are three par 5's in the last five holes, where if your swing has found its groove, it's time to open up the shoulders and tidy up the scorecard.
R&R is but a stone's throw away, through an adjoining gate where you'll find the four-star La Costa Beach & Golf resort, which sits a two-minute walk from the coast with gated-access to an expansive sandy arc and breathtaking views of the Mediterranean.
Course info
Golf de Pals (golfdepals.com)
Par: 73
Yardage: 5970m (yellow), 6263m (white)
Green fees: €89-105 low-high season. Guests receive a 50% discount if staying at the four-star La Costa Beach & Golf resort
Emporda Links and Forest
Now approaching its 30th birthday, the Emporda is maturing into one of the smartest complexes in Northern Spain.
Comprising two courses; the Forest and Links - the latter is the only one on the Costa Brava - it was designed by renowned American architect Robert von Hagge and boasts six different course combinations so you can wallow in a state of golfing nirvana for an indulgent weekend.
A welcome addition in 2006 was the modern, glass-fronted Hilton Double Tree golf-spa hotel, which has glorious views of the surrounding 36 holes, all graced with the backdrop of the snow-capped Pyrenees.
When we played, we mixed up both courses by playing the Emporda Top 10 PGA Von Hagge.
Teeing off first on the Links, the exposed fairways gave us little respite from the gusty winds, with conditions were more akin to the West Coast of Ireland than lazy, sun-dappled resort golf.
Punching the ball low was de rigeur for the conditions to stop balls getting caught in the wind and dropping meekly short of their intended destination.
Course maintenance was top-notch with elaborate sand features, and challenging pin positions.
The 9th, a 348m par 4 had a dastardly approach shot over water with a raised pin position on a wicked, contoured green.
The second nine took in the Forest course, which was more forgiving, with sweeping undulating fairways sheltered by mature pines.
In the mid-section of the front nine three holes are dominated by a sizeable man-made lake, with the approach to the pin over the drink on the 6th particularly satisfying for risk-takers.
The greens, too, were true and rapid, cut to give even the best readers of putting lines busy to keep scores in low digits.
Indeed, a generous Club sandwich at the Casa restaurant was fully merited after a bracing morning's play.
Course info
Emporda Links and Forest (empordagolf.com)
Par: Forest 72 Links 71
Yardage: Forest 5866yds (yellow), 6165yds (white) Links 5971yds (yellow) 6304yds (white)
Green fees: From €59 for 18 holes
Golf Monthly stayed at La Costa Beach & Golf Resort
Expand The 10 Best Inland Courses In The UK
The 10 Best Inland Courses In The UK
Within these shores we are blessed with a…
Expand The 10 Best Links Courses In The UK
The 10 Best Links Courses In The UK
Come with us on a tantalising tour of…
Expand The Best Golf Courses In Ireland
The Best Golf Courses In Ireland
Ireland's coast is blessed with some amazing links…
PGA Catalunya
The final stop-off was the much-heralded PGA Catalunya, which had all the trappings of an elite course - impressive clubhouse, designer shop and jaw-dropping practice area - and is rated by many of golf's cognoscenti as the premier course in Spain, and among Europe's elite.
Designed by Neil Coles and Angel Gallardo and a former European Tour Q School venue, the course is a test of wit, guile and at times, raw power as it snakes through dense woodland for over 7,000yds off the back tees.
Hell, if you can play bogey golf here, a congratulatory backslap is fully merited.
Particular treats were the par 3 11th which has an elevated tee, with 190yds to the pin.
All ship-shape until you realise that any more and you're 10ft from water.
Go gung-ho, as I did, and you swim with the fishes, hombre.
The signature hole is 13th, where from an elevated tee, you can see the rolling coastal hills of Montseny Massif, North of Barcelona.
You'll need a long carry to the fairway and to avoid a heavily wooded area on your left.
This gives you the best chance of making the money-shot to the green and avoiding thick reeds, ducks, and water sirens enticing you to be bold.
For most fair-weather golfers, it's wise to play it safe but the desire go all-out is too much for some foolhardy folk.
Yep, you've guessed which option I took!
As dusk approaches, bird shrill increases in volume and wildlife re-emerges.
A fitting denouement is the 450yd par 4 18th with its unsighted uphill teeshot, sensibly followed by long-iron 100yds short of the green.
With a wee flick of the wrist over sand, you can finish beneath sun-kissed trees in style, under the watchful eye of the buzzing clubhouse.
PGA Catalunya didn't disappoint.
Okay, it's for the A-Lister's but it's an A-List course.
Course info
PGA Catalunya (pgacatalunya.com)
Par: 72
Yardage: 6686m (white), 6104 (yellow)
Green fees: €119-147
Other things to do…
Kiss the lionesses' bottom…
Bear with me, and let me explain.
Before undertaking a whistle-stop tour of Girona, head for Placa de Sant Feliu to climb a pillar and pucker up to the rump of an iron lioness.
Why? Because superstition dictates that if you do that, you will return to Girona once more.
After a fleeting time there, I will be doing just that.
For fans of box-sets, the pocket-sized Catalonian city may look familiar because it was chosen as a location to HBO behemoth Game of Thrones in season six, doubling up as the Free City of Essos.
Guided tours are popular and it has given a much-needed boost to the local economy.
Girona has a bloody history that would put Game of Thrones to shame.
The compact walled fortress dates back to 80BC, due to its advantageous geographical position, and has led to it being under siege 25 times.
In that time, it's been decimated a Who's Who of European tyrants; from greedy Roman Emperors' to the Petite Generale, Napoleon Bonaparte who laid siege for six gruesome months which did nothing for French-Spanish relations.
Over time, it has been inhabited by the Moors, Jews and for the past few hundred years, Catholics, and as a result has one of the finest Medieval quarters in Europe, with narrow, cobbled shoulder-width streets meandering up to the imposing St George's Cathedral, which is accessible by 91 stone steps, and towers majestically over the City.
It's overlooked by the madding crowd who invade Barcelona and the visitor's experience is all the better for it, with a contemplative walk through the John Lennon Gardens a welcome departure from dodging small children, tour parties and selfie-sticks in most tourist traps.
On the left bank of the city, over the Onyar River, the terrain is flatter and the cosmopolitan Placa de la Independencia, is perfect to rest the feet and watch the world mosey on by, before heading for the craft shops of Carrer de la Barca.
'Hidden gem' is a tired cliche, but for Girona, it seems entirely apposite.
New kids on the block…
A few rounds of golf and some La Liga action. Don't mind if I do.
In truth, before this season it wouldn't have been possible but Girona FC, backed by Pep Guardiola's brother, Pere and current Manchester City Director of football Txiki Begiristain, the Blanquivermell (white and reds) have risen three leagues and established themselves as a low-key La Liga alternative to Barcelona.
The side finished a creditable 10th with the result of the season their 2-1 win over Real Madrid, which sent the patriotic Catalonians loco and partying into the early hours.
The club's Estadi Montilivi stadium was packed to the rafters on match day.
With passionate supporters banging drums and singing pro-Catalan independence songs, Girona nevertheless were outclassed by their Basque opponents, Eibar, in a humbling 4-1 defeat, but as a diversion from pounding the fairways, the football experience was intoxicating; welcoming, intimate and family orientated.
Getting there: Ryanair fly direct to Girona from £100 ryanair.com. (Transfer to courses around 30 mins) or fly to Barcelona with multiple carriers including Easyjet, Ryanair, British Airways and Iberia (from £75 - transfer to course around 90 mins)
For more details on the Costa Brava en.costabrava.org
The leading website from the world's oldest golf magazine, we're the go-to destination for amateur and keen golfers alike who are keen to up their golfing game. As well as expert course reviews, news and tips to improve your handicap our golf-focused travel content will help you pair teeing off with your travels in some of the best destinations around the globe.