Amazon Promo Codes for January 2023
Get saving on those orders with these 25 Amazon promo codes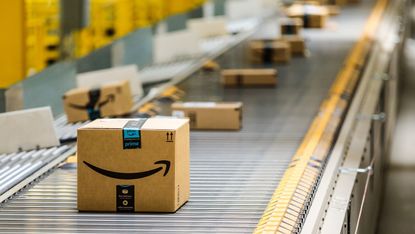 (Image credit: amazon)
FAQs
How do I sign up for Amazon Prime?
Simply head to amazon.co.uk/amazonprime where you can sign up for a free 30-day trial, or subscribe immediately. Here, you will be able to browse your full list of benefits.
What is Prime Student?
Amazon Prime Student is a cheaper version of Amazon Prime. Designed specifically for college students, it gives access to free 2-day shipping and a variety of other Amazon-specific services at half the price of the company's traditional Prime membership.
What does Amazon not sell?
Despite being the go-to site for millions of different products, there are a number of different items the company does not sell, including guns, tobacco, and cars that require registration to drive on the road.
How do I find the best discounts?
'Today's Deals' can be located at the top of every Amazon page. There are also super deals to be found in the Amazon Warehouse and Amazon Outlet.
What is Amazon Prime Day?
Amazon Prime Day is a global shopping event with deals up for grabs exclusively for Amazon Prime members. In 2022, it took place on 12-13 July. The date for Amazon Prime Day 2023 has yet to be confirmed.
Is it cheaper to buy on Amazon?
Much depends on the product that you are purchasing. If the product you're searching for can be bought elsewhere, do your research. To start off with, it's quite likely you can purchase it directly from the company that manufactures it. As a Prime member, you can take advantage of free shipping, but it doesn't hurt to take a little time to do some research.
Hints & Tips
Given how easy it is to just top up your basket, you can end up missing out on deals and savings – but there are plenty of ways to save money when shopping with Amazon.
Sign up for Amazon Prime: Membership costs $14.99 a month ($139/year), but with this you get a host of benefits, such as unlimited one-day and same-day delivery on millions of items. Undoubtedly one of the biggest perks is free shipping.
Sign up for a free Prime trial: Get all the same benefits as a full paying member for 30 days. If you cancel at any point during the free trial, you won't be charged a penny.
Create an Amazon Household: Many people fall into the trap of paying multiple subscriptions, when you can actually share select Prime benefits with one other adult.
Explore Amazon Warehouse: This is something of a hidden treasure – a place where you can pick up returns with big discounts. If whatever you're searching for doesn't have to be brand new, it's well worth a browse in the Warehouse.
Explore Amazon Outlet: Another little-known outlet, this is where you can find big discounts on thousands of overstocked items. It's not unusual for retailers to be left with surplus stock of certain items, especially following shopping events such as Christmas – and Amazon is certainly no different.
Head to Woot: There's another online site where you can take advantage of some amazing deals: Woot. This is Amazon's daily deal site where you can make some tidy savings on a wide range of products, including electronics, computers, sports equipment, and much more.
Search 'Today's Deals': The best deals for new products are easy to find: simply click 'Today's Deal's' at the top of any Amazon page. Amazon offers several daily deals on items across multiple categories.
Always filter your search results: One of the few downsides of having such a vast choice of products is how difficult it can be to reach a decision on the product you want. Using the tick boxes to narrow down your search makes online shopping a lot easier.
Shop on the Amazon app: The Amazon app is easy to navigate, and offers you a 360-degree view of products, real-time tracking and delivery updates. You can even get alerts when your saved items go on sale.
Shop with Alexa: Many of us are well used to speaking to our mobiles to set reminders and alarms. You can make full use of Amazon by asking Alexa for product recommendations. You can even ask Alexa for the latest deals.
Use Subscribe & Save: This is a wonderfully simple tool to use so that you can make savings on repeat purchases, such as everyday essentials for the home.
How to use Amazon promo codes
There are a number of different types of Amazon promo codes. Some require you to click manually from the Amazon product page while others need to be manually entered during checkout.
Amazon coupons found on the product page are simple to use: simply click the radio box underneath the price tag and your promo code will automatically be added during the final checkout stage.
If you have a manual Amazon promo code you want to use, you're required to add the coupon during the final checkout page. In the "Payment Method" section, you'll find a discount code box that says "Add a gift card or promotion code or voucher." This is where you add your Amazon promo code. Then, click apply and the code will be added and discounted from your total price.
The Perks of Amazon Prime
Amazon Prime is a subscription service enjoyed by 200 million members worldwide. To unlock the best benefits and take full advantage of all Amazon has to offer, you really need to join Amazon Prime. Monthly membership costs $14.99, but you can save just over $40 by paying $139 upfront for the whole year.
With an Amazon Prime membership, you can then enjoy a huge range of benefits, such as:
Free same-day shipping (select cities)
Free movie streaming
Discounts at Whole Foods
Prime Day savings
Unlimited reading with Amazon Reading
Amazon Prime Student discounts
Prime Try Before You Buy
Discounts via Amazon Pharmacy
In addition, Prime membership opens access to a wide range of other Amazon services.
One of the biggest perks for members comes on Amazon Prime Day, an annual event for members. Prime Day deals are renowned for offering huge discounts on Amazon hardware and services – plus there is often an increase in Amazon promo codes during this time. This 48-hour retail extravaganza typically occurs during the month of July, although it has taken place during June and October in the past.
If you're unsure as to whether you'll make the most of Prime membership and you don't want to commit, Amazon does offer a free 30-day trial – so you have time to try the service before parting company with any money.
Michael has been with Golf Monthly since 2008. As a multimedia journalist, he has also worked for The Football Association, where he created content to support the men's European Championships, The FA Cup, London 2012, and FA Women's Super League. As content editor at Foremost Golf, Michael worked closely with golf's biggest equipment manufacturers, and has developed an in-depth knowledge of this side of the industry. He's now a regular contributor, covering instruction, equipment and feature content. Michael has interviewed many of the game's biggest stars, including six world number ones, and has attended and reported on many Major Championships and Ryder Cups. He's a member of Formby Golf Club.
3 ratings with the average rating of 5 out of 5 stars.
Amazon has grown a fair bit since being founded by Jeff Bezos in his garage in Bellevue, Washington in 1994. In 1995, it officially opened for business as an online bookseller, and it wasn't long before the company had shipped books to all 50 US states. Fast-forward to today, and for many households the online retailer is the first place they'll go for a shop. Whether it's books, toys, clothing, or electronics, Amazon's warehouse is unrivalled. Amazon was originally called "Cadabra", like the magic term "abracadabra." However, upon deciding that the name was too obscure, the company was named Amazon, a reference to the river in South America. Just like the river, Amazon the company is vast. As well as retail, the e-commerce giant is involved in a range of businesses and industries. Some of its most notable products and services include Amazon Prime (2005), Kindle e-reader (2007), and Alexa (2015).