Hybrid chip shot video
Golf Monthly Top 25 coach Neil Plimmer talks through the basic fundamentals of the greenside hybrid chip shot.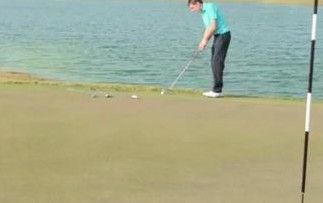 Golf Monthly Top 25 coach Neil Plimmer talks through the basic fundamentals of the greenside hybrid chip shot.
When I'm coaching beginners, in particular, I like to introduce chipping by using the driver. Why? Because when you use the biggest club you've got to make the smallest of motions.
From there, with every other club you've got to make a slightly bigger motion, and making a small motion bigger is easier than making a big motion smaller.
A common fault among club golfers is to make swings that are too big. There are two outcomes to this – either they decelerate and the ball goes nowhere, or they go through with it and the ball goes miles too far.
When the ball goes too far, people automatically say it's because of the club, but it's never that – it's always because they've made too big a swing.
The smallest of motions
The length of swing will obviously vary according to the length of the shot, but for any greenside hybrid chip it will only ever be a very small movement.
Crucially, though, it must still be a sequenced movement. Many golfers only move the club, or only their arms, when chipping.
However, as in any swing, everything still has to move, just in miniature. That's why practising with the driver is useful – it gets you used to making as small a motion as possible.
When the ball's sitting down...
The hybrid chip shot comes into its own here, due to the design of the club. This shot is just a little dink really, and the hybrid's head shape and low-profile face are ideal for popping the ball out and getting it rolling.
No one likes finding this kind of lie just off the green, but awkward lies are only awkward if you don't practise them. A bit of time spent perfecting this shot will pay real dividends out on the course.
Tight lies
From a technical perspective, it's good to practise and persevere with lofted clubs from tight lies, because sometimes it will be your only option.
But in the playing environment, if there's nothing to chip over, you'd be better using a bigger, flatter-bottomed clubhead, and just nudging it forward with a small motion.
Gripping down
Hybrids are obviously longer than wedges, so you may well have to grip down the shaft on occasion.
Some people are a little wary of this, but it's only because they've not done it before. The only way to remedy this is to give it a go, learn from the experience, and spend some time practising the shot.
A shot for all
Many top pros play chips with woods or hybrids, so you can never be too good!My view is this: why put the ball in the air with a wedge when you don't need to?
Forget the old adage 'a bad putt is better than a bad chip' – that's nonsense. A bad putt's as bad as a bad chip. My advice is to use the club that's most appropriate for the shot in hand. The more options you have, the better – so why not add the hybrid chip to your repertoire?
Tom Clarke joined Golf Monthly as a sub editor in 2009 being promoted to content editor in 2012 and then senior content editor in 2014, before becoming Sports Digital Editor for the Sport Vertical within Future in 2022. Tom currently looks after all the digital products that Golf Monthly produce including Strategy and Content Planning for the website and social media - Tom also assists the Cycling, Football, Rugby and Marine titles at Future. Tom plays off 16 and lists Augusta National (name drop), Old Head and Le Touessrok as the favourite courses he has played. Tom is an avid viewer of all golf content with a particularly in depth knowledge of the pro tour.