How To Improve Your Putting Feel
GM Top 25 Coach Keith Wood suggests three drills to enhance your awareness and really improve your putting feel on the greens…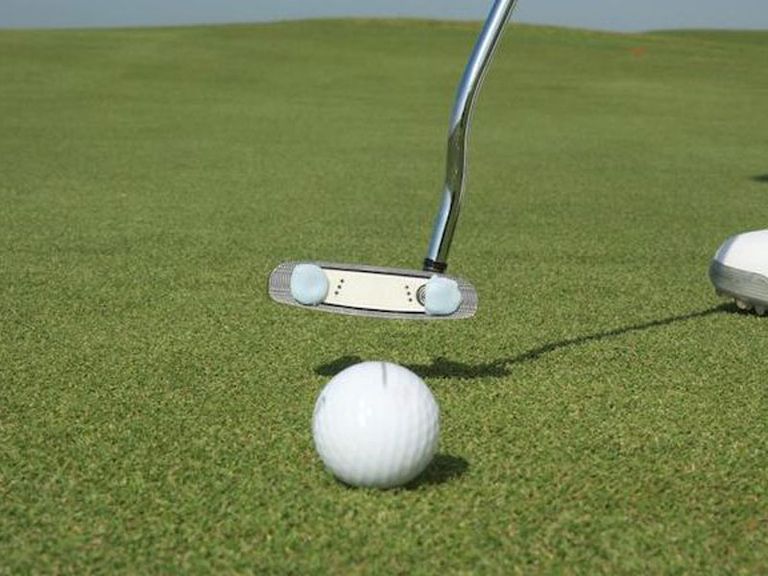 GM Top 25 Coach Keith Wood suggests three drills to enhance your awareness and really improve your putting feel on the greens…
Putting feel checklist * Use Blu Tack on the face to hone a more central strike * Really focus your ears on the sound of a good strike * Putt with just the right hand to really feel the release
1) The Blu Tack drill As golfers, we perhaps don't think too much about the contact between ball and putter face - is it more towards the toe or heel perhaps, potentially making the putterhead twist a little bit at impact? This drill can really highlight where you're making contact and help you to focus on finding a more central strike every time.
Just pop a little bit of Blu Tack on the toe and heel of the putter face to make the effective area of the face much smaller. If you make contact on the Blu Tack it will be completely dead and the ball won't go anywhere, providing instant feedback as to whether or not you've found the centre of the putter blade. This simple drill can really helps to concentrate the mind on the centre of the club.
Watch: Check out a Jordan Spieth putting drill with GM Top 25 Coach Rick Shiels...
2) Listen for the sound Sound can be another instant giveaway as to where you're making contact. How many of us really know what the ball and putter should actually sound like at impact? Make a nice smooth stroke, and listen out for the telltale little click of a well-struck putt.
It will obviously depend on what type of ball you use, and you do need to be consistent – it's no good going from a really hard ball to a soft ball. But providing you keep using the same type of ball, you should start to notice a consistent sound when you strike your putts well. You can really sharpen your focus and feel by concentrating on the sound.
Watch: Check out Rory's top putting drills here...
3) Go one-handed to feel the release In a conventional right-below-left putting grip the left hand controls while the right hand releases the putter head. If you roll a ball across a putting green, you'll really feel some slack and a change of direction in the arm and wrist – that's the release we're expecting from the right hand through the golf ball as well.
Try rolling a few balls to get the feel for the right hand releasing as some golfers just aren't aware of that subtle feeling of lag and release as the putter changes direction between backswing and throughswing. But it is important, because a stroke that's rigid and fused will give you no feel whatsoever and very different results in terms of a consistent roll.
Watch: Two great short-range putting drills with GM Top 25 Coach Peter Dawson
I would also recommend going one-handed in practice, so set up as normal, then take your left hand off the club leaving your right hand completely on its own back and through the stroke. See how it feels, then re-apply your left hand. You might just have a completely different sensation from that right hand and arm now, and you'll certainly be much more aware of what they're doing in the putting stroke.
Jeremy Ellwood has worked in the golf industry since 1993 and for Golf Monthly since 2002 when he started out as equipment editor. He is now a freelance journalist writing mainly for Golf Monthly across the whole spectrum from courses and Rules to equipment and even instruction despite his own somewhat iffy swing (he knows how to do it, but just can't do it himself). He also edits The Golf Club Secretary Newsletter, has authored or co-authored three books and written for a number of national papers including The Telegraph and The Independent. He is a senior panelist for Golf Monthly's Top 100 UK & Ireland Course Rankings and has played all of the Top 100 plus 89 of the Next 100. He has played well over 900 courses worldwide in 35 countries, but put him on a links course anywhere and he will be blissfully content. On his first trip to Abu Dhabi a decade ago he foolishly asked Paul Casey what sort of a record he had around the course there. "Well, I've won it twice if that's what you mean!" came the reply...