How to read breaking putts
GM Top 25 coach Andrew Reynolds offers some tips and pointers to help you improve how well you read those tricky breaking putts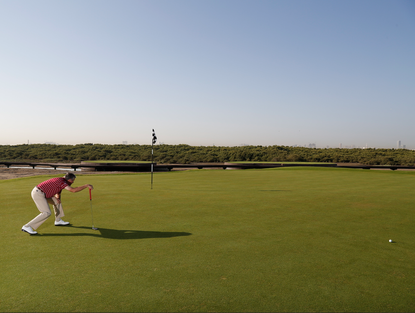 GM Top 25 coach Andrew Reynolds offers some tips and pointers to help you improve how well you read those tricky breaking putts
1) Line comes first
Putting constitutes about 41% of your shots out on the course, and while breaking putts can be quite difficult, there are ways to improve how you read putts with big borrows. Although pace and line are obviously closely inter-related, for me, the key rules of putting are, 1) Read the line first of all; 2) Work very hard on lining the putter up so you start the ball on the right line; 3) Think about the pace of the putt.
2) Find the break point
One of the keys to reading severely breaking putts well is to switch your focus away from the hole, and look much more at the break point of the putt. That will be above the hole to varying degrees, of course, but depending on the putt you face, it could be 5ft, 10ft, maybe even 20ft short of the hole too. It's the point where the ball will start its final turn towards the hole, and you should then putt to that break point.
3) Point of entry
Once you've done this, it will be obvious that the ball will not be entering the front of the hole as you look at it, but via one side or the other. So work out your entry point too, using something to help visualise that in practice. I have a little tool that does the job perfectly, but equally it could be a couple of tees forming an entry gate around the hole. The entry point might be at 4 o'clock relative to where you're standing, or even 3 o'clock on big-breaking putts. But if you look only at the front of the hole, you're always going to miss breaking putts low.
4) When putts break more
Downhill putts that you hit more gently will break a little bit more, and uphill putts a little less as you'll be hitting the ball more firmly. It's the same with green speed. When you go to clubs with greens that are much slower than your club's, you may need to halve the borrow because there's more resistance in the grass. Fast greens, where the grass is short, will produce much bigger swings.
5) Find time to practise
Your home club may not have many slopey greens, so if you're playing away somewhere and you know the greens are going to be slopey, try to get there a bit early and spend half an hour experimenting so you don't get caught out on the course. If you work hard on getting a feel for slopey greens, you shouldn't fall prey to too many three putts when you're out there for real putting on difficult greens.
Location: Royal Cinque Ports
Andrew was appointed Head Professional at Royal Cinque Ports in 1978, aged just 23. He is only the sixth professional in the club's 125-year history. From 2010 to 2013, he was lead coach for the Mens England "A" squad and helped work with many established European Tour players. Andrew also enjoyed success on the European Senior Tour, most notably his top-20 finish in the Senior Open Championship at Turnberry.
Teaching philosophy:
Different golfers have different aims, so players' hopes must be discovered before a ball is struck. The player is buying our experience to take them on a journey which will, hopefully, exceed their expectations. I try to keep the learning experience fairly light to keep the player relaxed and make the time together enjoyable for us both. We generally need to 'de-clutter' players' golfing brains and put a filter system in place to help people understand the important factors.
Most significant influences:
Ernest Jones's book, 'Swing the Clubhead', who stressed that if your set up was neutral, balanced and correct, all body actions were responsive to the club swinging. Peter Thomson, too. He chatted to Henry Longhurst, whom he allowed to explain his simple thinking - set up squarely, point the club at the target, take it away from the ball on the same path that the club attacks the ball on, then from the top of the backswing just bring it back to the ball. Both Jones and Thomson understood the difference between cause and effect. Modern technology allows us to analyse the golf swing in a very technical manner, which has now proved that both were ahead of their time in making a golf swing a simple exercise. We must remember that it's the clubhead that we are swinging.
Advice for practice:
A structured and disciplined practice session is the only way to develop your golfing skills to the maximum. Always make sure that your setup is perfect before any swing begins - it's pointless to work on a swing change with an inconsistent and changeable setup. A different setup means a different swing.