How to putt on wet greens
Golf Monthly Top 25 coach Keith Wood has some tips to help you judge subtle breaks and make more 6 foot putts.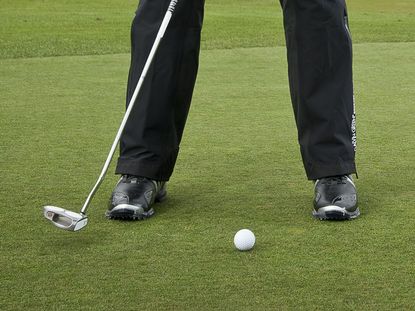 Golf Monthly Top 25 coach Keith Wood has some tips on how to putt on wet greens and how to keep your stroke working in all weather conditions.
How to putt on wet greens
Putting on wet greens or in windy conditions is a great test of your putting technique. If your arms and body are not working together your stroke will be exposed and I have some good advice below on how to do that. First however, ensure that you widen your stance and allow for a fraction less break than if it was dry - the wetter the green, the less the ball will want to break
Developing a good, instinctive feel on the green is key but to putt well you need a stroke that delivers consistency. One of the most important elements to get right is the connection between your arms and body.
As your upper body rocks back and though, your arms need to be linked to that movement. Get it right and the path of your stroke will have the consistency it needs to convert short putts time and again. A great drill is to put two gloves or empty ball sleeves under your arms.
Do not squeeze your arms, your normal set up should hold them in place. Swing the putter back and through, keeping the sleeves in place. If you can avoid the chicken wing shown here, you'll keep the putter working on a great path.
The simple tips below will benefit you if you're missing too many crucial par putts, and you often miss the hole on the low side.
If you can make more 6 foot putts, you'll maintain your momentum throughout a round. This drill is designed to help you groove a better stroke, while also gaining a feel for how subtle breaks can affect short putts.
Here, I've found a dead-straight six-footer, and have created a tunnel using two clubs through which the ball will travel to the hole.
Start by hitting a series of putts through the corridor – this is a great way to see if you are setting the ball rolling on the intended line.
Once you feel happy with that, find a putt with a subtle break and aim the shafts at the high side of the hole.
Hit the ball through the shafts and let it take the break at the end and go into the hole. This shows how the break has a much bigger effect, the slower the ball is moving. You should be able to hit the ball straight through the shafts, with the ball only breaking at the end.
Tom Clarke joined Golf Monthly as a sub editor in 2009 being promoted to content editor in 2012 and then senior content editor in 2014, before becoming Sports Digital Editor for the Sport Vertical within Future in 2022. Tom currently looks after all the digital products that Golf Monthly produce including Strategy and Content Planning for the website and social media - Tom also assists the Cycling, Football, Rugby and Marine titles at Future. Tom plays off 16 and lists Augusta National (name drop), Old Head and Le Touessrok as the favourite courses he has played. Tom is an avid viewer of all golf content with a particularly in depth knowledge of the pro tour.