Step Drill For Extra Power - The Secret To More Distance Off The Tee
In this video, PGA pro Ged Walters talks through his simple step drill for extra power off the tee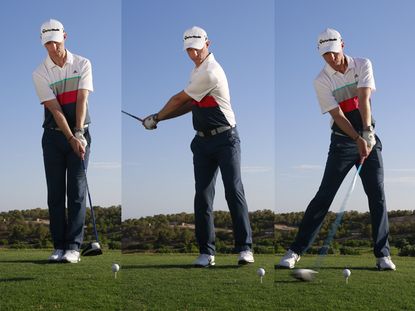 Launching the ball miles with your driver is one of the best feelings in golf. In this video, Golf Monthly Top 50 Coach Ged Walters talks through his simple step drill for extra power off the tee.
Power and accuracy in the golf swing often go hand-in-hand. If you can find the right sequence of moves through the downswing including correctly shifting your weight, you'll add clubhead speed and you should hit more fairways too! The step drill for extra power is designed to help you do just that.
Start by taking your normal address position and then move your lead foot back so you are standing with your feet together. From here the aim is to make a normal swing and strike the ball. Crucially, as you reach about half way through the backswing, step your left foot back into its original (correct) position. As you are completing your backswing, your weight starts to shift towards the target creating a stretch that helps deliver extra clubhead speed. The step drill for extra power is a great way to find the ideal sequence and dynamic balance without having to think too much about the specific technique required. Give it a go!
1. Step back
Take your normal address position. Before you take the club away move your lead foot next to your back foot – the ball will look as if it is sitting way forward in your stance. Start your swing from here.
2. Create the stretch
As you reach half way through the backswing, step your left foot back into its original position. You should feel a stretch as your upper body continues to rotate back but your weight moves forward.
3. Drive through
Swing through to a normal, balanced finish position where your weight is set over your lead foot. The step drill for extra prevents you from hanging back through impact to improve both the dynamic balance of your swing and the quality of your strikes.
Get the Golf Monthly Newsletter
Tips on how to play better, latest equipment reviews, interviews with the biggest names and more.
Location: True Fit Golf Centre
Using different styles, teaching aids, technology and games to measure improvements, Ged is keen to make the learning process educational and fun. He's worked with a number of top local, national and international instructors, including Adrian Fryer and Jeff Ritter, one of the most prominent golf instructors in America. He's based at True Fit Golf Centre in Warrington, where he can be found coaching golfers of all abilities. He's also working hard on his own game with the aim of playing on the senior Tour (when the time comes).
Students learn best when...
They leave their baggage at the door; this way they will garner a clearer understanding of their issues and how they can
improve.
Advice for practice:
Don't go rogue! You will never improve if you don't practice how your coach has told you to.
Most common problem:
Too many golfers judge if they have done what you ask by the outcome, yet that will not always be what they want to see when making changes. Focus on the process and the outcome will take care of itself.