Hitting fairways under pressure video
Kevin Craggs discusses how to deal with hitting fairways under pressure.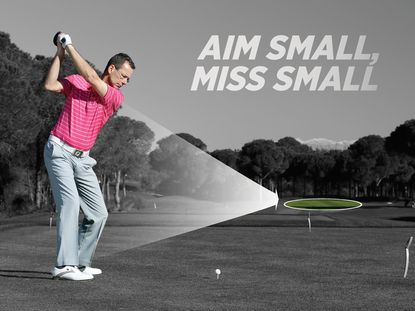 Golf Monthly Top 25 coach Kevin Craggs discusses how to deal with hitting fairways under pressure.
Hitting fairways under pressure video
All too often, when players are looking out towards a tight fairway with danger left and right, I see amateurs try to steer the ball down the middle.
They focus on the trouble on either side, rather than where they want their ball to go - the middle of the fairway.
Pick a specific target in the fairway to aim for, such as a greenside bunker in the distance. Having such a small target will narrow your focus and eliminate thoughts of hitting the ball in trouble.
This is a natural reaction to the tension of a tight drive but steering the ball is a sure fire way of missing the fairway.
You need to develop a more confident mindset that allows you to commit to a proper swing. A great drill is hit some practice shots with your left foot set back by six inches or so.
This will encourage you to rotate your upper body through the shot for a more powerful, committed strike.
Try to embrace the nerves and tell yourself that this is what you practice for and that being nervous is a good sign.
If you weren't nervous, then that would mean you didn't care. Being nervous shows you are playing the right sport and that you embrace the challenge of playing and scoring well.
Try this!
When you are facing a tight drive, using the left foot back drill as part of your pre-shot routine.
Make some smooth swings, rotating your upper body through the shot, and then address the ball for real. This should create a more confident approach.
Then, taking your normal stance, make a fully commited swing to a specific target in the disance. Base your results not on whether you didn't go in the trouble, but by how far you missed your small target.
Tom Clarke joined Golf Monthly as a sub editor in 2009 being promoted to content editor in 2012 and then senior content editor in 2014, before becoming Sports Digital Editor for the Sport Vertical within Future in 2022. Tom currently looks after all the digital products that Golf Monthly produce including Strategy and Content Planning for the website and social media - Tom also assists the Cycling, Football, Rugby and Marine titles at Future. Tom plays off 16 and lists Augusta National (name drop), Old Head and Le Touessrok as the favourite courses he has played. Tom is an avid viewer of all golf content with a particularly in depth knowledge of the pro tour.