Florida
Florida may be the land of fairytales, but there's nothing Mickey Mouse about awesome golf courses in perfect weather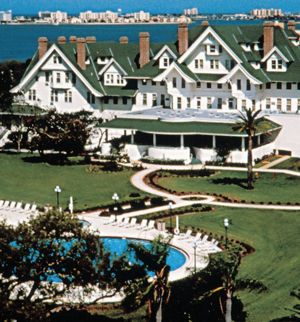 Florida: a swamp packed with alligators, the home of an overstuffed rodent and his goofy pals, and a place where, for some unknown reason, they persist in annoying very large whales inside very oversized fishbowls. It's also the place where they anchor the biggest golf ball on the planet and regularly make a damnable noise hurling great lumps of metal into the sky to arrange meetings with the Russians; the thought has occurred to me more than once that Starbucks might be more convenient and they wouldn't need the funny suits.
That's the stereotype, anyway. But the thing is, I love Florida. I've always loved Florida. I'm the first guy at the gate waving my bus pass trying to get a discount on a one-day Disney Park Hopper before figuring out what would be a seemly time to hot foot it to Pleasure Island. I confess to skipping up Main Street USA to the Magic Kingdom with a lightness of heart and a sprightliness of foot that would probably make me a target for the guys in white coats if I were in Main Street Auchtermuchty.
I would still have a "Goofy" headcover on my driver if it hadn't been snatched in a dawn raid by baggage handlers, and I've always thought that Mickey and his pals would make a better job of uniting nations than Kofi Annan and Ban Ki-moon could ever dream of.
A big part of Florida might be fantasyland, but the visitor numbers to Walt Disney World and nearby Orlando attractions confirm just how many people want to escape the reality of the mundane world around them. In 2006 there were 17 million visitors to Magic Kingdom, nearly 11 million visitors to Epcot, close to 10 million to Disney's Hollywood Studios and the same number to Animal Kingdom. Throw in the mobs that gather to get soaked watching the whales at SeaWorld and that equates to a visitor figure the size of the population of the UK.
It's a scary thought, but fortunately they don't all go there to play golf. If they did, there wouldn't be much room left for you and me, and playing golf in Florida is something that we really don't want to miss out on.
Casting an eye beyond Mickey, Epcot and even those poor old whales, there is another face to Florida. This a state with amazing diversity, a state where there is a refined and easier pace of life away from Orlando, even a genteel Florida, the Florida of rare cultural heritage, exciting restaurants and even the Florida of Salvador Dali.
And it is undeniably the state with sunshine, enough to make it one of the sunniest places on the planet. Guinness World Records credits the St Petersburg/Clearwater area with the longest run of consecutive days of sunshine on record, from February 9 1967 to March 17 two years later – a total of 768 days! And the St Petersburg/Clearwater area is an excellent base from which to enjoy some of that old-world charm and refinement of the Floridian west coast, allied to some great golf.
St Petersburg was named after its Russian counterpart by Peter Demens, the co-founder of the city who brought the terminus of a railroad there in 1888. Legend has it that Demens and his co-founder, John C Williams of Detroit, tossed a coin to see who would have the honour of naming the city. The rail baron won and named it St Petersburg, after the city where he was born and spent half of his youth.
It is a city of great charm and elegance, and there is no finer example of either than the famous Renaissance Vinoy Resort & Golf Club, a 360-bedroom luxury hotel on the waterfront, which boasts a colourful and fascinating history.
This is where movie idol James Stewart took his drawl in the winter and he loved the place so much he took his father as well, where Babe Ruth and F Scott Fitzgerald revelled in the luxury of stately surroundings in the company of America's high society, and where Herbert Hoover and Calvin Coolidge were regular guests back in the days after its opening in 1925 through to the late 1950s. Today it is even more splendid than ever, having received a $93 million restoration a few years ago and another $4 million facelift recently.
A few minutes from the hotel, the Vinoy Golf Club offers splendid golf too – it features nine lakes, great stands of Florida pines, an island green and one of the most fearsome finishing holes anywhere in the state.
Not far distant, in the city of Clearwater, is another famous Florida hotel with an equally fine golf course. The historic Belleview Biltmore Resort has been dispensing Southern hospitality with unparalleled elegance and style to an impressive guest list (including heads of state, international dignitaries and royalty) since it opened in the late 1890s.
The hotel, known as the "White Queen of the Gulf", is recognised as the largest occupied wooden structure in the world and offers a rare glimpse of Victorian charm and style in the United States. There's been a golf course on this site since another rail tycoon, Henry B Plant, had one built in 1899.
Unfortunately, if you have a mind to stay here then you'll need to wait for a while – the hotel is currently undergoing a huge refurbishment programme.
However, the fine old Donald Ross golf course, with its clubhouse built in the same style as the hotel, is still in play and should be on any itinerary for visitors to this part of the Gulf Coast.
A little further to the north at Tarpon Springs is the famous Innisbrook Resort and Golf Club, unequivocally one of the top golf destinations in the United States. Set in 900 acres of spectacular woodland amid rolling hills and 70 acres of lakes, Innisbrook is very special indeed.
It is home to the most famous course in the area, Copperhead, a regular in anybody's top 100 courses in the world and home to the USPGA Tour's PODS Championship. US Ryder Cup skipper Paul Azinger has called it the "best course we play on Tour" and Curtis Strange has nominated it as the course he would play if he could only play one for the rest of his life.
You can't argue with sentiments like that, only add that to derive most enjoyment here is to listen to common sense and play the tees that equate to your game and not your ego. Otherwise stand by to get hosed down.
Innisbrook has been pouring millions of dollars into the number two course, Island, in an effort to bring it up to the calibre of the Copperhead. In many ways it has succeeded but, like the New Course at St Andrews, despite being a great course it will always live in the shadow of its more famous sister.
The other two courses at Innisbrook, Highlands North and South, offer pretty good sport too, despite being shorter than their neighbours. They are part of the wonderful Innisbrook experience where the accommodation is first class, and about to get better, and golf seeps from every pore. The only real distractions are the fine dining in five restaurants, along with 11 tennis courts and six swimming pools, including the multi-million dollar Loch Ness Monster Pool. Sure, you can jog or cycle, but with the quality of golf on offer here why would anyone bother? You have to take a residential package to play here, but given the quality of the golf and the whole Innisbrook experience, it represents some of the best value anywhere.
However, if you have to have your fantasy fix before you leave Florida – and I wouldn't miss it for a run of birdies round the loop on the Old Course – you need to spend some time with Mickey and his legion of pals. And the great thing is, you can do that and play golf too.
Walt Disney World has 99 holes, some of them as good as you'll find anywhere, and despite the huge visitor numbers in the parks you'll feel a wonderful sense of space and seclusion out among the lakes, pine forests and palmettos.
If you are aiming to play golf with serious intent, the Joe Lee-designed Magnolia and Palm courses are the pick of the bunch, both being regular stops for the USPGA Tour. The Lake Buena Vista Course – another Joe Lee design – offers more in the way of holiday golf, but in beautiful surroundings close to a harbour and alongside canals and wetlands teaming with wildlife.
For the serious golfing child at heart it just doesn't get much better than at Disney.
CONTACTS BOOK
COURSES
RENAISSANCE VINOY RESORT & GOLF CLUB
T: 001 727 894 1000
W: www.vinoyrenaissanceresort.com
BELLEVIEW BILTMORE RESORT
T: 001 727 581 5498
W: www.belleviewbiltmore.com
INNISBROOK RESORT & GOLF CLUB
T: 001 727 942 2000
W: www.innisbrookgolfresort.com
WALT DISNEY WORLD
T: 001 407 939 4653
W: www.disneyworld.co.uk
ACCOMMODATION
RENAISSANCE VINOY RESORT & GOLF CLUB
T: 001 720 894 1000
W: www.vinoyrenaissanceresort.com
DISNEY'S CONTEMPORARY RESORT
T: 001 407 824 1000
W: www.disneyworld.co.uk
OFF COURSE
SALVADOR DALI MUSEUM, ST PETERSBURG
W: www.salvadordalimuseum.org
The world's most comprehensive collection of Dali's work
TAMPA BAY SEGS
W: www.tampabaysegs.com
Glide through the city at 12mph on a Segway Human Transporter
DISNEY WORLD, ORLANDO
W: www.disneyworld.co.uk
Includes Magic Kingdom, Epcot, Animal Kingdom and Disney's Hollywood Studios
The leading website from the world's oldest golf magazine, we're the go-to destination for amateur and keen golfers alike who are keen to up their golfing game. As well as expert course reviews, news and tips to improve your handicap our golf-focused travel content will help you pair teeing off with your travels in some of the best destinations around the globe.