'The TPC Sawgrass Of Europe' - We Play One Of Spain's Elite Tour Venues
Michael Weston heads to Spain to visit what many regard as the country's number one resort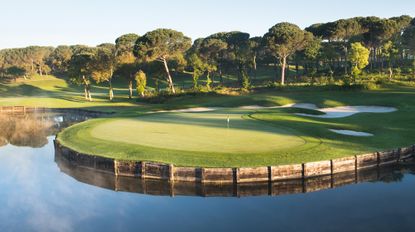 (Image credit: Landmark Media )
The official Atlético Madrid team coach that sits outside the hotel is a good sign; if this is where elite footballers come to relax, then we have to be somewhere special. We are, although World Cup winner Antoine Griezmann and co are not at Camiral Golf & Wellness (not during the season at least) for 18 holes – they're here to unwind and make use of the extensive health and fitness facilities on offer. Not a bad place to relax ahead of a big game, it must be said.
Many golfers will know this spectacular 36-hole resort, which is located just over an hour's drive from Barcelona and only ten minutes from Gironoa-Costa Brava airport, as PGA Catalunya, which was its name for more than two decades. Now, though, the DP World Tour hosting venue has begun a new chapter in its journey, and I'm here to sample an array of experiences that have been brought together under one name: personalised healing (a massage/bodywork), locally grown ingredients (lots of food) and, sadly, exercise (Pilates).
There will be golf – 36 on the Stadium Course, considered one of the very best golf courses in Spain, and 18 on the slightly less demanding Tour Course – but I won't be sweating on any vicious, downhill five-footers like the pros would have done during the Final Stage of European Tour Qualifying School.
It's easy to understand why the likes of Atlético Madrid and Manchester City, as well as a number of other elite athletes and sports teams use Camiral Golf & Wellness as a base to relax and prepare for competition. Let's start with the $5 million state-of-the-art Wellness Centre, which includes eight single and one double treatment room, a gym with Technogym equipment, yoga studio, outdoor pool, thermal circuit with hydro-massage pool, toning pool, steam bath and sauna, hammam and relaxation room. Even the most demanding of sports performance coaches could want for anything else.
Given that world class footballers are worth a considerable amount of money, activities like golf, tennis and biking – do hire a bike and explore the surrounding nature trails – are off the cards. However, after an evening sampling 1477 Restaurant's wonderful menu – and do try a slice of Camiral cheesecake – and with no concerns about pulling a muscle playing golf and missing a game of football, the next day I head to the Stadium Course, straight in at the deep end, albeit via the range, which, as you'd expect from a venue that many regard as Spain's number one golf resort, is fully equipped with the latest ball tracking and swing analysis technology and includes extensive short game practice facilities.
The Stadium Course had been on my own personal bucket list ever since I first heard it described as the 'Sawgrass of Europe'. So the knees are knocking a little as I pop a tee peg down on the 1st, and take a glance at the fairway some way below. A slight pull to the left (standard) and the rollercoaster begins. This is exactly what it will feel like: plenty of ups and downs, with dramatic elevation changes a constant throughout the 540-hectare forested estate, which makes taking a buggy a necessity.
Needless to say, the topography makes for some memorable holes, such as the par-5 3rd and the par-4 that follows, both of which feature elevated tees. It's one of those courses where you're looking forward to seeing what the next hole brings before you've even putted out on the one you're playing.
The new name of the resort is taken from an ancient Roman Road between the ocean and mountains, the Camí Ral, meaning Royal Way, connecting France and Spain, which passes through the estate and can still be followed on foot or by bicycle.
On the 6th, a path crosses the fairway and takes you on this route, which I'm tempted to pick up after making just one par over the opening five holes. This is something you just have to come to terms with, however – it's a tough course that demands quality ball striking throughout, as well as a surgeon's touch on and around the greens.
My round kicks into gear after I have a quiet word with myself on the 10th tee, which happens to be good timing. There are many standout holes, but the downhill par-3 11th and par-5 that follows provide an exhilarating half-hour spell. Standing on the elevated tee on 11, all you can see is a huge lake in the background, which sweeps round to the left, too, and makes a large, sprawling bunker on the right a popular bailout spot.
Then, with water lurking down the right, you need full commitment with your next tee shot to stay dry. Water remains a threat on 13, too, one of the best spots to take in the views of the Pyrenees before settling over the most intimidating approach shot that you're likely to face all day. You'll be wet if you come up short or right, or if you flush your approach too long. Fear not, because it's the last you'll see of the lakes.
One water hazard that remains for me is the cryotherapy session. I'm quite comfortable with the idea of resetting my body and mind after being beaten up by the Stadium Course, but doing so at -110°C, which is said to help reduce adrenal stress and release endorphins, is rather less appealing.
As it turns out, a recent operation (I present a note from my doctor), means I'm not allowed to take part; instead, I relax inside a type of sun bed for a session of oxygen chamber therapy and photo tech modulation, which is also designed to work on the body and mind. I must say, I leave feeling very chilled out.
In theory, I should have been nice and loose and in prime condition to shoot a good score when we take to the Stadium Course again. The game is certainly loose, so loose that I'm going left and right. Although you'll often have a good chance of finding your ball underneath the pines, there's no negotiating with water. I'm a seven-handicapper (on my day) and as much as I enjoyed playing what is a terrific course, I scored a lot better on the Tour Course, a more forgiving and shorter layout than its sibling.
This has to be part of the appeal: one course that provides a stern challenge on pretty much every shot, and another that allows for a bit of inconsistency. For golf societies with a wide range of handicaps, this is perfect.
Having the choice of two hotels also adds to the appeal. The 5-star Hotel Camiral itself contains 138 beautifully designed rooms, and combines modern luxury and contemporary features. Meanwhile, the rooms at LAVIDA Hotel, located right next door, are less expansive – perfect for weekend golfers and/or those on a shorter break.
It's here where you'll find Bella's Restaurant, which boasts a mouth-watering array of freshly made rustic Italian pizzas and a variety of seasonal oven-cooked dishes, antipasti and daily specials. My advice would be to get stuck into a pizza, which you can always work off in the Pilates Studio. They're delightful.
Keen to give Pilates a go after ducking out of the cryotherapy (actually, no, I had a doctor's note), I fully commit. The Pilates instructor gets into some positions I didn't think was humanly possibly and although I can't replicate this, I do genuinely get an appreciation of how this can help not just with golf fitness, but overall health and wellbeing.
The fully fitted Reformer Pilates Studio, which is equipped with state-of-the-art apparatus from Spanish-founded Pilates brand ARREGON, is another popular facility here, and it epitomises what this place is about: as much the wellness as the golf.
Rumours are circulating that Camiral Golf & Wellness will host the Ryder Cup in 2031. The Stadium Course was set to do so in the nineties, but delays saw it move to Valderrama. It's certainly a place that has all the credentials. Watch this space.
Michael has been with Golf Monthly since 2008. As a multimedia journalist, he has also worked for The Football Association, where he created content to support the men's European Championships, The FA Cup, London 2012, and FA Women's Super League. As content editor at Foremost Golf, Michael worked closely with golf's biggest equipment manufacturers, and has developed an in-depth knowledge of this side of the industry. He's now a regular contributor, covering instruction, equipment and feature content. Michael has interviewed many of the game's biggest stars, including six world number ones, and has attended and reported on many Major Championships and Ryder Cups. He's a member of Formby Golf Club.