Two Incredible Courses... 48-Hours In Mallorca
In this video and article, Rory Anderson makes a whistle-stop visit to the popular Balearic Island, with Pula and Alcanada on the menu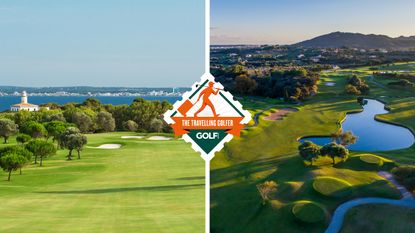 (Image credit: Future)
When it comes to golf destinations, Mallorca ticks an awful lot of boxes. There are more golf courses per square mile here than anywhere else in Europe.
Those who enjoy blowing the froth off a couple of shandies in the evening will revel in the nightlife of Palma and, and at the other end of the holiday-vibe spectrum, there are plenty of peaceful little pockets where you can just sit back and enjoy a slice of island life.
Of the 24 golf courses in Mallorca, two notable layouts were on my hitlist during my recent visit to the largest of the Balearic Islands. Pula Golf Resort - an eight-time European Tour host course - would act as my base for the trip (more on that later) and just over an hour's drive away, nestled in an idyllic location overlooking Alcudia Bay, Alcanada Golf Club was also on the itinerary.
Speaking of itineraries, I would recommend a minimum of three nights in Mallorca and would even stretch to five if you have the time. But I was visiting on a filming trip, where my mission was to showcase Mallorca as a golf destination in just 48 hours. Challenge accepted.
Mallorca might be the largest of the Balearics, but after a two-and-a-half hour flight from London to Palma, it is only a 50-minute drive over to the east side of the island where both Pula and Alcanada reside, so in terms of convenience, you can see that Mallorca ticks that box as well.
Most of the golf courses here are close to the capital city of Palma, but no matter where you end up choosing to play on your golf holiday, you are never more than an hour or so from the first tee. I digress though, so onwards to Pula…
PULA
After picking up my rental car and pootling down the Ma-15 highway, I checked into my Grand Suite (Pula has a vast range of golfer's apartments and more traditional, rustic options).
Simplistic yet stylish, the accommodation offers everything you need on a golf holiday, and best of all, sit just a couple of hundred yards from the first tee. In fact, everything at Pula is right on hand. The resort is relatively small, but you never feel cramped.
If practising is your thing, the putting green and driving range (armed with the latest Trackman technology) sit at the heart of the resort, while the pro shop, spa, and superb Sera de Pula restaurant are all just a matter of yards from your room. Super convenient. Super casual. Super classy.
With a comfortable night's sleep under my belt, I rolled out of bed, confidently ignored the driving range on my right and the putting green on my left as I wandered to the first tee, and boom, I was off and running on my golf holiday.
So what of the golf course at Pula? Well, as previously stated, it has hosted no less than eight European Tour events in years gone by, with winners including Miguel Angel Jimenez, Sergio Garcia, Darren Clarke and Jose Maria Olazabal. Speaking of Ollie, the two-time Masters champ was the man in charge of the major overhaul that Pula went through ten years after it opened for play.
The resulting layout offers something for everyone. Testing and tough from the championship tees - but very playable from the forward positions - you can pick your poison at Pula depending on what type of golf stirs your coffee.
Whether you are the type who relishes a battle against par (or your handicap!) or someone who prefers a more leisurely round of golf while away on holiday, the combination of slopes, elevation changes and sizeable water hazards make for a thoroughly enjoyable test of golf.
Standout holes come in the form of the par-4 5th, the testing par-3 8th, and the picturesque par-4 16th, which offers stunning panoramic views over the course and out towards the sea. Come to think of it, all three of these holes feature water, so perhaps I am simply a glutton for punishment!
In terms of my golf game, my round at Pula was a mixed bag, but it was a great warm-up for Alcanada, which is quickly becoming the home of The Challenge Tour Grand Final.
ALCANADA
The flagship event of The Challenge Tour season was first hosted at Alcanada in 2019, and the event made a return in 2022, where the winning score through four rounds was nine-under par.
The event will once again be hosted at Alcanada in 2023, but the modest winning score from 2022 should go some way to letting you know the test of golf that awaits those who bravely elect to play from the back tees.
But just like Pula, a more friendly experience is on offer from the forward pegs. I played from the yellows, which measure 6,600 yards and is the closest I could get to the length of my home course.
A good golf holiday tip: choose the tees that are closest in yardage to the course where you get your handicap from.
With that rule of thumb in mind, I set myself a challenge of breaking 80. I'm glad to say I made it…by the skin of my teeth!
The layout at Alcanada is superb, with holes that take you into the rolling hills of Alcudia before you start your journey down toward the Bay of Alcudia and its picturesque lighthouse. It's a high class venue that is one of the best golf courses in Spain.
Along the way, you will tackle dramatic elevation changes, play shots over valleys and ravines and negotiate slick, undulating greens, but perhaps the biggest challenge is taking your eyes off Alcanada's stunning surroundings.
This Hans Peter Porsche (yes, the car guys) owned golf club is located in a truly breathtaking spot, where the tranquility is matched only by the service levels both on and off the course.
All in all, my trip to Mallorca was a blast and I can't recommend the venues I visited highly enough.
A parting piece of advice? Make sure you factor in enough time to enjoy a drink or two, or maybe even a spot of lunch on the clubhouse terrace at Alcanada. I promise you, this will be the exclamation point on your Mallorca golf holiday and, with only 48 hours to play with and a jam-packed filming schedule, I didn't quite manage it.
Just another excuse to head back to Mallorca on another golf holiday in the not-too-distant future then…
Rory is a single figure handicap who has spent over a decade working in the golf travel industry as a content creator and a specialist destination videographer and presenter.