Mont D'Arbois golf and the Four Seasons Megeve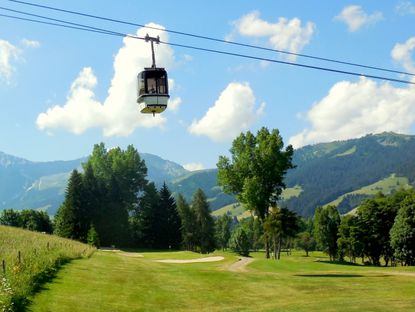 (Image credit: Picasa)
Roderick Easdale finds a literal golfing high when he plays Mont D'Arbois golf course while staying at the fabulous Four Seasons Megeve in the French Alps
A few holes in at the Mont D'Arbois golf course in Megeve in the French Alps, an hour and a half's drive from Geneva and about four minutes from the Four Seasons Megeve, and I am enjoying myself.
My drives are flying further than usual. I am not sure whether to put this down to my increased golfing genius, or the excellence of the TaylorMade M4 (opens in new tab) hire set the club has provided.
Turns out it is due to the invigorating Alpine air - literally. Golf balls travel 10% further at this altitude. A quick bit of calculation shows that I am striking the ball just as poorly as ever. Still, the illusion is beguiling.
So, too are the views from the course. The layout itself is fairly flat and trots back and forth sideways across a gentle piece of hillside - for this reason slicers are in often in luck as huge slices tend merely to leave one fairway to nestle safely on a parallel one.
This is an easy-walking course, so there is no need to take a buggy - nor one of the cable cars. Cable cars cross at either end of the course, for in winter parts of the layout are a ski run. The Mont D'Arbois golf season is from about mid May through to October.
A local rule is that any shot striking a cable has to be replayed. Nor are shots allowed to be played when the cars are running - which is for around a minute every 20 minutes during the golfing season.
The Mont D'Arbois golf clubhouse restaurant was welcomingly busy the Saturday we played, with excellent grub and relaxed, attentive, prompt service. The course also has a driving range, practice putting green and a well-stocked pro shop.
The club is a short drive - or maybe at this altitude only a long iron - from the Four Seasons Megeve, a 55-room hotel. It, too, has suffered length inflation for it is fact a two-season hotel: winter and summer.
The Four Seasons Megeve summer season runs from mid June to late September. Both the hotel and golf course are owned by the Rothschild family and the hotel is decorated with art from Baroness Rothschild's own collection.
The hotel opened in December last year. The golf course, a Henry Cotton (opens in new tab) design, dates from 1964 although golf, in the form of a four-hole track long since gone, first came to the town in 1920. The hotel's helicopter can take you to golf courses in Chamonix, Evian and Crans-Montana - or fly fishing in the Alpine lakes.
In winter, hotel guests have winter sports to occupy themselves with outdoors; in summer guides can take you up in to the mountains by foot, electric mountain bike or horse.
There are three restaurants at the hotel including a Japanese one, and one where the two Michelin-starred chef Julien Gatillon reigns supreme. He also runs a haute cuisine cooking class.
We were served a detox lunch around the pool, which appealed to us, not least because this version of detoxing involved both chips and wine. Wine is taken seriously here. The cellar has 1,200 different wines, some of them from the Rothschilds' own collection, and range in price from 45 euro to 21,000 euro a bottle.
The hotel's spa, at 900 sq m, is apparently the largest in the Alps, and there is a instructor with whom you can book individual yoga or woga lessons.
The latter is water yoga, done in the heated pool, and is rather fun. The water helps with balance when less-supple-than-they-were bodies try to do supple things.
After enjoying the drive-lengthening properties of the Alpine air, this was a trip where I could briefly pretend I was young and athletic again - which made an enjoyable stay even better.
One-night golf packages for two people, to include accommodation at Four Seasons Megeve and a complementary green fee for two at Mont D'Arbois , start at 550 euro.
Contributing Writer Golf courses and travel are Roderick's particular interests and he was contributing editor for the first few years of the Golf Monthly Travel Supplement. He writes travel articles and general features for the magazine, travel supplement and website. He also compiles the magazine's crossword. He is a member of Trevose Golf & Country Club and has played golf in around two dozen countries. Cricket is his other main sporting love. He is the author of five books, four of which are still in print: The Novel Life of PG Wodehouse; The Don: Beyond Boundaries; Wally Hammond: Gentleman & Player and England's Greatest Post-War All Rounder.