Larry Mize: 30 Years Since That Chip That Won The Masters
It was 30 years ago that Larry Mize pitched in from 140 feet on the second play-off hole to win the 1987 Masters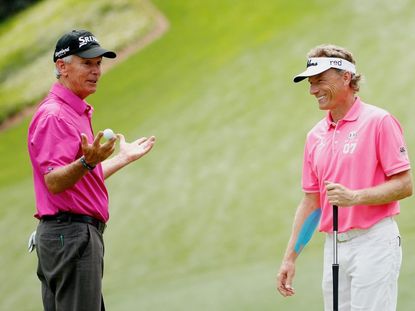 (Image credit: Getty Images)
It was 30 years ago that Larry Mize pitched in from 140 feet on the 11th hole – the second play-off hole - to defeat Greg Norman and win the 1987 Masters. That shot was the culmination of an epic golfing journey for Mize, who grew up in Augusta.
Larry Mize: 30 Years Since That Chip That Won The Masters
Aged 13 and 14, Larry Mize worked on the scoreboard beneath the third green at Augusta National during the US Masters of 1972 and 1973, putting up the scores. He loved it; working half the day on the scoreboard and the other half watching the golf, getting autographs from the practice ground and picking up the odd tee left behind by the likes of Arnold Palmer, Jack Nicklaus and Billy Casper.
"I really liked working at the third scoreboard," Mize, now 58, says in an exclusive interview. "If I was on the afternoon shift, once the last group had come through the third hole we pulled all the numbers down and I could follow the last group probably from the fifth hole. There was still a lot of golf to watch. It was great; I would get into the place for free and I got a little lunch ticket. I loved it."
Augusta born and raised, Mize and his father Charles honed their games at Augusta Country Club, which backs onto Augusta National GC.
"Summertime was all golf for me," recalls Mize. "I would get dropped off at the club and I would swim—I was on the club's swim team—but apart from that it was all golf and I would pretty much be at the country club all day. I was very fortunate. It was a fabulous course for me to play as I grew up; a really good test and a friendly course."
Augusta Country Club pre-dates Augusta National by three decades in fact, with its original layout built in 1906, before Donald Ross was brought in to remodel it in 1928, converting sand greens to grass in the process.
"There are a lot of good holes there," adds Mize. "The ninth runs behind the 11th green, 12th green and 13th tee of Augusta National. We would always look over the fence and drool. We wouldn't ever dare to jump over the fence but we would joke about it."
In 1984, 11 years after working on the Masters scoreboard, Mize teed up as a Masters player, with Palmer, Nicklaus and Casper all in the field. Three years later, he holed that famous shot on 11 to become Masters champion.
"It was an amazing thing just for me to get into the tournament and play here in the first place as a professional golfer," says Mize, who is set to appear in his 34th Masters this year. "That is something in itself, but to win it, that was the golfing thrill of a lifetime for me.
"You know, I might be in awe of Augusta National even more today than I was as a boy because as you get older you to learn to appreciate things more. As far as golf goes Augusta National is the place to be, particularly for an Augusta boy. There is no other place like it."
Mize tees off this morning in the first round of the 2017 Masters at 8:33am (1:33pm BST), in the fourth group with Americans Brian Stuard and amateur Stewart Hagestad.
Get the Golf Monthly Newsletter
Tips on how to play better, latest equipment reviews, interviews with the biggest names and more.
Robin has worked for Golf Monthly for over a decade.