The Big Interview: Mark Calcavecchia
The 1989 Troon Open Champion Mark Calcavecchia reflects on that victory...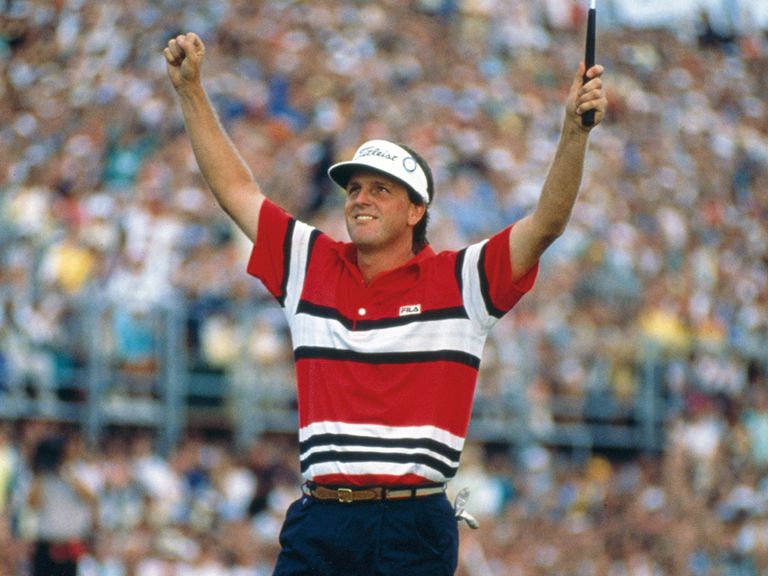 (Image credit: Getty Images)
The 1989 Troon Open Champion reflects on that victory, links golf, his bittersweet 1991 Ryder Cup and his senior career…
Did you take to links golf straight away, or was it a learning curve?
A bit of both. My first Open was at Muirfield in 1987. I think I finished just outside the top ten and loved it. The next year at Lytham, I think I shot 76, 84 and hated it! In 1989 we got to Troon and I went out on Monday and played the course and loved it at first sight. I was playing well at the time and that helps. If you're not playing well, you don't like any course. If you're playing bad, golf sucks – period!
What do you remember of your chip that went in on the fly on the 12th in the final round?
I was probably 15 yards left of the green on a bare dirt area and my ball was sitting down in a little bit of a hole. There was a swale on the green, and the pin was only about 15ft on. I didn't want to take a chance on running it through the swale, so I tried to fly it on the green and just two-putt for my five. Sure enough, it flew right in the hole. I was as shocked as anybody – it was a one-in-a-million shot, and the timing was very good!
You were going well at St Andrews in 2010, too, weren't you?
Yeah, after the first couple of rounds, Louis Oosthuizen and I were in the last group on Saturday. The wind was straight left to right going out, and at that time I had a driver that curved a lot left to right. My already 15-yard cut was going about 40 yards left to right, and that was a bad combination going out on the Old Course [laughs].
On to the 1991 Ryder Cup. How long did it take you to get over the trauma of your singles match with Monty?
It took a toll. I don't remember much about that night, quite honestly, and I really don't remember the next few days. But I do remember getting to San Antonio for the next tournament and getting literally hundreds of letters. Every one of them was positive, saying what a great job I did. I won two-and-a-half points out of a possible four, so all in all, I did have a good Ryder Cup. But what was remembered was me losing the last four holes to Monty. But once I got playing again, all was forgotten.
Golfers need to be pretty skilled at regrouping, don't they?
For sure, and obviously not just the next week, but the next hole, the next shot. What happened there, I should have gotten over it a lot faster than I did. But it was emotional, it bothered me and I thought it was going to cost my team the Ryder Cup. At the time it was just too much for me to handle. I'm an emotional player, and it affected me.
Have you enjoyed your senior career?
For the most part. The main thing is that once you turn 50, you're all dealing with injuries of some sort. I've only won three times, but I've had a chance to probably win ten times. I've blown about five of them – just straight thrown them away. But that's going to happen – guys do that. It's hard to win out there.
Will you keep coming back to The Open until your exemption runs out?
Most likely. Definitely this year, for sure. Birkdale in 2017 isn't one of my favourites, and I'm not even sure where the Senior Open is that year. I'll take it year by year and see how I feel, but this year, even if I'm on one leg with no back, I'll be returning to Troon!
David joined Golf Monthly in 2015 as a content editor for the magazine and regularly contributes to the website. He has worked in magazine publishing and editing since 2003. He is a keen golfer and up until recently was a member of Blackmoor Golf Club in Hampshire. He has covered various big events and tournaments for GM, the highlight of which was witnessing Tiger Woods win his 15th Major at Augusta in 2019. Email: david.taylor@futurenet.com