Paul McGinley: The Art of Ryder Cup Captaincy
Paul McGinley looks ahead to this year's Ryder Cup at Hazeltine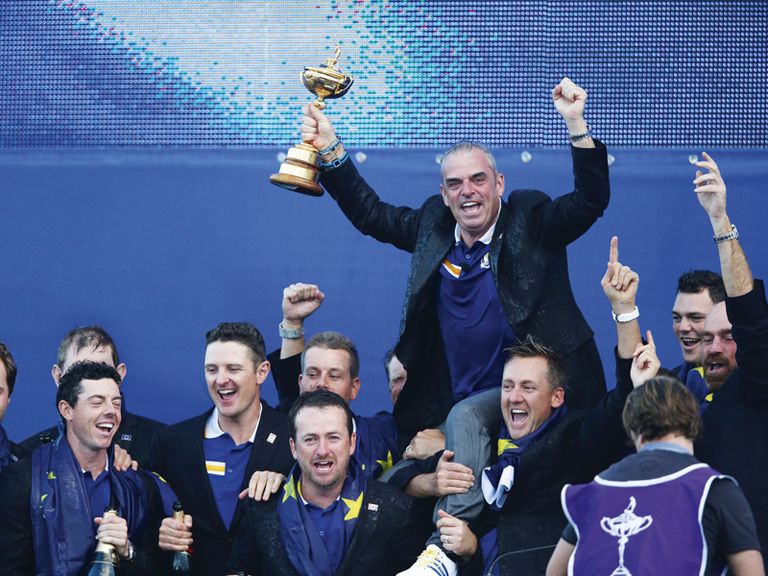 Golf Monthly Newsletter
Golf tips and expert instruction, golf club reviews and the latest golf equipment.
Thank you for signing up to Golf Monthly. You will receive a verification email shortly.
There was a problem. Please refresh the page and try again.
Paul McGinley set the new blueprint for Ryder Cup captaincy in Europe's dominant performance at Gleneagles. He tells Jeremy Ellwood about his time at the helm and looks ahead to this year's contest
When I last spoke to Paul McGinley, he was a little bit jaded. Why? Well, the day before he had led Europe to victory at Gleneagles, writing his name into Ryder Cup folklore once more, 12 years on from holing the winning putt at The Belfry. He was measured, direct, polite and eloquent then – despite probably wishing he was tucked up in bed – and that's exactly how I found him when we met at a Ballantine's Golf Club reception ahead of the Scottish Open at Castle Stuart.
Maybe it is these qualities, along with clear thinking, that made him such a strong captain, as America laboured under Tom Watson's leadership. McGinley certainly strikes me as a man who knows what he wants, and has a very good idea how he's going to go about getting it.
On the face of it, McGinley is one of those players – like Sam Torrance and Monty, to a degree – whose careers have largely been defined by famous Ryder Cup moments or records. Yet such moments are really only fleeting ones in long and successful careers. McGinley has been on tour for the best part of a quarter of a century, and although his best playing days are behind him – though the senior tour looms as he approaches his 50th birthday in December – the longevity and consistency of his career undoubtedly played a major role in his selection as Ryder Cup captain.
That, and the fact that he played in the matches twice more following his memorable 2002 debut, then went on to serve as vice-captain under both Monty in 2010 and Jose Maria Olazabal in 2012. It's almost as if he were being groomed for the captain's role in a contest in which he had five times been involved, and five times come out on top.
That, of course, became six on both counts in 2014, so what does McGinley see as the main job of a captain?
"The role is wide and varied, from dealing with the media and positioning the team to tactics, communication with the players and overall strategy," he replies, covering off pretty much all avenues. "His role is so huge now, right down to the uniforms and accommodation. But for me, one of the most important things was the vice-captains. There are four arenas going on over the first two days and I needed feedback from the vice-captains as to what was going on in each game in order to help me make decisions. It really is a team effort."
With five European rookies, I question whether the captain's role also has an almost fatherly aspect to it, in which some players need a little more looking after than others. "Yes, that's human nature, isn't it?" he smiles. "Some players do and obviously you'll spend a little bit more time with the younger players in the team than the older players who have been around the block and with whom you share ideas. We've got a young team, but a team very much in form, and rookies nowadays are not like they were 20 years ago. These guys are experienced – one of the rookies is the Masters Champion! So I think it's going to be two very strong and evenly matched teams, and a great Ryder Cup."
Medinah Memories
There's no doubt the US team will be hungry for success following three successive defeats and the embarrassing post-match press conferences and fallout at Gleneagles. "America's team is obviously going to be very strong," McGinley warns. "They are playing at home and they have got a captain in Davis Love III who's having a second go at the helm. As with anything, if you have a second go, you're going to do a better job than you did first time. You'd like to think you will anyway! They almost got it right at Medinah – they were a very strong team but we managed to pip them on the Sunday."
Ah yes, the Miracle of Medinah – thank heavens for alliteration. In many ways it was a miracle, though, for 10-6 Saturday night deficits are rarely a precursor to Sunday glory in The Ryder Cup. Let's hope Europe don't suffer the Horror of Hazeltine this year, a course where McGinley played in the 2002 USPGA.
"It's a good golf course that I think has matured over the years," McGinley tells me. "I think one of the pros described it as a field with flags in its first major event, but it's moved along a lot since then. I think the big key will be how Davis sets it up. At Medinah, he took all the rough and a lot of trees out, and made the course better for big hitters, where they could have a go with the driver."
Knowing that McGinley does not see eye to eye with Darren Clarke, I'm not expecting too much when I ask what he thinks the new captain's style will be… and I don't get too much, either! "Darren, we don't know; we'll have to wait and see," he replies. "He hasn't given too much away so far."
Regardless of Clarke's yet-to-be-revealed style, as Medinah 2012 perhaps proved, the captain can get it pretty much 100 per cent right, but if the players don't quite deliver, or the other team suddenly get inspired, all the planning and clever strategy in the world can still end up in ignominious defeat. In our slightly polarised world, if you captain the losing side you were a bad captain; if you captain the winning side you were an inspiring and tactically astute leader.
Despite his highly praised leadership at Gleneagles, McGinley is at pains to pass the glory on to the players. "Oh, it's always the players," he says. "You can have the best tactics in the world and the best strategy, but ultimately it comes down to the players. They are the ones who carry it out, and they certainly did that at Gleneagles."
Player or Captain?
McGinley has, of course, experienced the elation of being both a winning player and a winning captain, so I ask him to compare the two experiences. "They are very different. There's a very, very different feeling," he says. "There are emotional highs and lows as a player, and you give a lot of focus to yourself and getting your own game in good shape. Whereas when you're a captain, you're thinking on 12 different levels, as well as your own and your vice-captains'. So you've got something like 20 different levels going on at any one time!"
With all that thinking, all those tactics and all that pressure in the mix, I suggest to McGinley that there must surely be too much going on cerebrally for the Ryder Cup to ever be fun these days. Reassuringly, he's having none of it. "The Ryder Cup is fun," he comes back without pausing. "You've got to treat it as fun; you've got to embrace the pressure that it brings. It also brings a lot of excitement, and you've got to play on the front foot. That was the big thing for us as a team [at Gleneagles]. A big message was that we were going to play on the front foot and embrace the opportunity of being Ryder Cup players playing at home."
Okay, I think, suitably impressed. But surely it wasn't much fun standing over that eight-footer in 2002 to seal victory? "I was just completely focused on what I was trying to do," he reflects. "All the ideas of 'I don't want to let anybody down', they don't go through your head. If they do, you're in trouble. You've got to stay focused on what you are doing and the task at hand, and be very much into your process, not the result, which I was. I couldn't wait to hit the putt to be quite honest. As nervous as I was, I couldn't wait to hit the putt and I think that's an insight into how good my mind was at that time."
Insight indeed. From my time with McGinley, it would seem that 'focused' and 'on the front foot' would be the key themes Darren needs to instil in his players at Hazeltine. While McGinley is probably unlikely to pass that advice on in person, maybe, just maybe, this year's captain will read it indirectly here.
- Paul McGinley is captain of The Ballantine's Golf Club – a destination for golf fans worldwide to share in their passion of the game. Visit Ballantinesgolfclub.com
David joined Golf Monthly in 2015 as a content editor for the magazine and regularly contributes to the website. He has worked in magazine publishing and editing since 2003. He is a keen golfer and up until recently was a member of Blackmoor Golf Club in Hampshire. He has covered various big events and tournaments for GM, the highlight of which was witnessing Tiger Woods win his 15th Major at Augusta in 2019. Email: david.taylor@futurenet.com