"It's the strongest European Team ever" Sam Torrance
We caught up with European Ryder Cup Vice Captain Sam Torrance in this Ryder Cup Q&A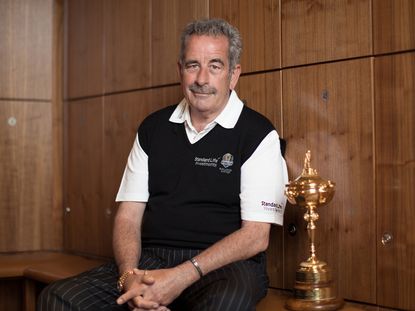 We caught up with European Ryder Cup Vice Captain Sam Torrance, who was speaking on behalf of Standard Life Investments, Worldwide Partner of The Ryder Cup. He talked about Stephen Gallacher, Scottish fans and what Paul McGinley will be like as captain
What do you think about the strength of the US Team?
A very strong team with a few key elements missing in Dustin Johnson and Jason Dufner. They're two sad loses for the American team. And Tiger Woods being injured I think it's definitely a negative he's not there, but still, he's not there because he's injured. I think the last few weeks have been great for them, with Hunter Mahan, Keegan Bradley and Webb Simpson playing well.
What do you think about the Americans looking for redemption?
Well they've got to find something haven't they? You know, of course they're going to be hurt. Medinah was the greatest ever European victory and probably will be for all of time. The Americans won in Brookline from the same deficit going into the singles but that was at home. To come back from that four point deficit away from home was just phenomenal. They must have thought on Saturday night, "This is over, we've just got to stand on our feet tomorrow and the Ryder Cup's ours", but it wasn't to be. Of course they're looking for redemption, but I would not expect anything else from them.
And how happy are you with the European side?
It's the strongest European team ever. I think the three picks were magnificent. Gallagher, I mean he was one place from of playing his way into the team automatically, which for someone who plays in Europe most of the time and getting in on the World Rankings side was a fantastic year for him. Ian Poulter, leave him out at your peril. He's the Ryder Cup king. And the last one was tricky. It was Westwood, Molinari or Luke Donald, and very tricky with Luke Donald as the former number one in the world, but he's struggling a little bit with his game. Francesco Molinari, he ticked all the boxes but in the end we went for the experience of Lee Westwood, who's been a bedrock of the European Team for 16 years. He's someone you could pair with anyone in any of the formats, fourballs or foursomes.
How important is it to have Stephen Gallacher, and therefore a Scot, in the team?
It wasn't imperative. It's not even important. The important factor is that it's the best team, and he's one of the best. He earned his place on the team. It's incredible for the crowd. The crowd will love having a Scotsman in the team and I'm delighted there is one there, and a very worthy team member he will be. He's a very strong character, he'll be ready for this.

What do you think will be some of the potential pairings at Gleneagles?
Paul (McGinley) will put what pairings he thinks will work out there. Obviously he'll look at what teams have done well in the past, but that doesn't necessarily mean they'll work in the future. I think he's got a wealth of experience there and he's got some fantastic pairings in the making and some brand new pairings. It doesn't have to be a tried and tested pairing.
What do you think makes a good Ryder Cup pairing?
The one's that say, "Thank you for the game" on the last green as they're walk off with a smile on their face. In foursomes it's when your partner hits a bad shot and you hit a good shot. In fourballs it's when he's hit a bad shot and you make the birdie or the par. It's being around when your partner's not is what a good partnership is.
What will your role as vice captain at the Ryder Cup entail?
We're kind of the buffer to the captain. The captain to me is kind of like a headmaster. A player may have a problem he might think is too small to take to the captain because it's like going to your headmaster, it's daunting. So you end up ignoring the problem instead of getting it fixed. Where as with us, bring anything to the five vice-captains and we will sort it 100% and if we can't, we'll take it to the captain who will sort it.
What qualities will Paul McGinley bring to the team as captain?
Everything necessary. The amount of work I've done with him in the last year or so, he's astounded me on more than at least half a dozen occasions with his knowledge and of how inquisitive he is about what could work here, what could work there, about how the course plays and just everything. He's come up with stuff that I didn't even remotely think about, and I think he's amazing.
What would you like to say to the crowds who will be at Gleneagles?
Enjoy the golf. You're in for a treat.
Sam Torrance was speaking on behalf of Standard Life Investments, Worldwide Partner of The Ryder Cup. For more information visit standardlifeinvestments.com/rydercup (opens in new tab)
Tom Clarke joined Golf Monthly as a sub editor in 2009 being promoted to content editor in 2012 and then senior content editor in 2014, before becoming Sports Digital Editor for the Sport Vertical within Future in 2022. Tom currently looks after all the digital products that Golf Monthly produce including Strategy and Content Planning for the website and social media - Tom also assists the Cycling, Football, Rugby and Marine titles at Future. Tom plays off 16 and lists Augusta National (name drop), Old Head and Le Touessrok as the favourite courses he has played. Tom is an avid viewer of all golf content with a particularly in depth knowledge of the pro tour.