Golf Monthly October 2014 issue
See what's inside the October issue of Golf Monthly, featuring cover star Rory McIlroy, a Ryder Cup preview, tips, opinion, new gear, courses, travel and more!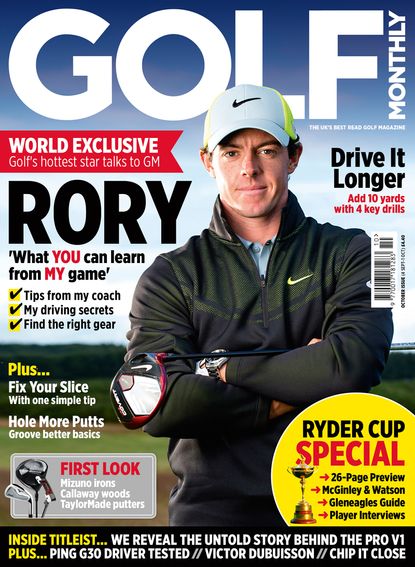 Golf Monthly October 2014 edition
Find out how to buy Golf Monthly through a wide range of digital platforms (opens in new tab)
FREE GIFTS
This month's issue includes a free £20 Foremost Gift Card and a free 2 for 1 GreenFree voucher, which entitles two golfer to play for the price on one at venues like The Grove, The Belfry and St Mellion.
THE GAME
ALL-NEW SECTION! Bill Elliott assesses the fallout of Rory McIlroy's back-to-back Major wins, Tony Jacklin asks if par-3 golf is the answer, we debate if golf clubs are doing enough during the winter, and more
FEATURES
Ryder Cup Preview
We bring you 26 incredible pages ahead of the 2014 Ryder Cup, including interviews with the captains and players, our guide to the key holes, and an inside guide to Gleneagles.
Inside Titleist A 12-page special, access all areas feature on what goes into making the greatest ball in golf, including Titleist's history, the Pro V1s manufacturing process and a look at the secret testing facilities.
OPINION
Tony Jacklin - on par-3 golf being the answer to slow play Wayne Riley - on Rory making his mark Andy Sullivan - on his season so far
INSTRUCTION
Rory McIlroy
Fresh from winning two Majors and a WGC, the best driver in golf shares his key tips to help you hit it straighter and further. He also reveals how he selects his gear, while his coach shares some inside secrets you can learn from.
Range Time Improve your putting fundamentals with the help of GM Top 25 Coach Gary Alliss.
Fault Fixer
Kevin Craggs demonstrates how to find more power.
Play Better
Quickfire game-improvement tips from Golf Monthly's Top 25 Coaches
I Did It! Barry Doyle improved on his PB by eight shots, but he did have to lie to his wife in the process when he got to the turn two-over-par off 15!
EQUIPMENT
Gear News We round up the latest equipment releases, including a new Callaway driver, Mizuno irons and TaylorMade putters.
Tested
We put PING's G30 driver, MD Golf's Superstrong Superfit TI driver, and GolfBuddy's PT4 GPS though their paces.
Gear Talk Paul O'Hagan discusses the golden era of club making.
Gear Focus We rate 12 of the best blade putters currently on the market.
Tech Explained A modern, breathable fabrics and how they can help your golf.
COURSES AND TRAVEL
Play It - Macreddin Golf Club Golfer's Guide - Shropshire Travel Special - Depth and diversity in Portugal
REGULARS
Your View Reader letters and emails to hit the Golf Monthly offices this month
Rules What happened when Sun-Ju Ahn had an awkward stance in a pot bunker and used sand to get a footing?
Great Prizes! You could win Galvin Green Ryder Cup gear, an Adams club fitting and trips to Gleneagles and Prince's.
Alex began his journalism career in regional newspapers in 2001 and moved to the Press Association four years later. He spent three years working at Dennis Publishing before first joining Golf Monthly, where he was on the staff from 2008 to 2015 as the brand's managing editor, overseeing the day-to-day running of our award-winning magazine while also contributing across various digital platforms. A specialist in news and feature content, he has interviewed many of the world's top golfers and returns to Golf Monthly after a three-year stint working on the Daily Telegraph's sports desk. His current role is diverse as he undertakes a number of duties, from managing creative solutions campaigns in both digital and print to writing long-form features for the magazine. Alex has enjoyed a life-long passion for golf and currently plays to a handicap of 13 at Tylney Park Golf Club in Hampshire.