WATCH: Boris Johnson Lookalike In Incredible Happy Gilmore Driving Range Fail
Golfer with uncanny resemblance to former Prime Minister hits the deck attempting trick shot at driving range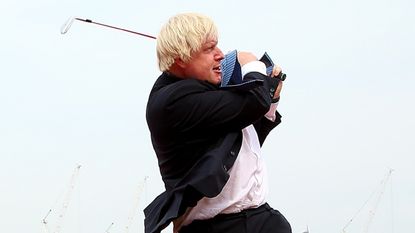 (Image credit: Getty Images)
You get all sorts down at the driving range don't you, from the very serious golfers sharpening their games to the total novice just trying to get club on ball.
You get tremendous shots, innovative shots and then some downright poor ones, but you also sometimes get some incidents that transcend the sport of golf and enter a completely different realm.
There was plenty of laughter down at the range spotted in a social media post from the account of Astley Driving Range (@BoomersSwingers) who tweeted: "Always ask your customers if there is anything worth checking on CCTV…sometimes you strike gold!!"
Always ask your customers if there is anything worth checking on CCTV.... sometimes you strike gold!!Boris Johnson lookalike slaps an arse then does a Happy Gilmore Fail! *sound on* @GolfMonthly @RickShielsPGA @RickDaniels7 @TheMancUK pic.twitter.com/m87cyNHj3LJanuary 12, 2023
See more
And the gold in question this time may have involved plenty of golfers at the range doing a double take as a man bearing an uncanny resemblance to a former Prime Minister appeared in shorts and t-shirt.
Even if they thought there's no way Boris Johnson could have been there to work on his game, his behaviour as captured on the CCTV could well have been seen as a perfect example of how many view the country's former leader.
There's a pretty familiar interaction with a female friend, before he goes on to attempt the 'Happy Gilmore' of running up to the ball before giving it a smash.
Adam Sandler has nothing to worry about though as the poor golfer in question makes a horrible mess of things and lands on his backside – again in a manner that some will say is a pretty good metaphor for the former Conservative leader's premiership over the last couple of years.
The video is sure to stack up the views, some because of the simple fact that 'golfer falls over doing Happy Gilmore' always does, but also because of the Boris Johnson element that will make it even more pleasant viewing for some people.
Paul Higham is a sports journalist with over 20 years of experience in covering most major sporting events for both Sky Sports and BBC Sport. He is currently freelance and covers the golf majors on the BBC Sport website. Highlights over the years include covering that epic Monday finish in the Ryder Cup at Celtic Manor and watching Rory McIlroy produce one of the most dominant Major wins at the 2011 US Open at Congressional. He also writes betting previews and still feels strangely proud of backing Danny Willett when he won the Masters in 2016 - Willett also praised his putting stroke during a media event before the Open at Hoylake. Favourite interviews he's conducted have been with McIlroy, Paul McGinley, Thomas Bjorn, Rickie Fowler and the enigma that is Victor Dubuisson. A big fan of watching any golf from any tour, sadly he spends more time writing about golf than playing these days with two young children, and as a big fair weather golfer claims playing in shorts is worth at least five shots. Being from Liverpool he loves the likes of Hoylake, Birkdale and the stretch of tracks along England's Golf Coast, but would say his favourite courses played are Kingsbarns and Portrush.